About 230 Covid-19 patients leave isolation centres as city ends mandatory confinement, while 310 remain.
About 230 Covid-19 patients left isolation centres in Hong Kong on Monday as the city ended mandatory confinement, although the World Health Organization said the disease remained a public health emergency amid uncertainty over emerging variants.

But Hong Kong health experts said the speed of the city's return to normality would not be affected by the WHO, which had made its decision based on the global situation.

While many countries had eased their pandemic measures, the WHO insisted Covid-19 continued to "constitute a public health emergency of international concern", after its emergency committee met last Friday.

The committee said it remained concerned about the continued risk posed by Covid-19 because of a high number of deaths compared with other respiratory infectious diseases, insufficient vaccine uptake in low- and middle-income countries and high-risk groups globally, as well as new variants.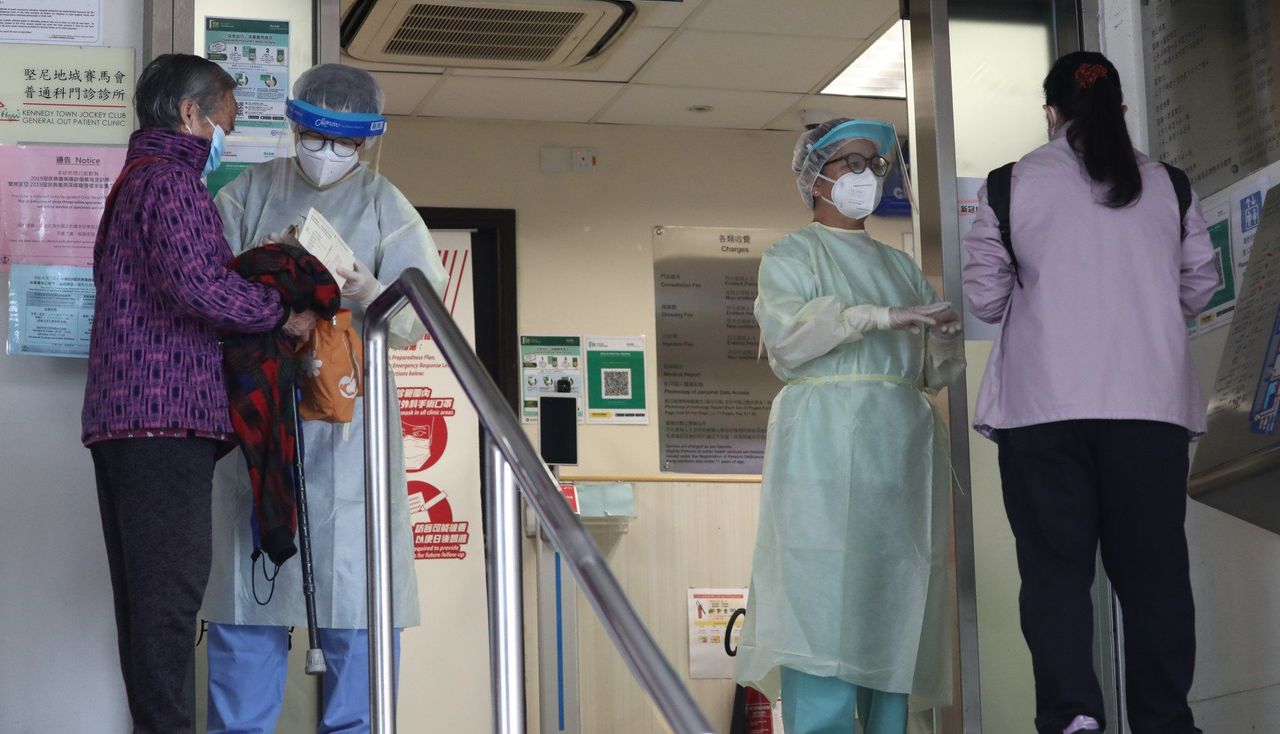 Covid-19 patients can go to private doctors and no longer have to go to designated clinics.
The global health body said the infection was no longer necessarily linked to severe illness, but warned "the virus retains an ability to evolve into new variants with unpredictable characteristics".
"
Covid
-19 remains a dangerous infectious disease with the capacity to cause substantial damage to health and health systems," a spokesman said.
He added that the pandemic might be approaching "an inflection point" – a time of major change.
The agency said long-term plans to maintain global and national focus on
Covid
-19 should be maintained after the public health emergency had ended.
Professor Ivan Hung Fan-ngai, a Hong Kong government expert, said the WHO's decision was based on the global situation rather than specific regions or cities and would not affect Hong Kong.
"Hong Kong has robust hybrid immunity and should transit to normality as soon as possible," Hung said.
Professor Lau Yu-lung, also a government adviser, added that Hong Kong should make decisions based on its situation.
"Taking WHO and other countries' recommendations into account is important, but there is no need to follow completely," he said.
Hong Kong dropped all social-distancing measures on December 29 and resumed quarantine-free travel with mainland China on January 8.
Just two major anti-epidemic measures remain in force – mask-wearing and mandatory
coronavirus
tests for arrivals, schoolchildren and care home residents.
The Security Bureau, which managed the isolation centres, said about 230 people had left the two centres that were still in operation – Penny's Bay on Lantau Island and the Novotel Citygate hotel in Tung Chung – by 5pm.
But another 310 people remain in the two facilities, which will continue to operate until the end of February. Patients, however, are allowed to stay for up to seven days only.
Apple Lo, a 60-year-old retiree, said he decided to go home after two days even though he was still testing positive.
"But I will not go to restaurants unless I turn negative," Lo said. "I will buy takeaway these days in case I cause transmissions."
Health minister Lo Chung-mau earlier said the government would consider using the Penny's Bay centre and eight other purpose-built facilities for other uses as they became redundant.
Some lawmakers have suggested turning the centres into dormitories, homes or healthcare training facilities.
Monday also marked the start of different criteria for reporting daily cases, where only infections detected through polymerase chain reaction (PCR) tests will be announced.
An additional 358 infections were reported, which pushed the city's tally of cases to 2,876,464. There were five more
Covid
-related deaths, taking the total to 13,338.
PCR cases logged over the last week ranged from 365 to 493 a day.
All 71 public general outpatient clinics resumed normal service on Monday and increased the overall daily quotas from about 7,000 to 10,000, with 2,000 slots reserved for
Covid
-19 cases.
The Hospital Authority said that more than 1,400
Covid
-19 patients were treated at the clinics on Monday.
"The quotas reserved for
Covid
-19 patients are more than enough," Dr Tony Ha King-hang, the authority's chief manager of primary and community services, said.
He added another 1,000 places could be opened up if they were needed.
The Post observed no special seating arrangements to separate
Covid
-19 patients from others waiting for consultations at an outpatient clinic in Yau Ma Tei.
But at the South Kwai Chung Jockey Club general outpatient clinic in Kwai Chung, those with the
coronavirus
had to see a doctor in a separate extension block near the main clinic, even though they would have to enter the main clinic afterwards to pick up medicine from the pharmacy.
Timmy Tong, a 42-year-old programmer, visited the clinic with his wife and six-year-old daughter after they tested positive for
Covid
-19 on Sunday.
Despite the end to the mandatory isolation order, Tong said he and his family would continue to isolate at home until infection-free.
"Even if we have relatives over, we would likely just ask them to leave their things and leave, as we don't want to infect them as well," Tong said.
Some private clinics said they had not seen a surge in
Covid
-19 patients on Monday.
Virtus Medical, a private clinic chain, said it had seen only a few cases. The chain added telemedicine consultation was also available for patients with mild symptoms.
People visiting clinics for face-to-face consultations will have to be seen in an isolation room.
The Transport and Logistics Bureau on Monday said 5,000 more daily tickets for the high-speed railway between Hong Kong and mainland China would be added for each direction, bringing the total amount of tickets available each day to 30,000.