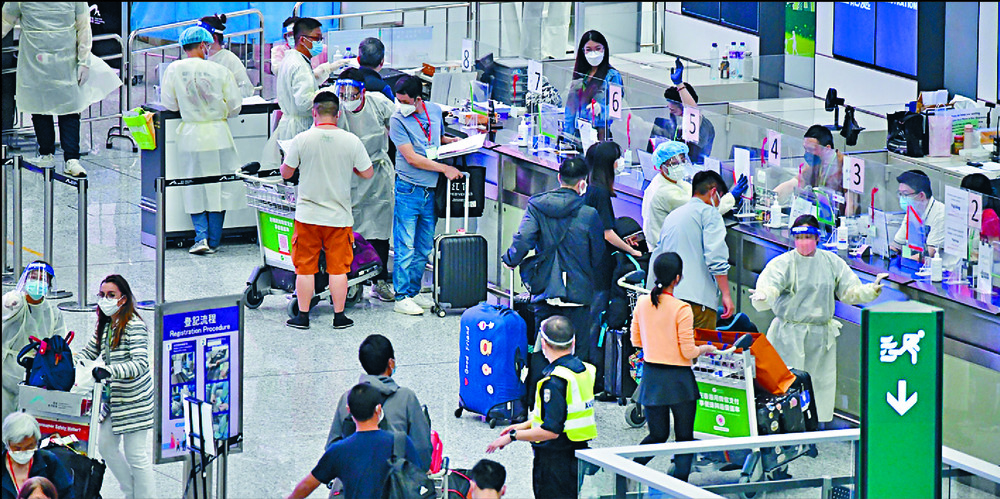 Priority route for students returning to the mainland
Hong Kong students returning to the mainland will have a special priority queue separate from the randomly selected daily quota of 2,000 so that they can enrol for the new semester on time, a lawmaker has said.
Lillian Kwok Ling-lai - a teacher and Legislative Council member who's with the Democratic Alliance for the Betterment and Progress of Hong Kong - said mainland authorities have set aside a special travel quota for Hong Kong students enrolling in mainland schools so they can arrive in time for the start of classes next month.

As part of the short-term measure, students will not be subject to the lottery for one of the 2,000 daily border-crossing quota slots like other travelers.

But since students will only be given special priority on a one-off basis, they will not be formally recognized as a category under the "care corridor" - a mechanism that allows priority groups including students who have to sit for exams in the mainland and the elderly to bypass the border lottery.

This comes after Kitson Yeung Wing-kit of Kowloon Central constituency told officials last week that some 300 Hong Kong students were unable to secure a spot in the quarantine quota in Shenzhen.

Kwok said the one-off arrangement will include students from kindergartens to universities. Parents and legal guardians of students aged under 14 will be allowed to accompany them to their destinations while observing quarantine regulation.

The mainland's current quarantine policy for travelers from Hong Kong includes seven days of compulsory quarantine in a designated hotel followed by three days of self-surveillance at home.

Although there will be no chartered flights, authorities have made sure extra flights will be available to meet the demand.

Kwok said it is not yet confirmed when applications for the special quotas will open, but she is optimistic that students will be able to register by the end of the month.

"Students have been under a lot of stress, worrying about whether their offers are going to get rescinded. It's important that we make sure they can get to school on time," she said.

Authorities have also made arrangements with schools to allow late enrollment in case students are unable to arrive in time given that quarantine regulations are still in effect.

But planning for quarantine arrangements is still in the works, with no confirmation on whether there will be enough quarantine facilities to keep up with the extra demand.

"The government must take the responsibility, try its best to assist and provide feasible support and provide a suitable learning environment," Kwok said in a statement yesterday.

Secretary for Education Christine Choi Yuk-lin said details regarding travel and quarantine quotas will be announced "as soon as possible."

She said local authorities are working closely with their mainland counterparts to implement contingencies in case students miss important university events such as deadlines for registration.