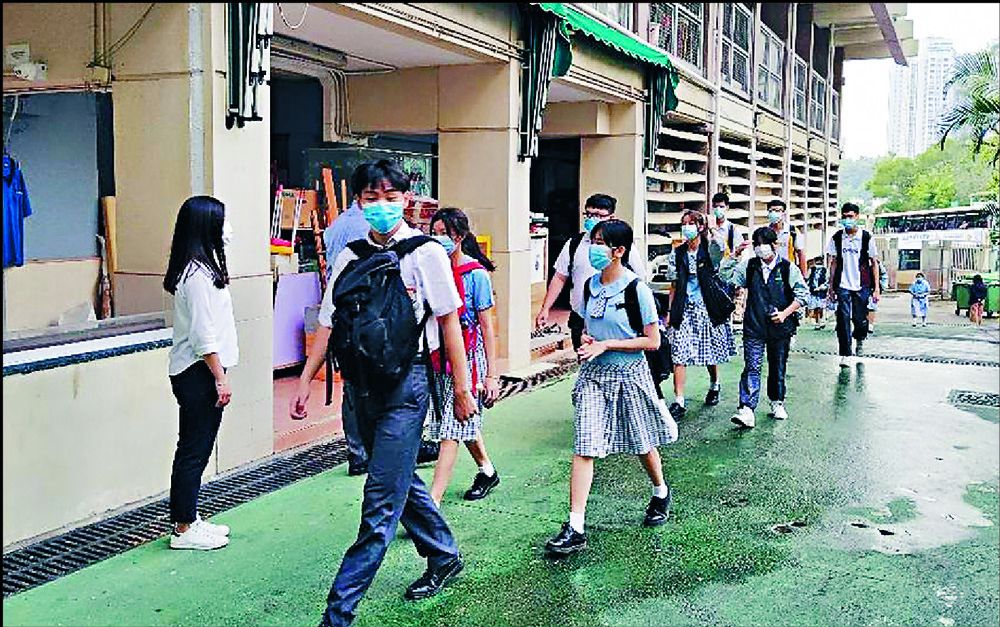 Principals refuse to enact full class resumptions
It was an occasion to rejoice for children and their parents as more students were allowed back in schools yesterday after the Easter break.
Schools are allowed to conduct in-person classes for up to two thirds of their students as compared to one third previously.

Primary schools can arrange for pupils to attend classes only in the mornings.

"Finally I can chat with my classmates during recess. I am extremely happy," a primary one pupil from Wong Tai Sin said.

A mother who was sending her son to school in the same district said he has been attending online classes for many months.

"It's great to return to school," said a student from CMA Secondary School in Shek Kip Mei said. "For online classes, I might become unproductive and don't understand a lot of things. Classes in person can push me to become more attentive."

Secondary schools can arrange for two-third of students to attend face-to-face classes either in the morning or in the afternoon for no more than a half-day after the Easter holiday.

Schools wanting whole-school resumption of half-day in-person classes, would have to arrange for all staffers to undergo regular testing every two weeks.

But CMA Secondary School principal Mak Yiu-kwong said his school isn't interested in such a resumption.

It has arranged morning classes for secondary one to three students and afternoon ones for secondary four to five students yesterday, while secondary six students do not have to return at all.

"Even if we arrange for all staffers to take tests, the possibility of resuming classes from 8am to 4pm is still very low," Mak said.

As of last Saturday, a total of 1,591 schools - 829 kindergartens, 219 primary and secondary schools, and 543 tutorial centers - have sought whole-school resumptions for half a day.

Hong Kong Aided Primary School Heads Association's honorary chairman Langton Cheung Yung-pong said many primary schools did not apply for a whole-school resumption because the epidemic situation has been improving gradually and expected the Education Bureau to announce a full-resumption at any time.Cheung, principal of SKH St James' Primary School in Wan Chai, added that he did not think schools had to rush for a whole-school resumption as it involves unnecessary risks and questioned the effectiveness of performing regular testing on staffers and teachers.

"There's a risk of infection for 800 students to return to classes. They might also risk being infected when returning to school. How high is the effectiveness of preventing epidemics by only testing the tens of staffers and teachers in school?"