Citing recent reports of worsening mental health among young people amid the pandemic and social polarisation, group says the consequences of increased surveillance could be 'dire'.
Hong Kong's biggest association of secondary school heads warned on Monday of the "dire" consequences of installing surveillance cameras in classrooms to monitor teachers, saying such a move – advocated by pro-establishment figures – could lead to political controversies and immense pressure on educators.

The Hong Kong Association of the Heads of Secondary Schools made its opposition to the measure known after pro-Beijing lawmakers repeatedly pressured the Education Bureau to install cameras to keep tabs on teachers following a number of politically tinged complaints arising from the 2019 anti-government protests, despite officials' reservations about the suggestion.

"The executive committee of the association is worried that over-monitoring, including through CCTV, will bring political contention into classrooms," honorary executive secretary Michael Wong Wai-yu wrote in an article on the group's website, adding the move would have a damaging effect on professionalism in education.

Citing recent reports of worsening mental health among young people, Wong warned: "No matter what the underlying causes for these mental health burdens are, with the pandemic raging across the globe and views split in society, installing CCTV in classrooms would mean introducing immense pressure on campus. The consequences are dire."

Over the past few months, several pro-Beijing lawmakers have pushed the government to install CCTV inside classrooms, saying it could monitor teachers' behaviour and uncover materials and content deemed biased – even insisting the measure should be done over educators and parents' objections.

Earlier this month, Education Bureau representatives surveyed primary and secondary schools across the city about whether they had installed CCTV on campus, and where. Sources, however, said the bureau did not explain the reasons behind the questions.

The calls for classroom oversight come at a fraught time for local educators. Two teachers have been deregistered for life since last September over teaching materials deemed problematic, including one who drafted a worksheet that touched on Hong Kong independence. Some teachers have recently said they are planning to drop sensitive topics, avoid discussing social problems in China and stop holding events to commemorate the 1989 Tiananmen crackdown amid simmering fears surrounding the Beijing-imposed national security law.

Meanwhile, Zhang Xiaoming, deputy director of the State Council's Hong Kong and Macau Affairs Office, said this month Beijing would look into ways to "improve" the local education system and "set things right" following the planned overhaul of the city's electoral system.

But undersecretary for education Choi Yuk-lin has previously expressed reservations about the calls for increased surveillance, saying consent should be obtained from stakeholders and existing privacy laws should be followed.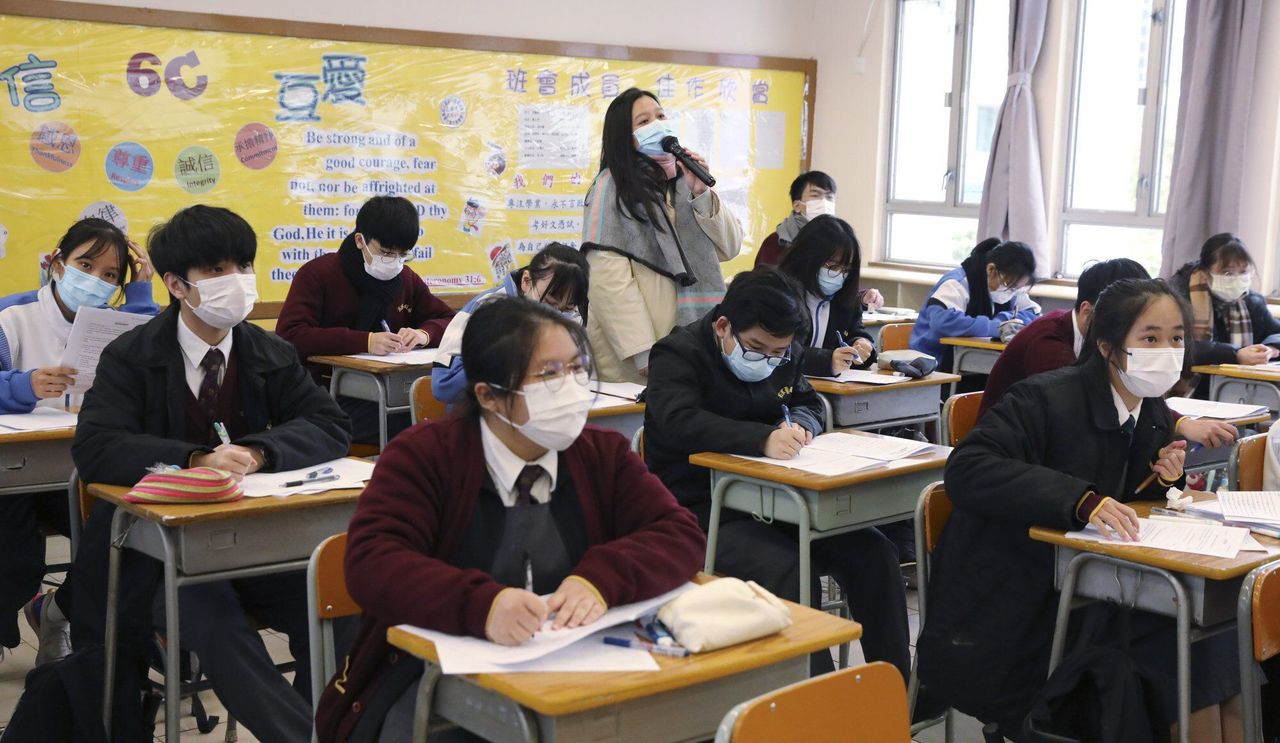 The secondary school heads association has raised concerns that surveillance in classrooms could be detrimental to pupils' education.

Two of the city's largest teachers' unions have also voiced their opposition, saying it would be an insult to teachers' professionalism and lead to further pressure on the sector.

Wong, of the secondary school heads association, also raised concerns that installing CCTV would impede students' learning, hurt teachers' morale and ratchet up distrust, discomfort and confusion on campuses.

Surveillance cameras, he said, might prompt students to shy away from endeavours that were in fact conducive to learning, like participating in classroom discussions, adding that for shy students, CCTV could become a "lingering nightmare".

"At the same time, there are some who will go to the other extreme in resisting either actively or passively the CCTV, which they perceive as oppression from the authorities."

He added that many questions pertaining to CCTV surveillance on campus and in classrooms remained unanswered.

"Who has the right and when to view the recording? Are there any management protocols and yardsticks? Under what circumstances and who can or cannot view the recordings? Are there any procedures to follow up complaints?" he wrote.

"Why should we drain all our time and energy to handle this CCTV issue which is entirely not related to students' learning?" Wong continued, saying it was time to put an end to the discussion.