Commissioner of Police Raymond Siu says criticising government is not a crime, but a person cannot use his or her own speech to incite others to break the law or use violence.
Press freedom in Hong Kong is not an absolute right as national security obligations and public safety have to be taken into account, the police chief has warned.

Commissioner of Police Raymond Siu Chak-yee's remarks on Thursday came as he reviewed the crime situation in the city last year and the arrests of 162 people for allegedly breaching the national security law since its imposition by Beijing in June 2020.

Two media companies, the Apple Daily newspaper and online portal Hong Kong Stand News, shut down after the owner or editors were arrested by the force's National Security Department.

Siu said the department had prosecuted more than 100 individuals and frozen HK$115 million in assets under the national security law.

On the media closures, he said criticising the government was not a crime, but one could not use his or her own speech to incite others to break the law or use violence. He added the arrest operations targeted the crimes and not a particular occupation.

"Some media outlets ceased operating one after another. This is their choice. Is it really because they criticised the government so we arrested them to set an example?" Siu said. "Maybe they had a guilty conscience? I think it is very clear.

"Press freedom is not absolute. It is built on legal responsibility and duty. I think those who breached the law are not qualified to talk about freedom."

Asked about the 162 arrests, Deputy Commissioner Edwina Lau Chi-wai, who is in charge of the National Security Department, said: "This number alone means nothing to me. But rather, in another context, it means the national security law is being enforced properly and legally."

She said the law sent a clear signal to the community about the consequences of breaching it.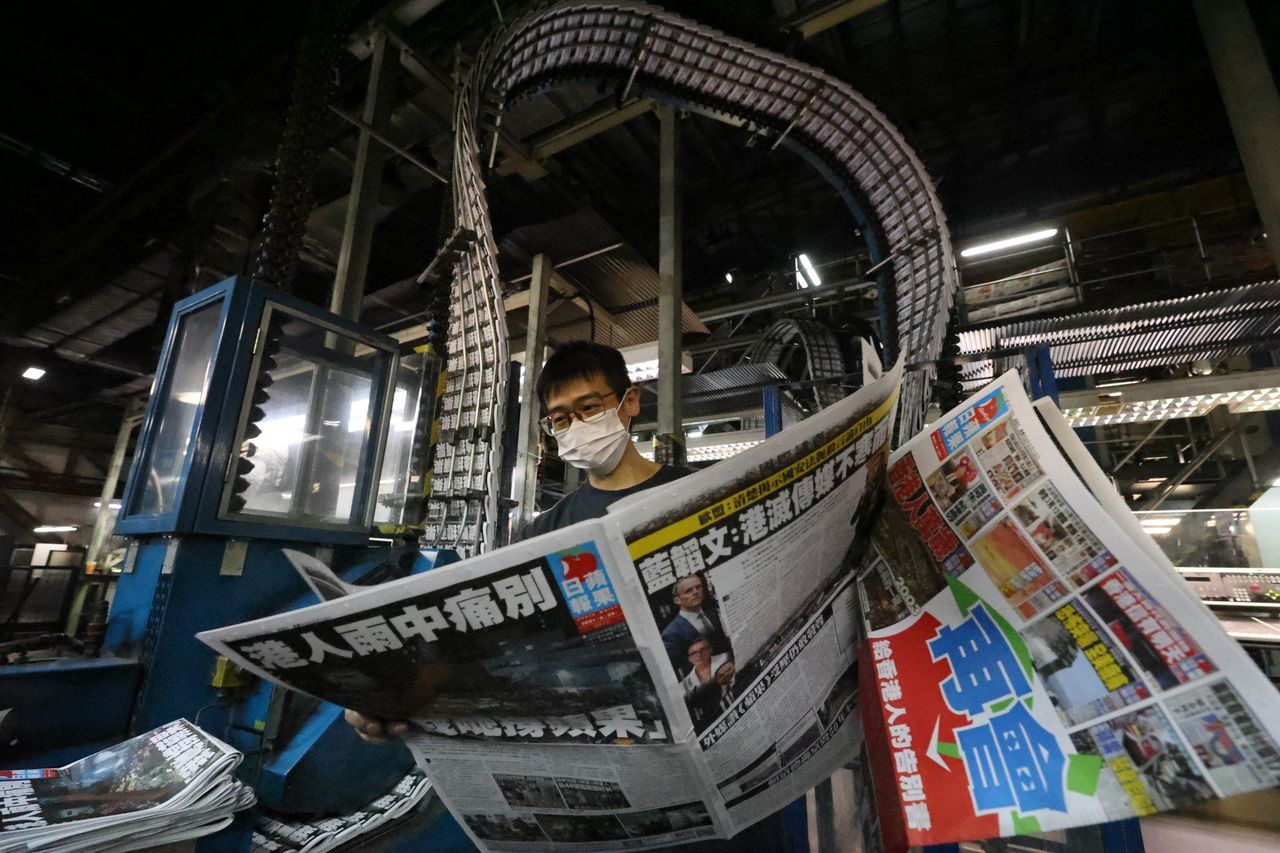 Apple Daily is one of two media outlets to close.

Overall, the number of crimes reported last year rose 1.9 per cent to 64,428, while the total detection rate increased slightly by 0.7 percentage points, to 38.5 per cent.

The police chief attributed the overall increase to a surge in deception cases, which rose 23.8 per cent to 19,249 last year, with 70 per cent internet-related, such as romance scams and investment frauds.

The number of reported telephone deceptions fell by 53 cases to 1,140 last year, but the actual financial loss involved rose 41 per cent to HK$810 million. The force's anti-deception coordination centre intercepted more than HK$2.3 billion of payments in 833 cases.

Among other increases, child abuse cases jumped 60 per cent to 1,232, while reports of indecent assault and rape increased 49.3 per cent and 23.4 per cent respectively to 1,018 and 79 cases. Violent crime also recorded a 2.1 per cent rise, to 9,587 cases.

Serious drug offences climbed 36.6 per cent to 1,570 last year, with the force saying it believed trafficking syndicates had shifted to smuggling huge quantities of narcotics via sea and air freight due to stringent immigration control measures imposed globally during the Covid-19 pandemic.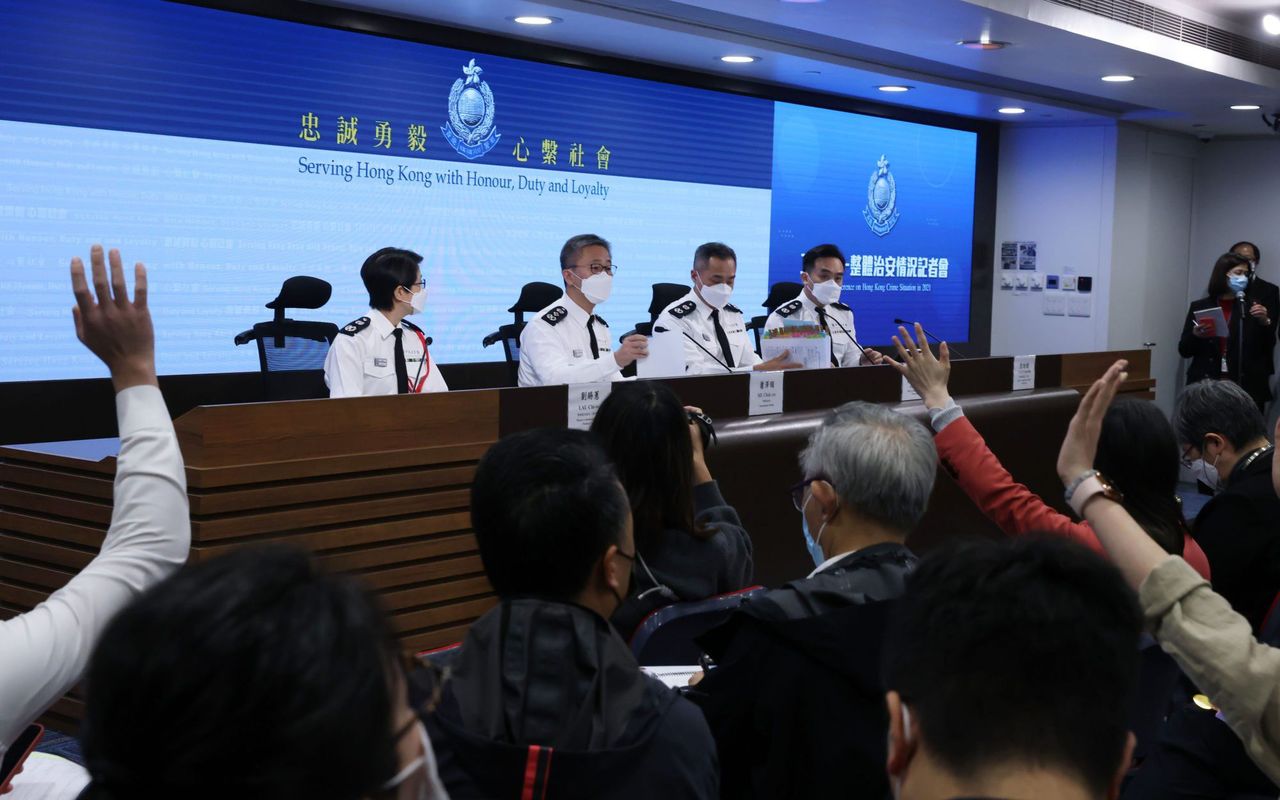 Edwina Lau (left), Raymond Siu and deputy commissioners Oscar Kwok Yam-shu and Albert Yuen Yuk-kin hold a press briefing on the crime situation.

Seizures of all types of drugs by police and customs surged. The amount of ketamine found jumped sevenfold from 471 kg to 3,296kg (1.038lbs to 7,266lbs). Cocaine and cannabis confiscated almost doubled in 2021 to 2,895kg and 2,088kg (6,382lbs and 4,603lbs) respectively.

Siu said though the number of arrested youngsters aged between 10 and 20 dropped by 24.2 per cent to 3,021 last year, those held for serious drugs offences jumped nearly fourfold from 112 to 430, indicating a rising trend of teenagers being exploited in drug trafficking activities. Robberies decreased 53.4 per cent to 123 last year and burglaries fell 29.7 per cent to 1,472, both lows not seen since 1969.

Overall, 871 crimes were reported for every 100,000 people last year, of which 130 cases were violent, compared with 845 and 126 respectively in 2020.