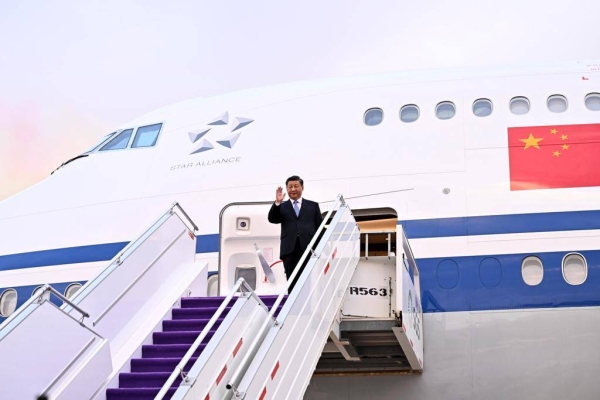 President Xi: China, Saudi Arabia continuously consolidating strategic mutual trust
Chinese President Xi Jinping affirmed that China and Saudi Arabia have continuously consolidated the strategic mutual trust between the two countries.
"Saudi Arabia and China have continued their exchange of support and understanding, and the practical cooperation between the two countries has achieved successful results in all fields. The two sides maintain the communication and coordination in major international and regional affairs," he said in a statement, issued upon his arrival in Riyadh, embarking on a high-profile visit to the Kingdom on Wednesday.

President Xi said that China and Saudi Arabia have had a close friendship, partnership, and brotherhood spanning over 32 years ever since the establishment of diplomatic relations between both countries in 1990.

"King Salman and I are leading the Saudi-Chinese bilateral relations to achieve a great development," the Saudi Press Agency reported quoting him as saying.

President Xi stressed that his meeting with Custodian of the Two Holy Mosques King Salman took place, particularly after the establishment of comprehensive strategic partnership relations between the two countries in 2016, which has benefited the two peoples, as well as its strong contribution to enhancing peace, stability, and prosperity in the region.

Chinese president expressed his happiness over the visit to Saudi Arabia again after six years in response to the invitation of King Salman and attending the first ever two summits, which are the Arab-Chinese summit and GCC-Chinese summit.

He noted that during the visit, he will discuss with King Salman and Crown Prince and Prime Minister Mohammed bin Salman the bilateral relations and the regional and international issues of common interest, in addition to working together toward planning the development of Chinese-Saudi relations.

President Xi is also looking forward to attending the Arab-Chinese summit and GCC-Chinese summit, to work with the leaders in order to elevate the Arab-Chinese relations and GCC-Chinese relations to a new level. On behalf of the Chinese government and the people, he extended sincere greetings and best wishes to the Saudi government and people.