Among the winners were stories on the early days of the coronavirus pandemic, China's seller's market for medical supplies and Hong Kong's 2019 anti-government protests.
China news editor Josephine Ma, reporter Linda Lew and former reporter Lee Jeong-ho took second runner-up in the Best Scoop category for a package containing their exclusive March 2020 story which revealed China's first confirmed Covid-19 case could be traced to November 17 of the previous year, and a story about the large number of asymptomatic infections in the country.

Ma said that since the first cases emerged in Wuhan, doctors, scientists, citizens and journalists alike had been working hard, often heroically, to help people understand the disease better.

"Their sacrifice and hard work paid off when news stories helped people understand more about Covid-19", she said. "There are so many things we still have to find out about this new virus and the pandemic. Good journalism should continue to play a role in this."

Senior writer Cannix Yau, news editor Denise Tsang, and reporters Kanis Leung and Kathleen Magramo netted first prize for Best Business News Reporting for their August 2020 series of five articles on the city's unemployment woes caused by the Covid-19 pandemic.

The series looked at how the pandemic, following on the heels of the previous year's social unrest, had hammered Hong Kong's economy and left tens of thousands struggling to survive.

Post correspondent Finbarr Bermingham and reporter Cissy Zhou walked away with top honours for Best Business News Writing (English) for their April 18 story on how the coronavirus had led to an unprecedented seller's market for masks and medical supplies in China, while redrawing the rules of engagement.

Staff photographer Felix Wong netted the top prizes in both the Best Photograph (Features) and Best Photograph (Sport), while photographer Jonathan Wong earned second runner-up honours in the latter category.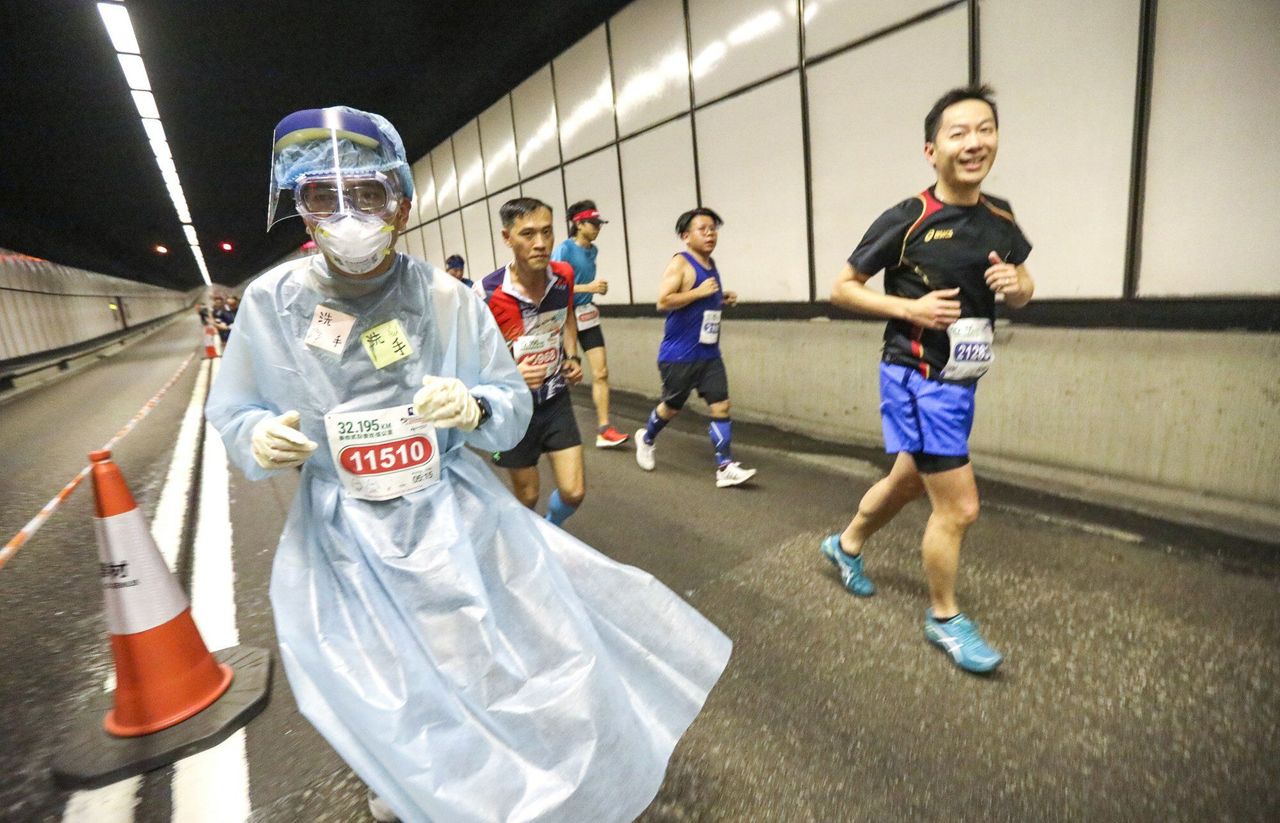 Post photographer Felix Wong took the top prize for Best Photograph (Sport) for this shot of a runner clad in surgical gear participating in the HK Streetathon Race 2020.

Deputy creative director Adolfo Arranz netted the top prize for Best News Page Design (Single Page) for a page published in June, while he and designer Dennis Wong, creative director Darren Long, senior designer Marcelo Duhalde and graphic designer Kaliz Lee also secured the top prize in Best News Page Design (Series) for designs published in March, April, May and October.

Meanwhile, Post deputy executive editor Zuraidah Ibrahim, correspondent Jeffie Lam, and senior reporters Chris Lau and Christy Leung, along with Yau, Tsang and Kanis Leung, netted the Merit 1 nod in Best News Reporting for their eight-article series marking the first anniversary of the anti-government protest movement that gripped the city beginning in June 2019.

"The series contains a number of excerpts from Rebel City: Hong Kong's Year of Water and Fire, a collective effort by our team to document the 2019 protest movement that has changed Hong Kong forever. We are delighted and humbled by the recognition, which will only galvanise us to do better by our readers," Lam said.

Reporter Fiona Sun won second runner-up in the Best News Writing (English) category for her May 10 feature about a 70-year-old Hongkonger caring for his wife with dementia and the mounting struggles they faced due to the pandemic.

Senior reporter Chad Bray was honoured as second runner-up in the same category for his July 4 story on what drove banking giant HSBC's Asia-Pacific chief executive Peter Wong Tung-shun to publicly support the national security law for Hong Kong.

The Post's senior production editor Richard Kirk took second runner-up for Best Headline (English) for a header made in August.

"Once again, our award-winning journalists have made us proud," Post editor-in-chief Tammy Tam said. "These are tumultuous times for Hong Kong – for the rest of the world, too – and work on the newsgathering front has been quite gruelling, to say the least. So it's great to see our colleagues getting recognised and rewarded for their hard work."

A total of 607 entries from 12 print newspapers entered this year's contest by the city's oldest newspaper association. All entries were reviewed and commented on by a panel with 52 panellists drawn from the news profession, business bodies, tertiary institutions and the government.