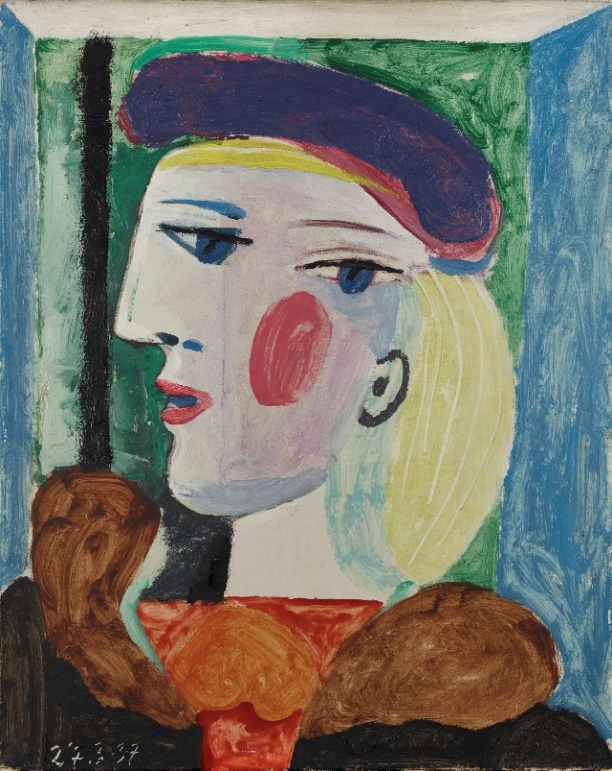 Portrait of Picasso's lover Marie-Thérèse Walter makes HK appearance
Portrait of Picasso's lover Marie-Thérèse Walter makes HK appearance
Ahead of the sale of a major Picasso portrait from 1937, one of the artist's most fruitful years during which he also produced, Guernica and Weeping Woman, auctioneer Bonhams is displaying in Hong Kong, the painting, 'Femme au Béret Mauve', a serene depiction of Picasso's greatest muse Marie-Therese Walter.

It will be on display by appointment at the Bonhams Hong Kong Gallery, at 20/F, One Pacific Place, Admiralty, along with other sale highlights from April 1 to 22.

It was painted in March 1937. The painting has not been on public display since it was bought in 1984 from a New York gallery by the current owners. It has an estimate of US$10 million to US$15 million.

The work will be offered at Bonhams Impressionist and Modern Art sale in New York on Thursday, May 13.

Bonhams Senior Vice-President and Head of Impressionist, Modern, European and American art in America, Molly Ott Ambler said: "This bright, joyous portrait of Marie-Thérèse Walter exudes stability and calm at a time when Picasso's personal life was in turmoil and all of Europe was living under the shadow of impending war. Family life with Marie-Thérèse and their daughter Maya represented a refuge of serenity and sensuality captured in this work."

In the early months of 1937, Picasso's emotional life was in a state of flux.

Still married to his estranged wife Olga, who steadfastly refused to give him a divorce, the artist was dividing his time between two other women; Marie-Thérèse Walter – his lover of the previous 10 years and mother of his daughter Maya, and his new love, Dora Maar, whom he had met the previous year.

Politically, the Spanish Civil War, which had begun in 1936, was a cause of particular anguish to Picasso; the tragedy at Guernica, later memorialised by the painter in the work of the same name, was but weeks away when he created this portrait.

Femme au Béret Mauve was one of several depictions of Marie-Thérèse painted at Le Tremblay-sur-Mauldre, a village about 50 kilometers to the west of Paris where the artist had installed Marie and Maya and where he would visit them at weekends.

Writing in the spring edition of Bonhams Magazine the art critic Martin Gayford said: "The pictures done in Le Tremblay-sur-Mauldre continued to be concerned with the subjects Marie-Thérèse had always suggested to him: sensuality, but also domestic peace, love and calm."

By contrast, Dora Maar who lived close by Picasso's rue des Grands Augustins studio in Paris, is frequently represented in works of this period as a figure, erratic and emotionally vulnerable – the qualities which had drawn the painter to her in the first place.

It is Dora who is depicted in Weeping Woman, a work that acts as an emotional pendant to Femme au Béret Mauve, Bonham says.