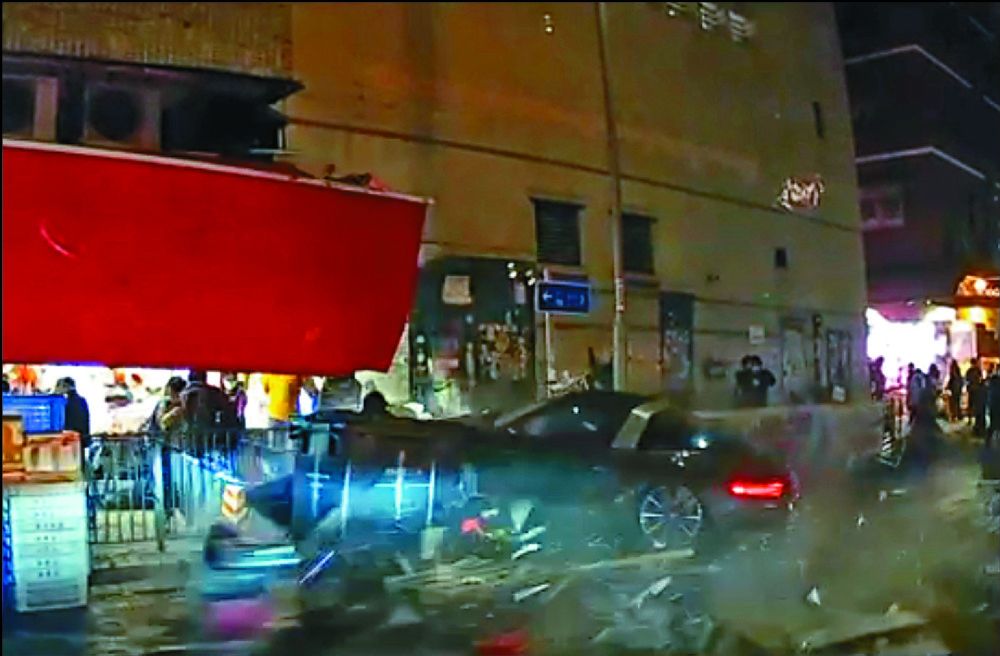 Porsche driver bailed over market crash
A female driver of a Porsche sports car has been granted bail for dangerous driving - one day after she lost control of the vehicle which climbed a sidewalk outside a busy market in Yuen Long, leaving seven people injured, including a pedestrian who had a narrow escape.
After preliminary investigations, the 55-year-old woman was arrested for dangerous driving - she was released on police bail yesterday and will report back to the police in the middle of next month.

Seven people - including the driver herself, who was trapped inside the vehicle, a 42-year-old non-Chinese female passenger, a driver of another private car and four pedestrians - were injured.

Dashcam footage posted online showed the sports car mounting the sidewalk and crashing just outside Tung Yick Market building in Hop Choi Street at about 6.30pm on Wednesday, brushing a cleaning worker and causing him to fall.

The Porsche was reversing on Hop Choi Street and hit the vehicle behind it, even though the driver of the latter car kept honking, according to the video.

It then reversed direction and took off at top speed for about 50 meters before mounting the sidewalk, crashing into a loaded forklift and hitting pedestrians, including the cleaner.

Meanwhile, a seven-vehicle pile-up at Tseung Kwan O Road early yesterday led to a five-kilometer-long traffic jam. Three taxis, three cars and a motorcycle were involved in the crash, which saw three taxi drivers and a motorcyclist injured and sent to hospital in a conscious state.

The accident took place during rush hour at 7.40am on the downward slope of Tseung Kwan O Road toward Kwun Tong, near the Tseung Kwan O tunnel.

The right lane was closed off, leaving only one lane for vehicles to Kwun Tong and another toward Lam Tin, causing heavy congestion, with the end of the jam stretching all the way toward Oscar by the Sea on Wan Po Road, Tseung Kwan O.

That forced the Transport Department to advise motorists to take other routes or make use of the MTR. Traffic returned to normal after an hour.

A 5km journey from Oscar by the Sea on Wan Po Road to Tsui Ping (South) Estate in Sau Mau Ping would typically take about five minutes under normal circumstances, but took at least 30 minutes for rush-hour commuters yesterday morning.

Many people complained on social media that they were late for work, while some asked whether the Tseung Kwan O tunnel, which is already known for its congestion during rush hours, has "gone mad" once again.