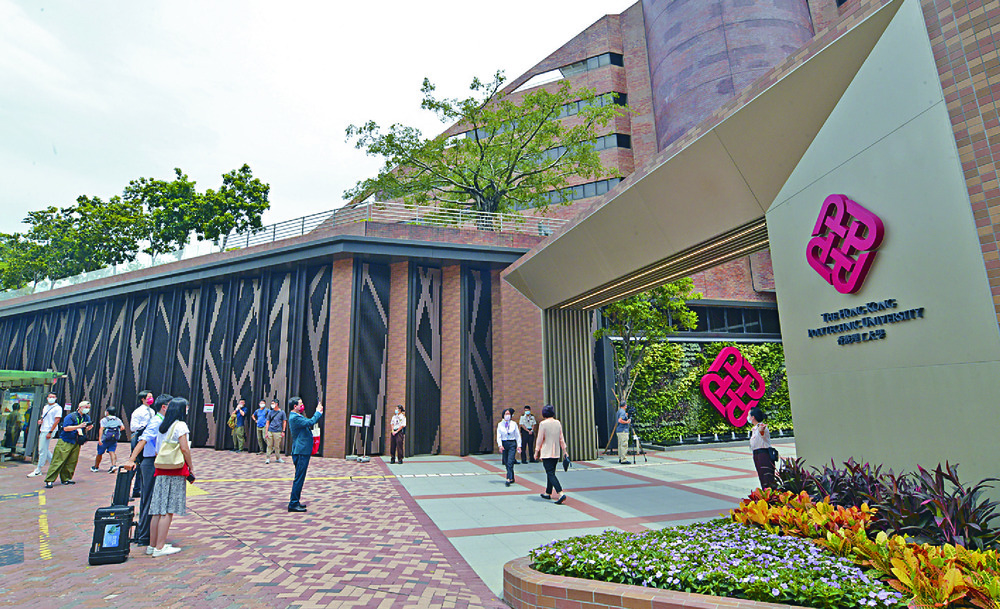 PolyU unveils new entrance after siege
The Polytechnic University has risen from the ashes of the social unrest and siege of its campus almost three years ago to be stronger and more energetic, council chairman Lam Tai-fai said, as the university revealed its new main gate to celebrate its 85th anniversary.
At the new entrance's unveiling ceremony yesterday, Chief Executive John Lee Ka-Chiu said the university in Hung Hom has been "actively responding" to Hong Kong's goal of becoming an international innovation and technology hub.

The main entrance at A Core has been redesigned to blend the university's signature red brick architectural style with classical colonnade features.

The entrance symbolizes PolyU's pursuit of excellence as a leading global university, taking world-class education, research and knowledge into a new era.

In his speech yesterday, Lam said the social unrest in 2019, in particular the university's two-week siege in November that year, had caused severe damages to the university's main entrance and other parts of the campus, and the university was forced to stop operations.

He said the university and the government closely cooperated to resolve the violent incidents on campus.

"Riots can never stop the SAR government to fully and accurately implement the one country, two systems principle, nor stop PolyU to continue to develop healthily," Lam said.

Lee also said that PolyU has become one of the top 100 institutions worldwide, and its graduates have become leaders and pioneers in various sectors.

He cited president Xi Jinping's speech in Hong Kong on July 1 that society must pay special care and love to cultivate youngsters, and added that such responsibility falls on the shoulder of tertiary institutions in Hong Kong.

He said schools must teach students to respect and safeguard national security, teach them about the nation's history and culture, as well as strengthen their sense of pride and belonging to the country.

"Hong Kong moves forwards as youngsters do. Their future is Hong Kong's future," Lee said.

"Not only should we snatch talents from outside countries, but we also need to cultivate local talents [for] Hong Kong's IT development."