A heavy police presence is expected in Wan Chai district where the official flag-raising ceremony and National Day cocktail reception will be held on Saturday morning.
Pro-Beijing politicians have urged the Hong Kong government to mark National Day in a more coordinated manner, as law enforcement agencies prepare to deploy 8,000 officers amid tight security for celebrations in Wan Chai on Saturday.

Legislators said that while authorities had displayed Chinese and Hong Kong flags in many public areas including government complexes, more decorations and activities on housing estates would help to engage residents. More education on patriotism could be provided as well, they suggested on Friday.

The city is set to celebrate the first National Day since Chief Executive John Lee Ka-chiu was sworn in on July 1 by Chinese President Xi Jinping, who urged the administration to strictly adhere to the principles of "patriots administering Hong Kong", and instil a stronger sense of national identity among Hongkongers, especially the young.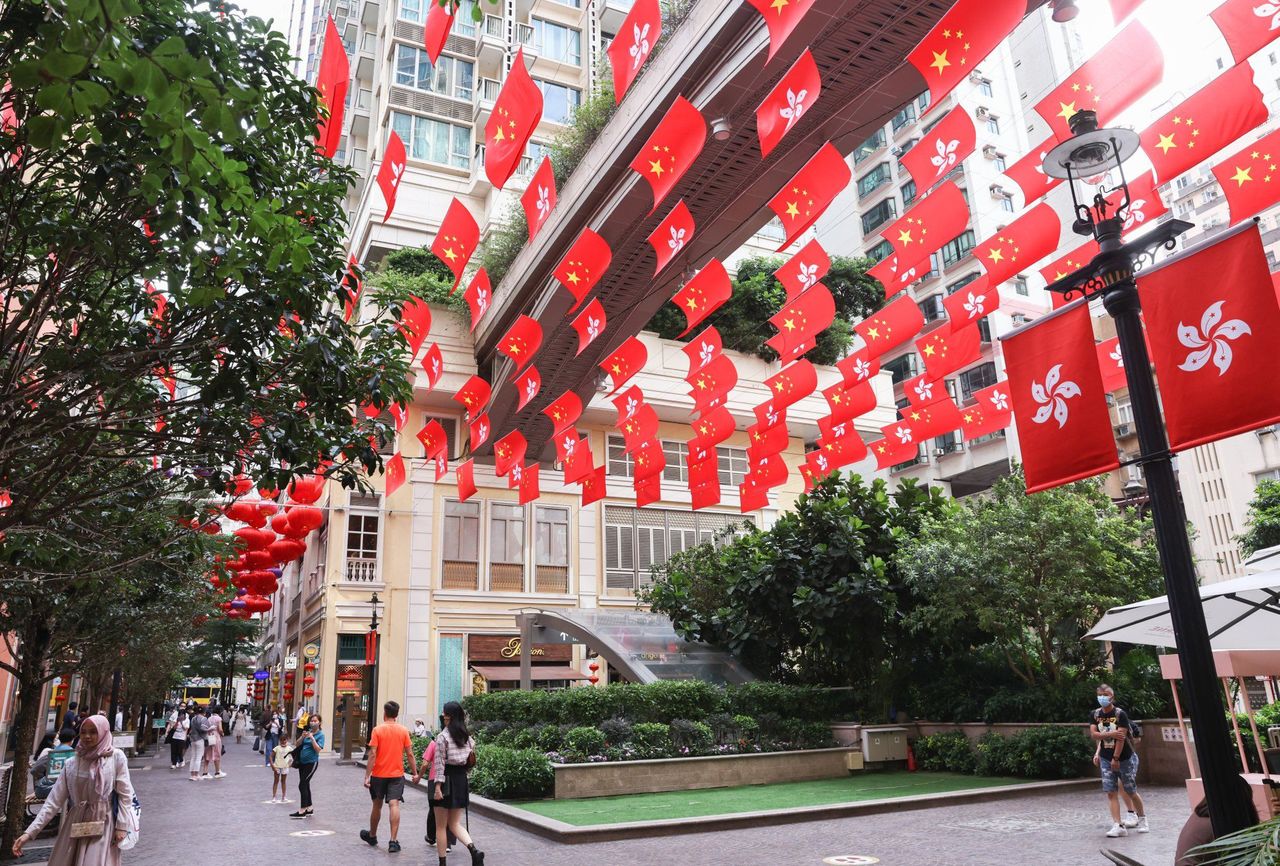 Wan Chai's Lee Tung Avenue is decorated for National Day.

On Friday, Chinese foreign ministry spokesman Wang Wenbin posted four pictures on social media of the five-starred national flag displayed in various parts of the country, saying: "Cities across China are decorated with thousands of national flags for the coming National Day."

One of the photos showed a sea of Chinese and Hong Kong flags hung above a shopping area in Wan Chai. Similar displays could also be found in areas such as Central, Tsim Sha Tsui East, Tseung Kwan O and Tai Po.

Despite the waves of flags in other areas, Yuen Long district councillor and rural leader Ronnie Tang Yung-yiu said there was "no celebratory atmosphere at all" in his constituency.

"The Home Affairs Department hung some banners on the lamp posts, while the villagers erected their own traditional decorations, but I cannot see many national flags in the town centre," Tang said.

The Highways Department earlier charged the rural leader HK$147,670 (US$18,812) for displaying about 1,200 Chinese flags last year, but he received a full refund after Lee stepped in.

Kowloon West lawmaker Scott Leung Man-kwong suggested that aside from government buildings, more National Day activities could be held in public housing estates.

"On estates, more activities, such as colouring contests for children, should have been held. More funding should also be provided for celebratory decorations in those places," he said.

Lawmaker Bill Tang Ka-piu said residents had complained of difficulties in displaying the national flag at government premises such as police staff quarters.

But members of the Democratic Alliance for the Betterment and Progress of Hong Kong, the city's largest pro-establishment party, said patriotism was not just about hanging up Chinese flags.

Lawmaker Lillian Kwok Ling-lai proposed that a Chinese culture promotion council should be created to coordinate government efforts.

"In the past, the government allocated much resources on promoting Western culture … but we need to catch up and establish a designated body to assess how Chinese culture has been promoted, and what areas can be improved," she said.

Tam Yiu-chung, the city's sole delegate to the country's top legislative body, the National People's Congress Standing Committee, said it was Hong Kong educators' responsibility to make sure young people understood the history and meaning of the national flag and emblem.

As in previous years, a heavy police presence is expected in Wan Chai district where the official flag-raising ceremony and National Day cocktail reception will be held at Golden Bauhinia Square and Hong Kong Convention and Exhibition Centre respectively on Saturday morning.

Because of public health and safety, the flag-raising ceremony will be held without a public gallery for the fourth year in a row.

There was a heavy police presence near the exhibition centre on Friday, with officers in tactical gear patrolling the area and a line of vehicles parked nearby. Officers from the counter terrorism response unit in light blue tactical uniforms were also seen.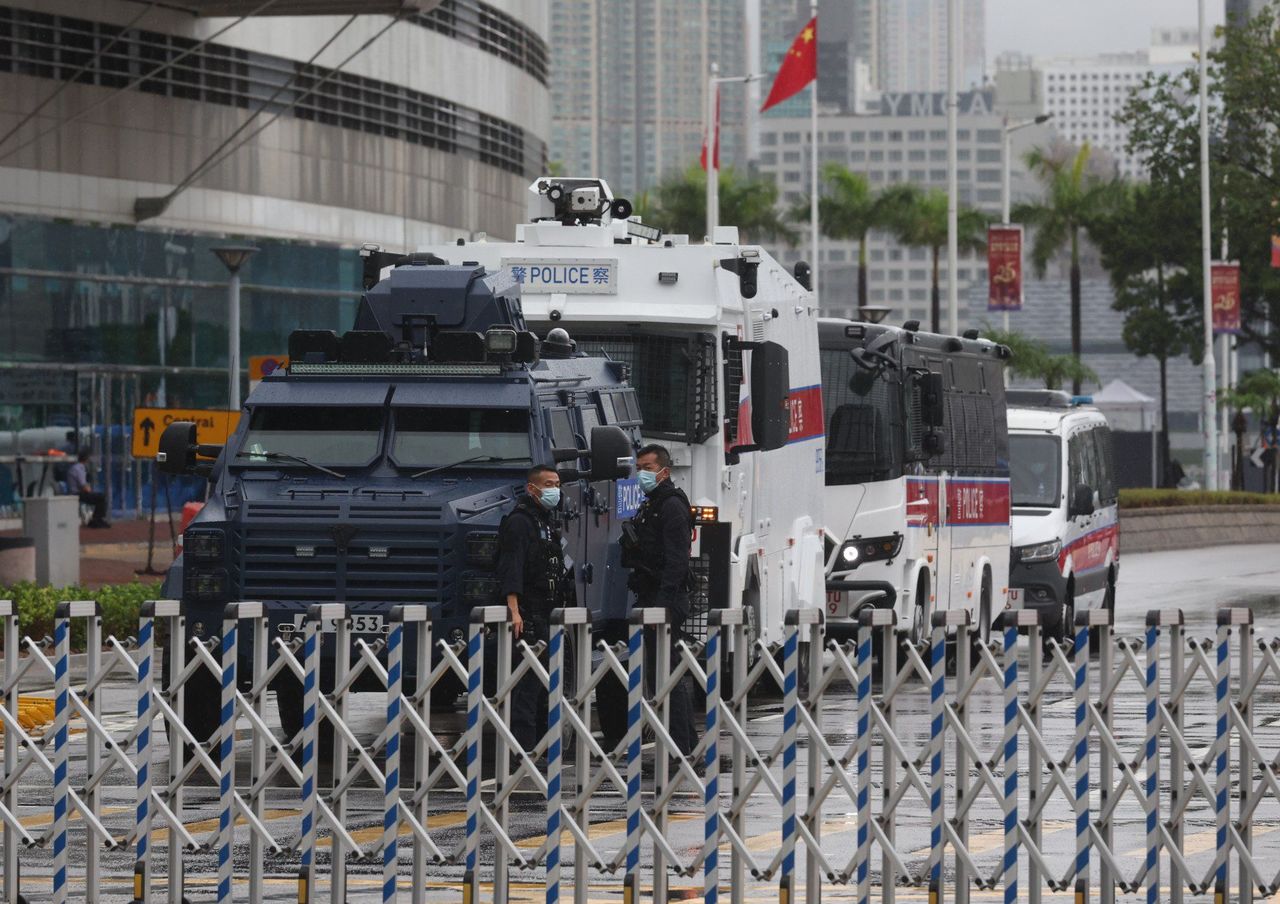 Police vehicles parked outside the Hong Kong Exhibition and Convention Centre.

The Transport Department earlier announced that sections of Expo Drive, Expo Drive Central and eastbound Lung Wo Road would be closed to vehicular traffic between 12.01am on Friday and midday on Saturday.

Expo Drive East, which leads to Golden Bauhinia Square, was sealed off on Friday afternoon with water barricades. At least two "tactical buses" – installed with an anti-riot windscreen, run-flat tyres and reinforced bumpers – as well as police armoured vehicles and water cannon trucks were also seen inside the cordoned area near the square.

Public institutions such as Polytechnic University, as well as Beijing's agencies and garrison in Hong Kong, are expected to hold their own flag-raising ceremonies on Saturday morning.

More than 2,000 officers will be deployed in the Kowloon West region where a variety show to celebrate National Day will take place at the Hong Kong Coliseum in Hung Hom on Saturday evening.

Protests have died down in the city since the enforcement of the national security law in 2020. On October 1 last year, four opposition activists from the League of Social Democrats marched from Wan Chai MTR station, and urged mainland Chinese authorities to release all "political prisoners".

The league decided not to stage any protest on July 1 this year after receiving warnings from police. The group was one of the last to continue to stage protests earlier this year.