In a one-hour televised forum, Lee says he plans to keep property prices stable, stops short of saying if he will introduce vacancy tax and vows to make border reopening a priority.
Hong Kong's sole chief executive candidate has placed economic and social issues at the top of his agenda, as John Lee Ka-chiu insisted constitutional reform and universal suffrage would not be a priority for his administration.

Responding to a slew of questions on politics and democracy from journalists and residents at a televised forum on Saturday, Lee said the city was still in the midst of implementing electoral changes imposed by Beijing last year to ensure "patriots ruling Hong Kong". The aim was to ensure good governance and better policies being rolled out, he added.

The former chief secretary also reassured homeowners that while he had plans to resolve the city's housing problem, he would keep prices stable. He stopped short of giving his stance on the prospect of introducing a vacancy tax, a controversial move the current administration backed away from after developers protested amid fears of over-dampening the property market.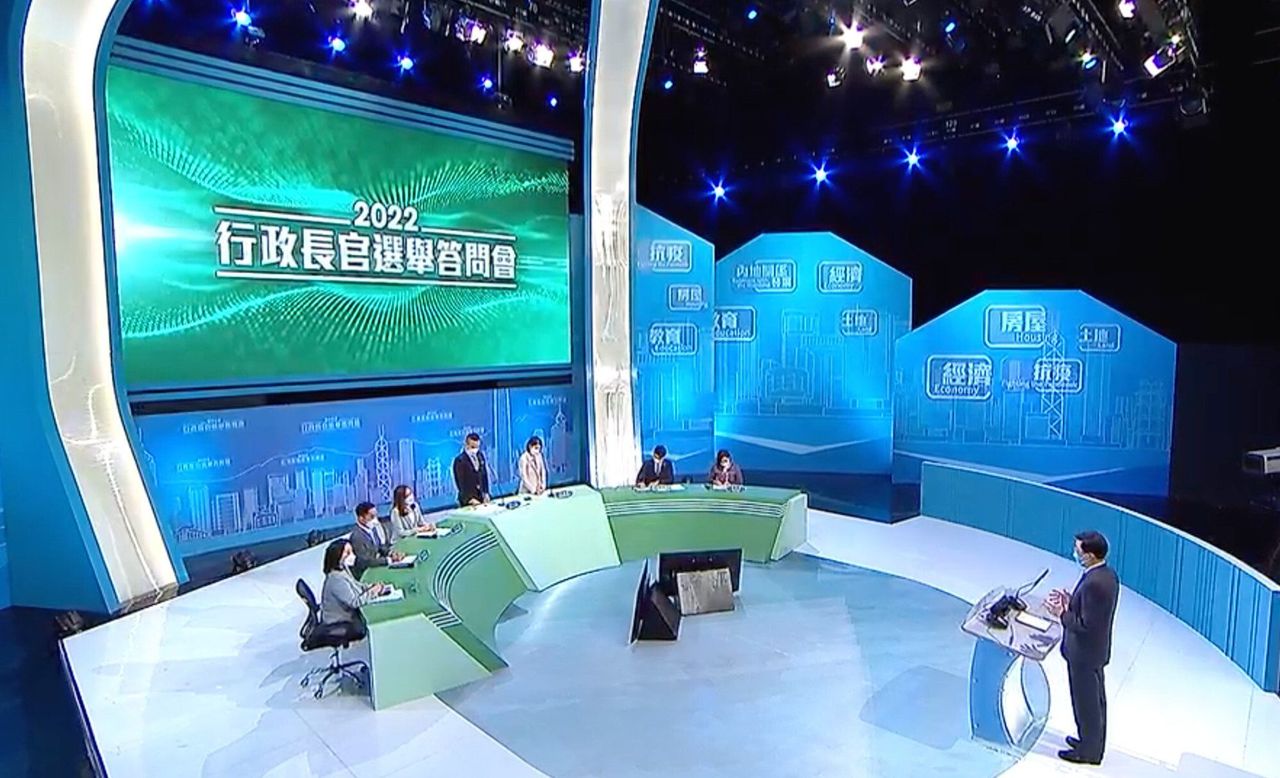 John Lee faced seven broadcast and radio journalists and an assortment of residents posing questions through pre-recorded videos.

During the traditional televised forum which in previous chief executive races would have featured opponents debating one another, Lee instead faced seven senior broadcast and radio journalists and an assortment of residents posing questions through pre-recorded videos. These ranged from his stance on press freedom to youth policies, and how he intended to retain talent amid a surge of people moving out because of unhappiness over declining freedoms and the city's restrictive Covid-19 policies.

Stopping short of citing concrete measures he planned to adopt, Lee painted Hong Kong as a "tolerant, inclusive and robust" society that allowed people "to achieve their dreams".

"I hope to form a government that would do work and has the ability to implement policies," Lee said. "I welcome all of you to come back to Hong Kong," he replied when asked what he would say to those who had left the city.

Lee was also asked how he intended to reopen Hong Kong to mainland China and the rest of the world following the waning of the fifth wave of coronavirus infections.

Discussions with the mainland counterparts would be a top priority if he were elected, he said.

"I will try to remove all obstacles. We will also create favourable circumstances, including boosting vaccination, and also do better on risk-management," he replied.

Asked whether resuming cross-border travel with the mainland would take priority over further opening to international travel, Lee said there was no contradiction between the two.

"For example, maybe we could begin some quota-based travel with the mainland, while we will consider the pandemic situation when we decide whether to further lift travel restrictions," he said.

On the property market, the former No2 official said he hoped to keep prices stable for private residential flats and that he did not want to see fluctuations in the market.

"The government has to make this clear to the public, in which a market with stable prices is the most suitable for Hong Kong society," he said.

His strategy, he said, was to expand the economy, which would in turn raise people's salaries and make housing more affordable for them.

On the subject of politics, Lee was asked if the implementation of the national security law in 2020 served as a good foundation for kick-starting constitutional reform and to push forward universal suffrage in Hong Kong. For the first time, Lee revealed his administration would not place a priority on it.

"Constitutional reform would not be a priority for the sixth term of government, as there were many other issues that needed to be handled, including social, economic and development ones, so that Hong Kong's competitiveness would improve, and would become a more attractive place," he said.

Lee said the chief executive election was the final major city election under the overhauled electoral system, but there was still a need to go through an implementation period to see the advantages of the revamped system.

"We hope to see good governance, and a better relationship between the government and the Legislative Council so that there will be better policies," he said. "The government and Legco have to work hard on that. We have to be pragmatic and constitutional reform is not our priority."

While Lee was asked about political reform, his manifesto did not mention the subject, compared to chief executive candidates in the past who had addressed such "sensitive topics" for their platforms.

For example, Carrie Lam Cheng Yuet-ngor in 2017 wrote in her platform that she "absolutely understands Hong Kong people's, particularly our young people's desire, for universal suffrage", and would do her best to work towards creating a favourable atmosphere to take forward political reform within the "831 Decision" – a framework layout by China's top legislative body in which chief executive election will be carried out from a list of pre-vetted candidates.

Lau Siu-kai, vice-president of semi-official think tank the Chinese Association of Hong Kong and Macau Studies, said it would take time for the government to work smoothly after the electoral overhaul and Beijing would not want to see further trouble after such a radical surgery on the system.

"Universal suffrage is too controversial and sensitive, and might give opposition forces a chance to achieve their political agendas," he said. "The new administration has to strengthen the patriotic power among the pro-establishment bloc and it would divert the public's attention on other important issues if constitutional reform is brought up again."

Tik Chi-yuen, the city's only non-pro-establishment lawmaker, said he was "extremely disappointed" by Lee's position on political reform, saying that he had missed the point.

Tik said people had moved out of Hong Kong not because of economic reasons, but the lack of political certainty and the chance to choose their own elected representatives.

"This is the demand of the majority of the citizens and is listed in the Basic Law," he said.

Asked if democracy still mattered in the city now, Lee, the ex-security minister criticised for his tough handling of the 2019 anti-government protests, said: "We have to abide by the law even if people would like to stress their different views. It is as simple as that," he said.

"There is no need to use an unlawful method to strive for that," he added.

Addressing concerns over press freedom, Lee, who warmed up in the second half of the forum, insisted it was a right Hong Kong already enjoyed – likening it to "the identity card that every citizen already has".

"But we have to be aware that some people may use press freedom as a disguise to do things that violate the law," he warned, accusing some of hijacking the issue for their own political agenda. "People will see those cases in court in due course."

He said that one had to "respect" the work of journalists but "right the wrongs" when needed.

Lee defended a pilot scheme he unveiled on Friday to provide training and mentorship to 1,000 students living in subsidised flats, shrugging off suggestions that it was too narrow.

He said the scheme was a targeted one, subject to a yearly review, and could be expanded later, adding that there would also be other projects on the horizon to support youngsters.

Lee said that if teenagers were willing to take up responsibilities, the government would help them become pillars of society.

Nine residents from across Hong Kong recorded their questions in advance, as no live audience was allowed, with one asking why Hong Kong was still using English as its official language.

Lee cited the Basic Law in explaining the legal status of the arrangement.

The forum ended after one hour, during which the former official at times looked at his prepared notes but later on became more animated as he faced the grilling from the reporters. Lee's next big public event will be a rally on May 6.

Lee's next public event will be visits to two community centres in Sha Tin and Tai Wo, followed by meet-and-greet at a wet market and Tin Shui Wai on Sunday.