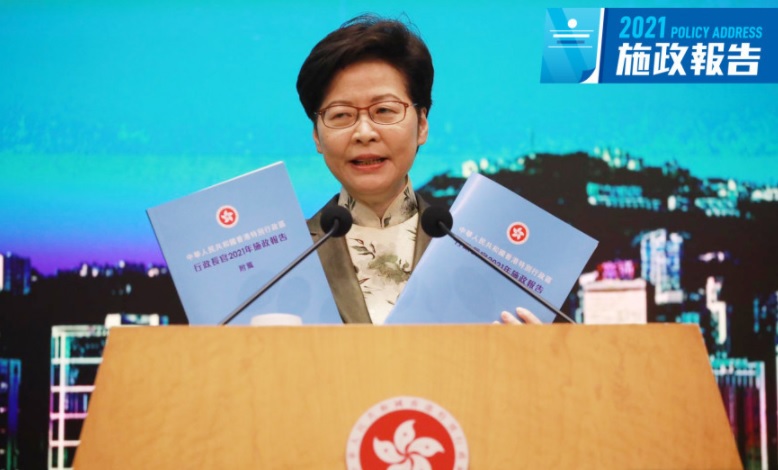 Policy Address will focus on integration and housing
The Policy Address to be delivered on Wednesday will focus on Hong Kong's integration into China's overall development and the city's housing problem, Chief Executive Carrie Lam Cheng Yuet-ngor said.
Lam is expected to announce a mega development plan which is even grander than Lantau Tomorrow Vision, which will include construction of a railway between Hong Kong's Hung Shui Kiu in the western part of New Territories and Shenzhen's Qianhai, sources said.

Like her previous four policy addresses, the cover of her fifth and last address during this term will be under the theme "new era, new opportunities."

Lam said the length of the new policy address is similar to that of last year's, and said she would need two hours to finish reading it.

She will conclude her four years of work in a supplement, which covered the implementation of more than 900 measures.

But Lam said she will not announce new relief measures for the pandemic, as the government already announced them back in August and September.

Sources said she will announce a mega development plan which incorporates cross-border railway, land development and nurturing of industries.

She will also explain how Hong Kong can make use of its advantages to develop in line with mainland's national plans and Greater Bay area development.

The address will also talk about a reshuffle of government bureaus and departments.

The Food and Environmental Hygiene Department, currently under the Food and Health Bureau, is likely to go under the Home Affairs Bureau after restructuring within the administration.

And the Trade and Industry Department under the Commerce and Economic Development Bureau will be managed by the Innovation and Technology Bureau.

Sources revealed earlier that the administration is seeking to split the Transport and Housing Bureau into two, and also to create a cultural bureau that focuses on promoting Chinese culture as well as arts and tourism.