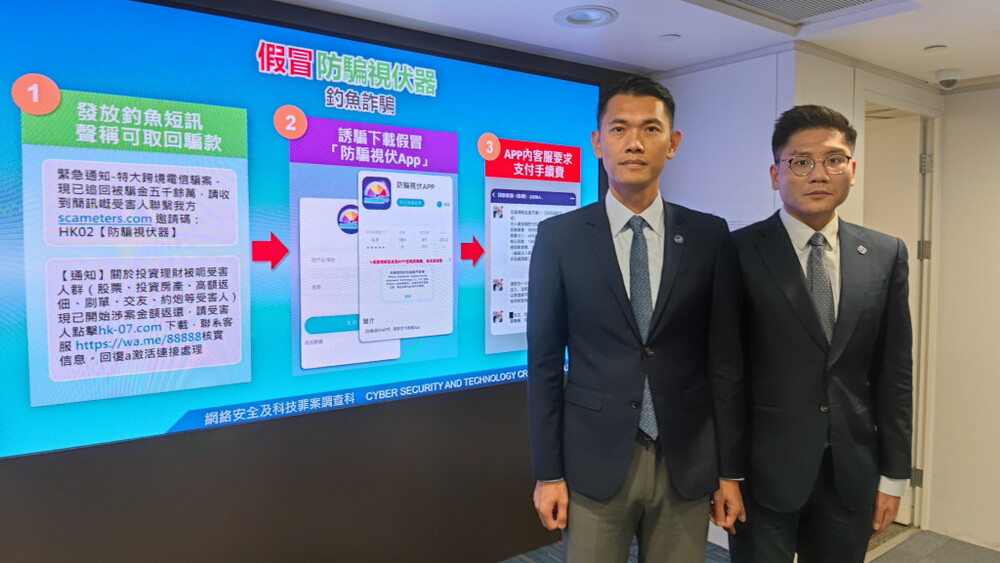 Police uncovered bogus version of the force's anti-scam search engine "Scameter"
The Hong Kong Police Force said on Monday that they were alerted of a bogus version of the force's anti-scam search engine "Scameter", with scammers using the fake application in an attempt to steal local residents' personal information and money.
To combat online and phone fraud, police introduced the Scameter search engine last September, which is accessible via the CyberDefender website.

The genuine app provides information to help the public identify suspicious web addresses, phone numbers, emails, platform usernames or IP addresses, with more than 820,000 searches to date and over 120,000 downloads.

The police spokesman of the force's cyber crime unit said today that the scammers sent messages titled "urgent notice" to local residents claiming that more than HK$50 million has been recovered from a large-scale cross-border email fraud case that happened in 2021.

Recipients will be asked to click on a hyperlink to download the fake version of the Scameter app and asked to register with their mobile phone numbers and passwords, which the spokesman said the legitimate Scameter app does not collect users' personal information or require login.

The spokesman said the recipients will then be directed to a bogus customer service agent claiming to be mainland law enforcement officers, requesting people to provide their personal information and details if they were scammed before.

The scammer will ask the victims to transfer around 15 percent or even the full amount of the money they have been scammed to a designated account as deposit, climbing the sum could expedite the process of getting the money back.

Police said they have not received reports of people being scammed by operators of the bogus application and no arrests were made so far.

The public was also reminded to download the official Scameter app only through the official website.