Probe into Dennis Kwok came to light after the former Civic Party legislator confirmed to a newspaper that he had moved to Canada, where he was born, with his family and planned to regain citizenship.
Hong Kong police are investigating a former opposition lawmaker who has fled to Canada for possible misconduct in public office when he presided over meetings of a key committee in the legislature, the Post has learned.

The probe into Dennis Kwok came to light on Saturday after the former Civic Party legislator confirmed to the Globe and Mail newspaper that he had moved to Canada, where he was born, with his family and planned to regain citizenship.

Kwok, 42, one of four pan-democrats ousted from their seats in the Legislative Council last November, became the latest prominent figure in the opposition bloc to leave the city.

A police source said the scope of the investigation included whether Kwok had committed misconduct in public office when he presided over 19 meetings of Legco's House Committee from the start of the legislative session in October 2019 to May last year.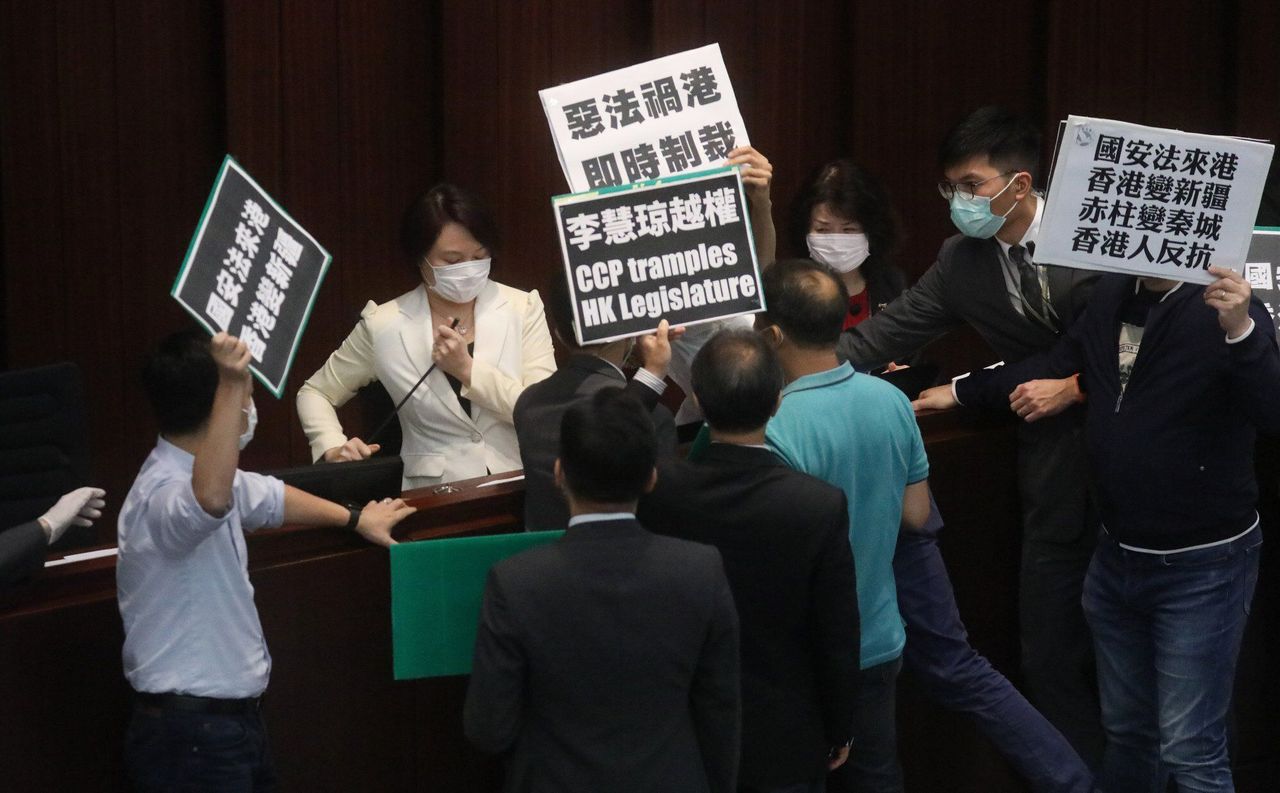 Starry Lee (in white) is surrounded is surrounded by opposition lawmakers during a House Committee meeting last year.

The offence is liable to a maximum of seven years' imprisonment upon conviction.

"Even though Kwok has left Hong Kong, the probe is continuing because there were reports to police," the source said.

The insider said the force would consult the Department of Justice to see if other offences could be involved, adding that several pro-establishment lawmakers were invited to give statements.

Fugitive and former lawmaker Ted Hui Chi-fung, of the Democratic Party, moved to Australia via Britain after fleeing criminal charges in the city late last year.

Another fugitive, activist and ex-lawmaker Nathan Law Kwun-chung, who is wanted in Hong Kong after he failed to appear in court over an illegal assembly charge, was recently granted asylum by Britain.

Beijing's Hong Kong and Macau Affairs Office and the central government's liaison office in the city had earlier accused Kwok of misconduct by paralysing the legislature with filibustering tactics and failing to select a chairman for the House Committee, which he had presided over since 2019. The powerful committee sets the agenda for Legco.

Pro-establishment lawmaker Starry Lee Wai-king, the committee's incumbent chairwoman who was standing for re-election, was seeking to fast-track a controversial national anthem bill.

Months of gridlock in the legislature ended after opposition lawmakers were thrown out of a meeting in May when the pro-establishment bloc took control of the committee, although Kwok had cited advice from constitutional law experts that Lee could have a conflict of interest in chairing the meeting while standing for re-election.

Legco secretary general Kenneth Chen Wei-on said on Friday that more than 29 hours were spent on electing the chairman, and the legislature paid HK$879,000 in seeking external legal advice on the matter.

Last November, Kwok, who represented the legal sector in Legco, was one of four lawmakers disqualified by the authorities for breaching their duty of allegiance or engaging in acts that threatened national security.

A mass resignation of the remaining 15 pan-democrats on the same day left Legco without substantial opposition.

Ten days later, he announced his withdrawal from politics in Hong Kong.

Kwok, born in Edmonton, gave up his Canadian passport in 2012 after winning a seat in Legco.

When the Globe and Mail reported on Thursday that Kwok had moved to Canada to regain his citizenship, it did not reveal his whereabouts, out of concern "he could be the target of retaliation from Chinese government agents".

East Week Magazine in Hong Kong said he left the city in November last year for London and later moved to Canada, while his wife and two sons moved to Vancouver in February.