Joint operation with counterparts in Guangdong leads to 106 arrests, including 35 sex workers. Officers seize HK$1.3 million in cash and freeze bank accounts containing HK$6.5 million.
Hong Kong and Guangdong police have smashed a cross-border syndicate believed to have smuggled as many as 90 prostitutes every month into the city to skip quarantine requirements and travel restrictions amid the coronavirus pandemic.

Local officers also said on Tuesday the force had stepped up intelligence exchange with its mainland counterparts, after the number of illegal immigrants arrested in Hong Kong surged substantially in the past year.

A total of 106 people, including 35 sex workers from the mainland, were arrested in recent joint police and immigration department operations in Hong Kong, which also led to the freezing of HK$6.5 million in bank accounts, and the seizure of HK$1.3 million in cash, 96 mobile phones, 22 computers, and five cars.

Of those arrested, 33 were men and 73 women, aged 19 to 61. The sex workers were 19 to 45 years old.

Briefing the press on the operations on Tuesday, Senior Superintendent Ho Chun-tung, of Hong Kong police's organised crime and triad bureau, said the syndicate would use speedboats to smuggle mainland women across the border.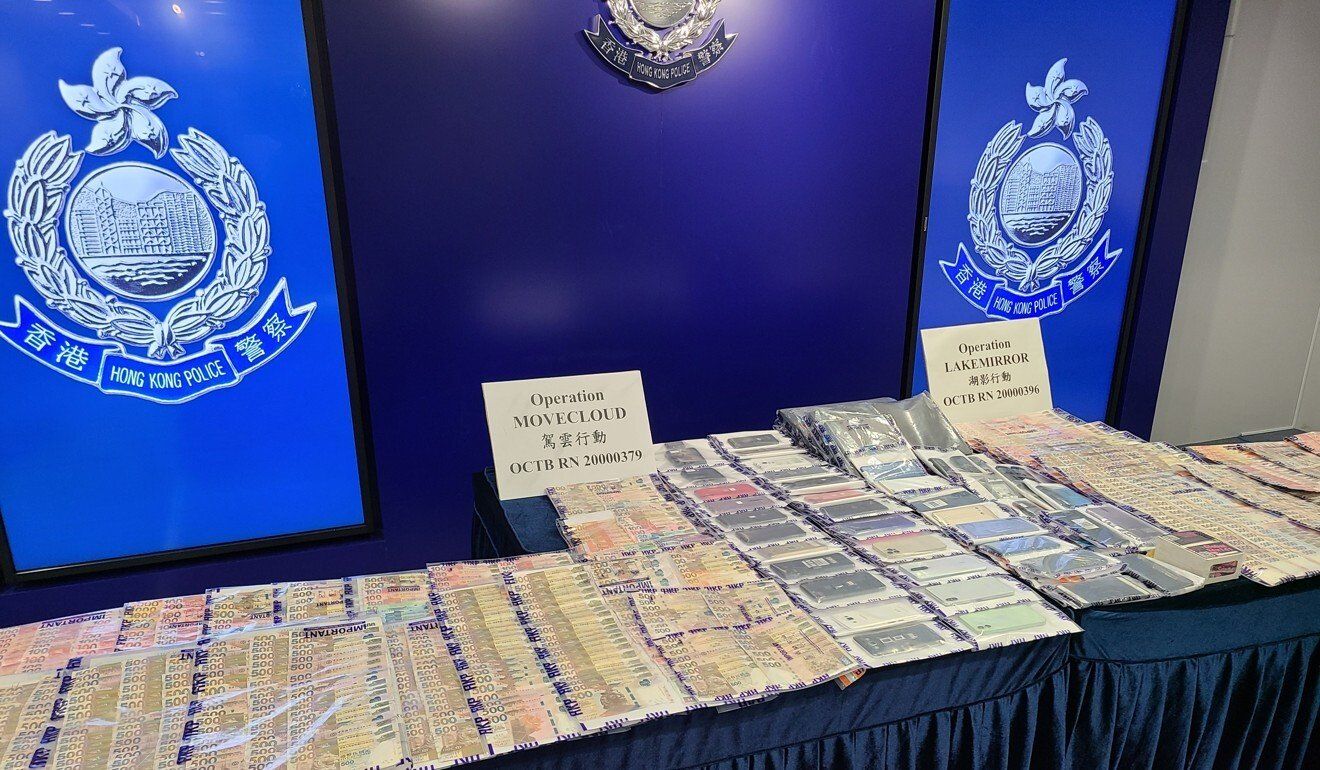 Officers seized cash, mobile phones and computers as part of the operation.

Once the women landed in Hong Kong, they would be placed in guest houses or flats. The prostitution syndicates would also advertise their services on social media platforms, as well as porn sites hosted outside the city.

"Since 2020, travel restrictions have been tightened because of the Covid-19 epidemic," Ho said. "Police noted an upwards trend of illegal immigrants working as prostitutes here. It is believed they wanted to skip the quarantine requirements or that they did not have other legitimate ways to come here."

The women would work for about three to six months in Hong Kong before being smuggled back to the mainland. Police said the investigation was made harder because transactions were in cash.

Chan Yan, the bureau's superintendent, said an initial investigation showed each woman had to pay the gang 10,000 to 15,000 yuan (US$1,552 to US$2,328) one-way to smuggle them to Hong Kong.

Coronavirus restrictions mean visitors entering the city from the mainland must quarantine at home or in a hotel for 14 days.

The investigation also showed the syndicate had been operating for as long as six months.

"They can on average arrange some 90 illegal immigrants to be smuggled to Hong Kong [every month]," Chan said. "Given they have operated for up to six months, the proceeds of the crime could amount to HK$8 million."

Police believe their recent operations had broken up the cross-border people-smuggling syndicate as well as three local vice gangs, Chan added.

According to marine police figures, 750 illegal immigrants were caught being smuggled into Hong Kong by water in 2019. The figure jumped to 1,549 last year. And for the first three months of this year, marine police caught 568 illegal immigrants, up 207 per cent for the same period in 2020.

Ho added that Hong Kong police had been stepping up intelligence exchange with their mainland counterparts. He cited figures from mainland authorities that a total of 108 people in six provinces had been arrested in connection with smuggling activities since last September, and another 182 were caught for illegally entering the mainland from Hong Kong.

Last August, Hong Kong and mainland police also broke up a cross-border syndicate that used speedboats to smuggle workers into the city, leading to the arrest of 104 people in Hong Kong.