Police receive call from HKU at around 6pm reporting two 'suspicious' people putting up posters near university's railway station paying tribute to 10 people who died in fire in Urumqi last Thursday.
Hong Kong's top university called police on Sunday after two students put up posters on campus that reportedly commemorated victims of a deadly fire in Xinjiang, in mainland China's far western region.

The incident on campus was first revealed by Undergrad, the student-run online media site for the University of Hong Kong (HKU), which said two mainland students had their personal details recorded by police officers.

A picture accompanying the report showed two black-clad men being stopped by two officers, with a white bouquet on the ground next to them. An HKU spokesman confirmed management had called police.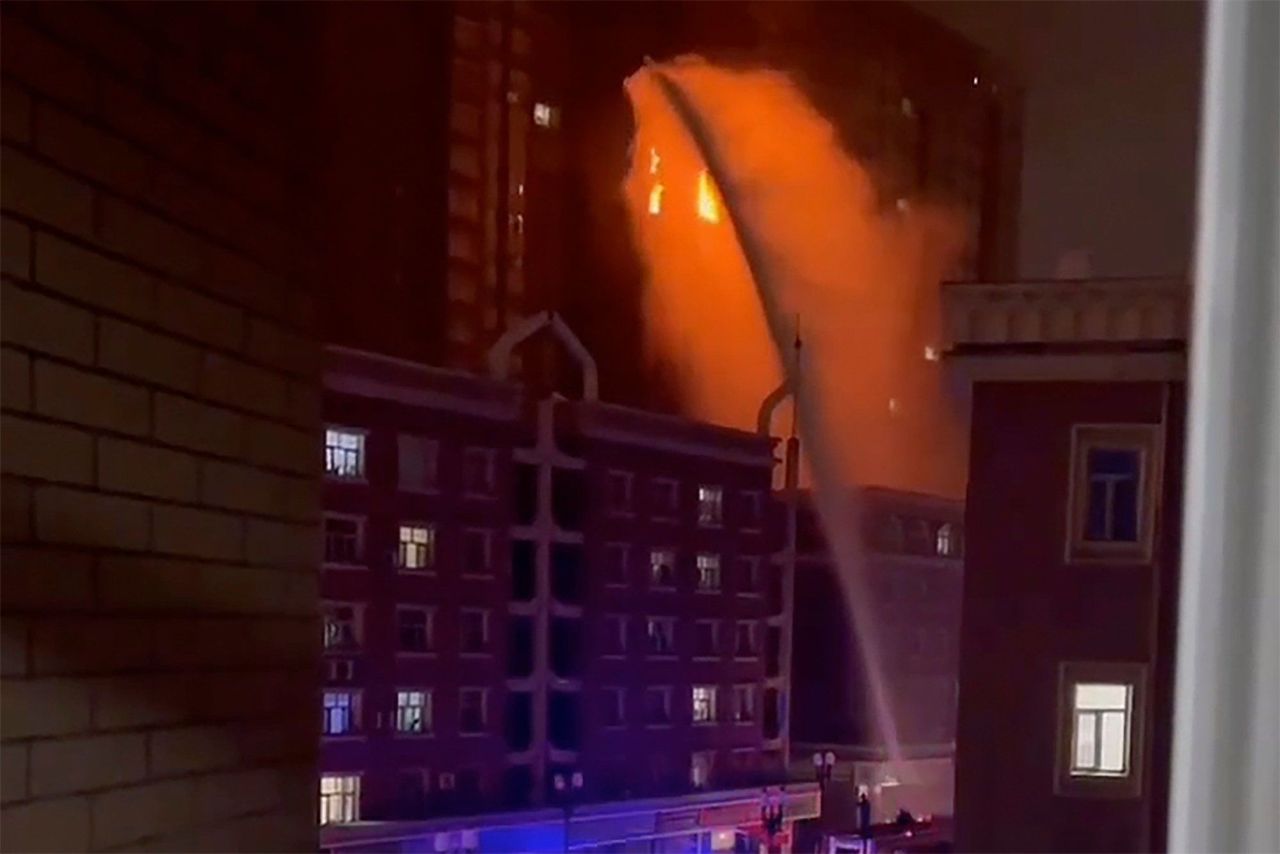 Ten people died in the fire that broke out in Urumqi last Thursday.
"On [Sunday] evening, someone distributed and put up publicity materials on campus, but they refused to reveal whether they were HKU students. The security guards requested police assistance over public order concerns," he said.
"Upon arrival, officers preliminary confirmed the … identity of the relevant persons and have subsequently left. The students then also left the scene on their own."
Ten people died in the fire that broke out in Urumqi last Thursday. Video that circulated online on the mainland before being censored purported to show fire engines kept at a distance from the residential block by gates and other obstructions placed around the building due to
Covid
-19 lockdown measures. The possibility that timely help was delayed because of anti-pandemic measures sparked protests in a number of mainland cities, including Shanghai.
Demonstrations targeting the authorities on the mainland, especially the ruling Communist Party, are exceedingly rare.
A police spokesman said the force received a call from HKU security staff members at around 6pm reporting they found two "suspicious" people putting up posters near the university's railway station.
Officers who arrived at the scene advised the pair to first seek permission from the university before putting up such posters, he said, adding no one was arrested at the scene.