Police say 70 per cent of victims were under the age of 40 and attribute it to young people spending more time on social media.
More than 130 residents in Hong Kong and Macau have been conned out of a total of HK$7 million (US$894,320) in an alleged online recruitment fraud exposed in a joint operation by police in both cities.

More than 70 per cent of the victims are aged below 40. Police said they believed that this could be because younger people had high social media consumption habits. A total of 56 people from the fraud syndicate were arrested in the operation, including some key members, Hong Kong police said on Wednesday.

"The fraudsters spread the so-called recruitment advertisements through instant messaging apps and social media, claiming to hire merchandisers or online administrative executives that require no [working] experience, offering high pay and commissions while working from home," Chief Inspector Hui Nok said.

Hong Kong police on Wednesday announced they had arrested 46 people in the city for offences related to money laundering, conspiracy to defraud and obtaining property by deception. Another 10 were arrested in Macau.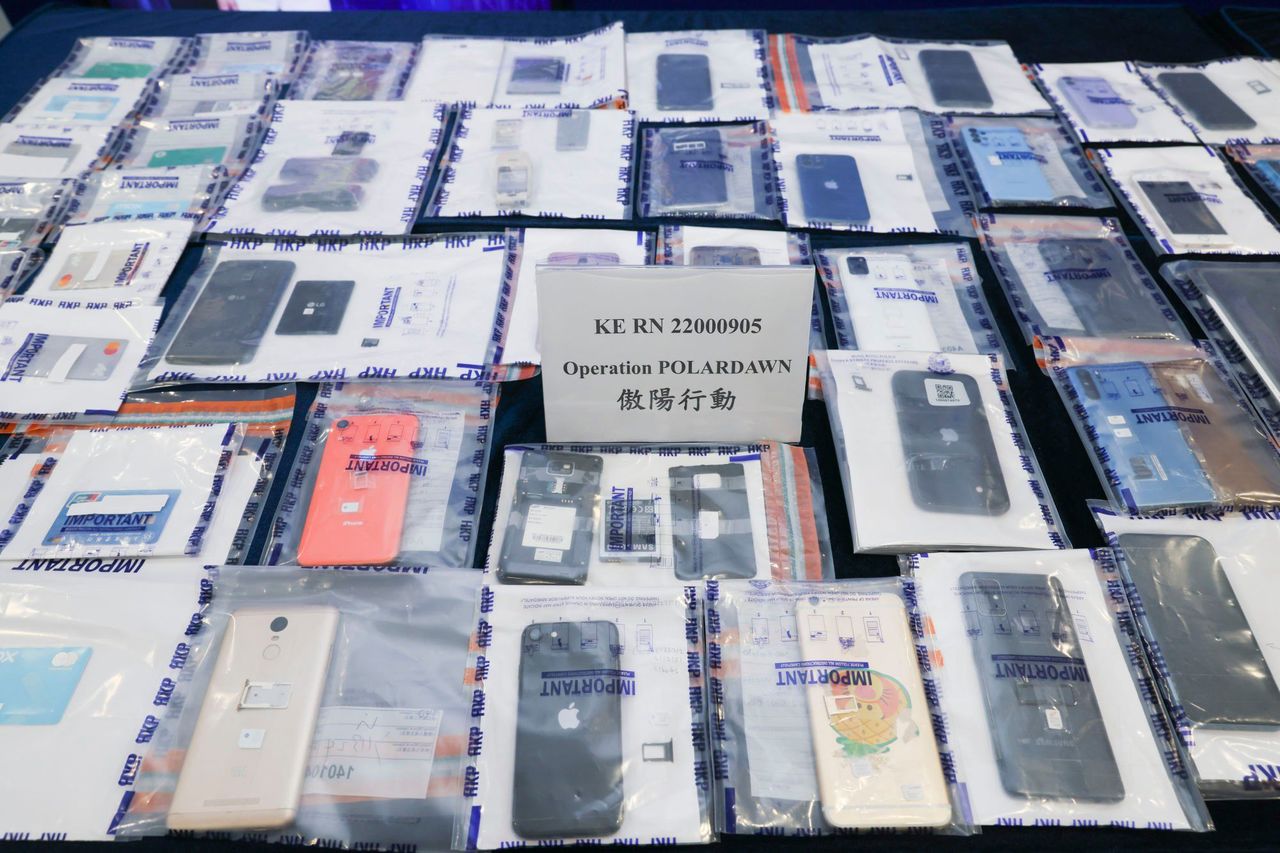 The evidence collected in a joint police operation targeting a suspected fraud syndicate operating in Macau and Hong Kong.
Officers conducted operations across Hong Kong from November 9 to 15, seizing bank documents, ATM cards, mobile phones and computers related to the cases.
A total of 83 of the alleged offences, which were said to have happened between July 2021 and September 2022, were committed in Hong Kong. The victims lost more than HK$5 million between them.
Hui said advertisements on social media and recruitment platforms offered jobs promising quick money, high salaries and commission.
They also stated that applicants did not require any qualifications or experience.
Victims were then told to make online purchases under the guise of boosting sales figures on shopping websites to gain commission, but they were told to transfer the money to bank accounts controlled by the fraudsters.
Hong Kong and Macau police found out that fraudsters were using similar phone numbers in both cities, leading them to believe they were controlled by the same group, Hui added.
While victims were aged between 18 and 60, 70 per cent of them were 40 and below.
"We believe it could be related to younger victims and their frequent usage of social media," Senior Inspector Lau Kai-yin said.
The largest amount swindled from a victim was HK$560,000, involving a 24-year-old Hong Kong resident who made several transactions before he realised he had been conned.
Hong Kong police recorded a total of 2,252 cases of online job-hunting scams from January to September this year, 3.3 times more than the 690 reported in the same period last year.
People can contact the anti-scam helpline on 18222 if they come across suspicious messages.