Authorities approved city's first rally in three years last Sunday but made residents wear identifying items to prevent 'criminals' from joining.
Police have given permission for more than a dozen marches to be held in Hong Kong this weekend, but participants must follow a number of rules, including carrying identifying ribbons or stickers and not covering their faces with masks.

The force sparked controversy last Sunday when it required residents protesting against a reclamation plan to wear numbered tags around their necks during the city's first authorised demonstration in three years.

The unprecedented requirement, which police said was meant to "prevent criminals from mixing" with the rally, was slammed by legal and policing experts as "disproportionate and unnecessary".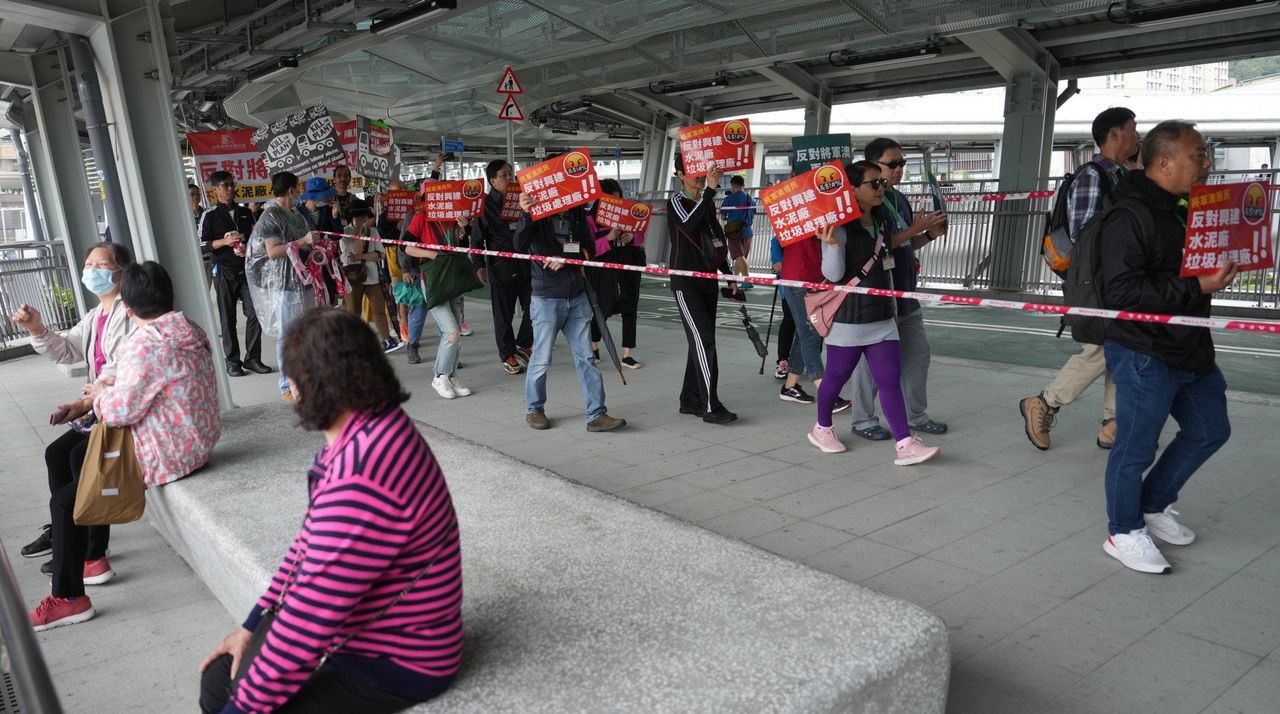 Residents take part in a protest against a reclamation plan in Tseung Kwan O on Sunday.

On Saturday afternoon, Catholics from the Our Lady of Mount Carmel Church made a short march from St Francis' Canossian School in Wan Chai to the church ahead of Palm Sunday. They held palm branches and wore red ribbons to identify themselves.

One woman surnamed Ho in her forties said that while it was their religious custom to hold palm branches, it was police who asked them to wear red ribbons on their hands.

"We faced a bit of difficulty as we needed to spend time tying ribbons to participants' hands when we had to complete the march within 30 minutes," Ho said.

The force also told them not to wear masks while taking part in the march, in line with a ban imposed at the height of the anti-government protests in 2019.

The religious march was one of the 13 public rallies approved by the force on Saturday and Sunday. All the organisers were required to follow the law, including the one covering national security.

"[The organiser] must ensure that the public procession would not be contrary to the interests of national security," police said, listing out conditions imposed on various public processions.

Eight of marches told participants they could not cover their faces, while six rallies required residents taking part to show their identity by wearing or holding designated items.

For the Sunday celebration activity for the 19th Asian Games Hangzhou to be held in September, police asked participants to wear event T-shirts and stickers to identify themselves.

"Experience has shown that lawbreakers may blend into public meetings and processions to disrupt public order or even engage in illegal violence," the police document read.

The organiser of the celebration, the Hangchow Residents Association, said it expected 130 people to show up for a public meeting outside Golden Bauhinia Square in Wan Chai, while 70 participants and an open-top bus would proceed from the square to Salisbury Garden in Tsim Sha Tsui.

The Development Bureau and the Harbourfront Commission will also hold an Easter celebration march on Sunday, and expected 700 participants, who will wear hats and badges provided by organisers.

Participants will be divided into three groups ranging from 200 to 250 people, while groups will start walking at least 10 minutes apart, as the force required.