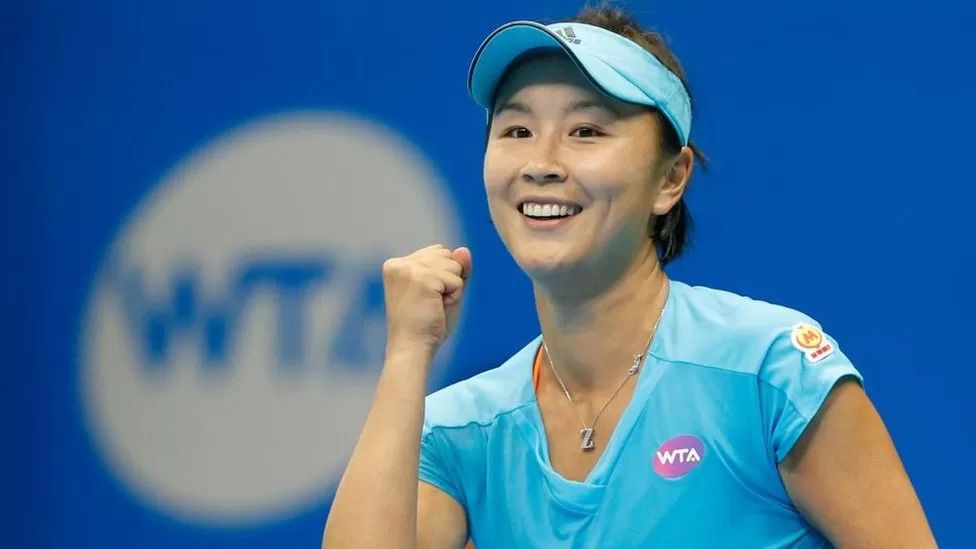 Peng Shuai: WTA demands private meeting before tournaments can resume
The governing body for women's tennis says it wants to meet Peng Shuai in person before it can resume tournaments in China.
Last year the former tennis star accused a top Chinese official of sexual assault in a social media post.

Ms Peng then briefly disappeared from the public eye. She later denied making the allegations.

The Women's Tennis Association (WTA) also called for a "formal investigation" into her accusations.

In a statement, the WTA said it would not "compromise its founding principles" to operate events in China.

"We have received confirmation that Peng is safe and comfortable, but we have not yet met with her personally," the WTA said in a statement on Thursday.

"There has not been any change in the WTA position on a return to China and we have only confirmed our 2023 calendar through US Open."

The WTA's stand is expected to cost the women's tour hundreds of millions of dollars in broadcasting and sponsorship.

In 2021, Ms Peng caused an uproar with a 1,600 word essay on Chinese social media platform Weibo, where she claimed that former Chinese vice-premier Zhang Gaoli forced her into sex during a years-long relationship.

It sparked international concern for her safety and prompted the WTA to suspend tournaments in China.

However the former doubles world number one later said that she deleted the post because she "wanted to". In highly controlled interviews with foreign media outlets, she also described the situation as a "huge misunderstanding".

While Ms Peng attended the Winter Olympics in Beijing last February, she has not been seen outside China since first making the allegations. She retired from competitive tennis in February 2022.

Mr Zhang, 75, has not publicly commented on Ms Peng's allegation.

He was a highly visible presence at the 20th Communist Party Congress last October.

He walked onstage at the Great Hall of the People in Beijing behind Chinese leader Xi Jinping and other retired and current leaders, and was also seated at the front row of the podium for the opening of the event.