Government pandemic adviser Professor David Hui makes prediction and urges parents to get their children vaccinated, citing studies overseas indicating doses are safe.
The recent Covid-19 surge in Hong Kong is likely to peak this month, according to a leading government pandemic adviser who has also called for the city to boost its vaccination rate to create the conditions for resuming quarantine-free travel.

Professor David Hui Shu-cheong on Saturday said a continuous rise in daily caseloads was expected as the virus' reproductive rate remained above 1.3, meaning a patient would infect more than one person. The rate stood at 1.44 last week.

The city reported 10,426 new cases on Saturday, including 204 imported infections, and seven more deaths.

But Hui predicted the current wave, fuelled by the more transmissive Omicron BA.5 subvariant, would peak this month, with a greatly improved situation by November if vaccination rates could be raised further.

"If the BA.5 wave peaks in September and then drops, the vaccination rate keeps rising, and there are still more cases of mild symptoms and few of severe symptoms and deaths, then we will have the conditions to reopen gradually," Hui said.

"Hopefully, we will be able to change from '3+4' to '0+7' in November," he added, referring to a potential easing of the current quarantine arrangement in which overseas arrivals spend three days in a designated hotel and four under home medical surveillance, to only a week of the latter.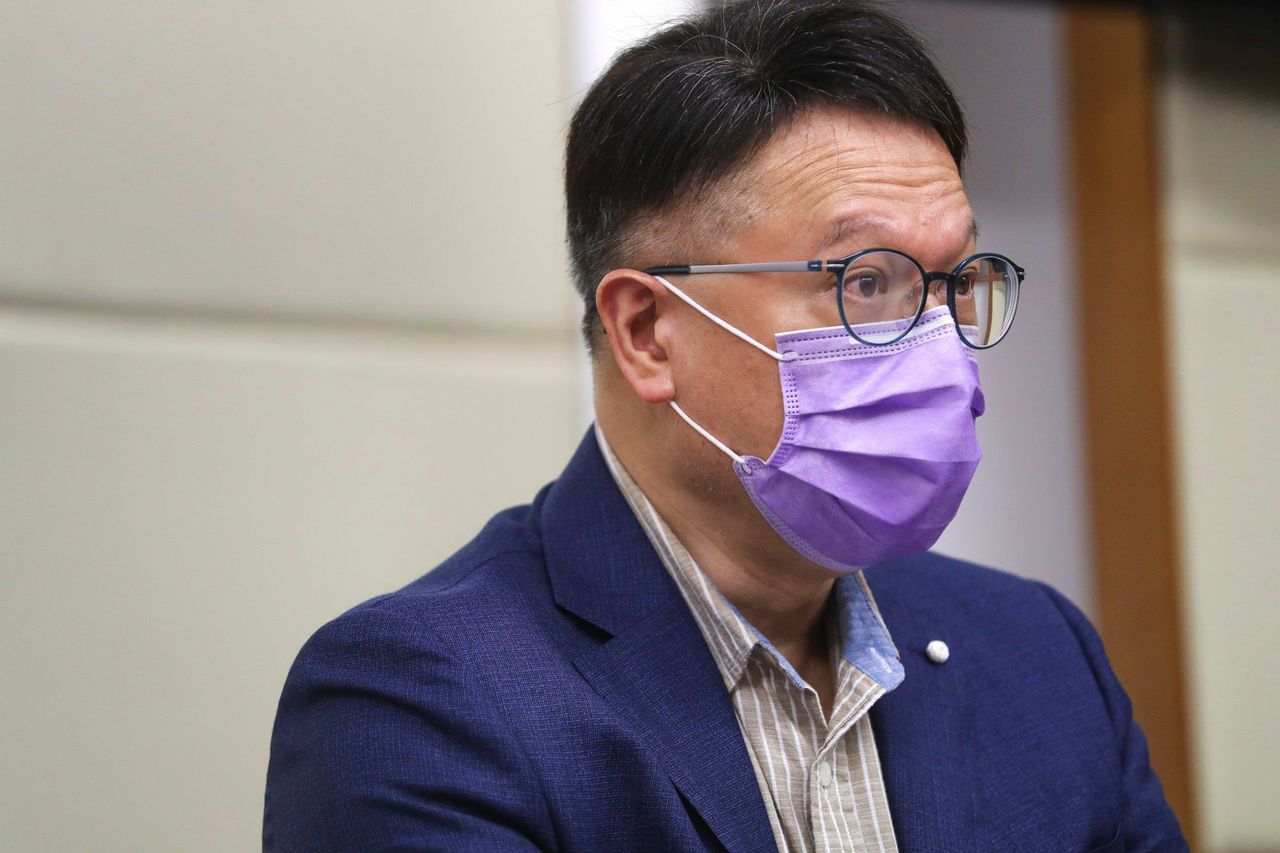 Professor David Hui has urged residents to get vaccinated to create conditions for the city to reopen to the world.

He said that based on the situation in Singapore, where daily caseloads at the height of the wave dominated by BA.4 and BA.5 subvariants were about half those of the previous peak due to the BA.1 and BA.2 strains, Hong Kong was likely to record no more than 20,000 daily infections when the current surge hit its highest point in coming weeks.

"Given the city's stricter social-distancing rules than Singapore, the number in Hong Kong will probably be less than half of the peak level last time," he told the Post.

Hui said rather than focusing on overall infection figures, the city should monitor the number of patients in a severe condition, those sent to intensive care, the medical system's capacity and the inoculation rate.

In response to Hui's remarks, Dr Albert Au Ka-wing of the Centre for Health Protection said there was no sign of infections peaking at the moment, as cases would continue to rise and it would not be possible to predict when they would reach their top.

Meanwhile, Hospital Authority chief executive Dr Tony Ko Pat-sing revealed that about half of hospitalised Covid-19 patients had not received their third vaccine dose, and 20 per cent were not inoculated at all.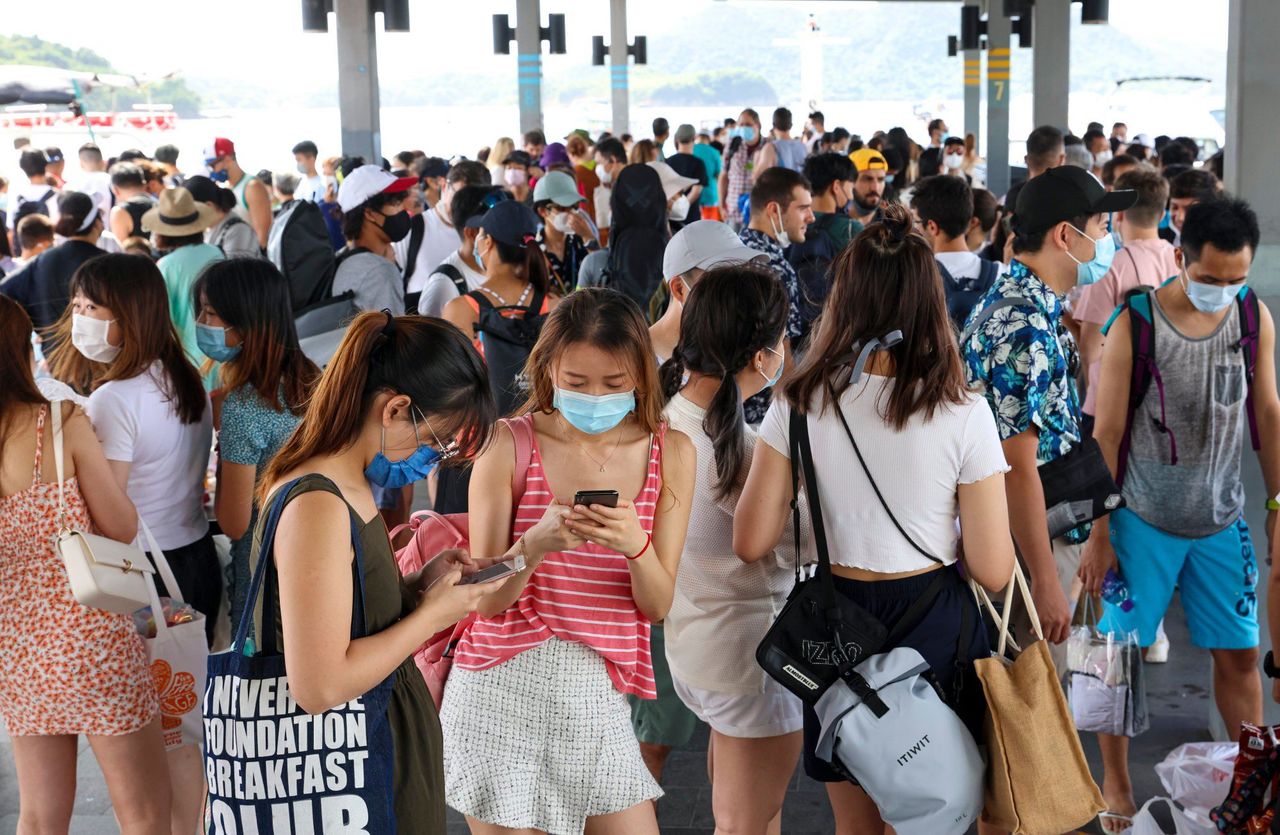 Holidaymakers in Sai Kung last month. Hong Kong has spent more than two years under one of the world's toughest Covid regimes.

Ko said the recent surge in cases had put huge pressure on the public healthcare system, and hospitals had cut appointments for surgery and treatment by 30 to 40 per cent or more. But the authority would not have designated Covid-19 hospitals unless necessary, he said.

"Turning a hospital into a designated facility has a huge impact on the overall service," he said.

Ko added that only about 40 per cent of several thousand infected elderly residents the authority called every day were willing to take oral antivirals, although clinical guidelines recommended the drugs be given to those aged above 60 with or without symptoms.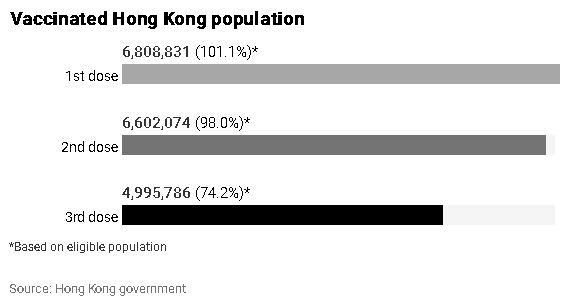 Au urged the elderly to seek medical help at once and take medication regardless of the severity of the infection, warning that mild symptoms would not exclude patients above the age of 60 from developing severe illness or dying.

He pointed to the death of a 71-year-old male patient, who went from developing a cough to losing the ability to walk in a week. The patient was found unconscious and without a pulse two days ago. Resuscitation failed at a public hospital.

The authority's Dr Lau Ka-hin said the antivirals had been given to tens of thousands of patients in Hong Kong and no serious side effects had been observed.

"All existing literature points to the conclusion that Covid-19 medication can lower the risk for developing serious conditions for hospitalisation and even death by up to 80 per cent," he said.

"I think we must use something that could lower our risk by 80 per cent."

As of Saturday, 2,739 Covid-19 patients were being treated in public hospitals, including 61 in critical condition and 51 listed as serious. Sixteen were in intensive care.

Another government official, the political assistant to the financial secretary, tested positive for Covid-19 on Saturday. He last went to work three days ago. Financial Secretary Paul Chan Mo-po and other staff members tested negative for Covid-19.

Separately, Hui warned that schools might see outbreaks with the new semester starting. He agreed with the government's plan to include children aged five to 11 years in the city's vaccine pass scheme, noting the move could encourage more younger residents to get the jabs.

Acknowledging that some parents were still apprehensive about adverse effects of vaccination on their children, Hui cited South African studies that found children aged six months to 35 months who had received two shots of the Chinese-made Sinovac vaccine developed abundant antibodies, with only mild side effects such as slight fever and pain at the injection site.

Statistics from Chile also indicated that Sinovac vaccination could reduce chances of requiring hospital treatment by 65 per cent among children aged three to five years, Hui said, urging parents to vaccinate their young ones to reduce risks of encephalitis, multisystem inflammatory syndrome, as well as long Covid.

His remarks came after the Hong Kong Committee on Children's Rights on Friday criticised the plan, which the NGO said would bar some young residents from engaging in activities that were essential to development and could further shrink their social lives.

Only children in the 5-11 age group who had received two jabs would be allowed to dine out and visit most government and business premises, a source said earlier.

Hui said he believed the government would buy second-generation vaccines targeting the more transmissible BA.4 and BA.5 subvariants, with the doses probably arriving at the end of the year or in January, and those in high-risk groups to be prioritised. But he urged residents not to wait for the new vaccines, saying the existing ones were also effective in preventing severe conditions and death.

If the vaccination rate was greatly raised worldwide and no new subvariants emerged to trigger major outbreaks, he said, the World Health Organization might consider removing Covid-19 from its list of Public Health Emergency of International Concern.

The city's total tally stood at 1,571,716 cases, with 9,716 deaths.