Two sides sat down to negotiate after hundreds of disgruntled delivery workers went on strike on Saturday and Sunday to protest against pay cuts.
Talks between Foodpanda, one of the leading food delivery platforms in Hong Kong, and its couriers on setting a standard base pay were in a "tense stalemate" after three hours on Tuesday evening.

The two sides sat down to negotiate after hundreds of disgruntled delivery workers went on strike on Saturday and Sunday to protest against pay cuts.

Strike organisers compiled a list of 15 demands ranging from a minimum order fee to setting a time limit for picking up deliveries to give to company officials at the meeting.

Their top demand was for Foodpanda to pay HK$50 for each order delivered by a rider and HK$30 for those delivered on foot, but instead the company offered a bonus incentive, the couriers said.

Boxson Cheng, one of the riders who took part in the negotiations, said talks had reached a stalemate and the atmosphere was tense.

"The company came up with a reward-based scheme as an incentive to cover up the decrease in the minimum pay per order," Cheng said.

"They are refusing to enact any standard base pay. The company kept pushing for the incentive scheme but did not make any guarantees on how long such a scheme would be in place."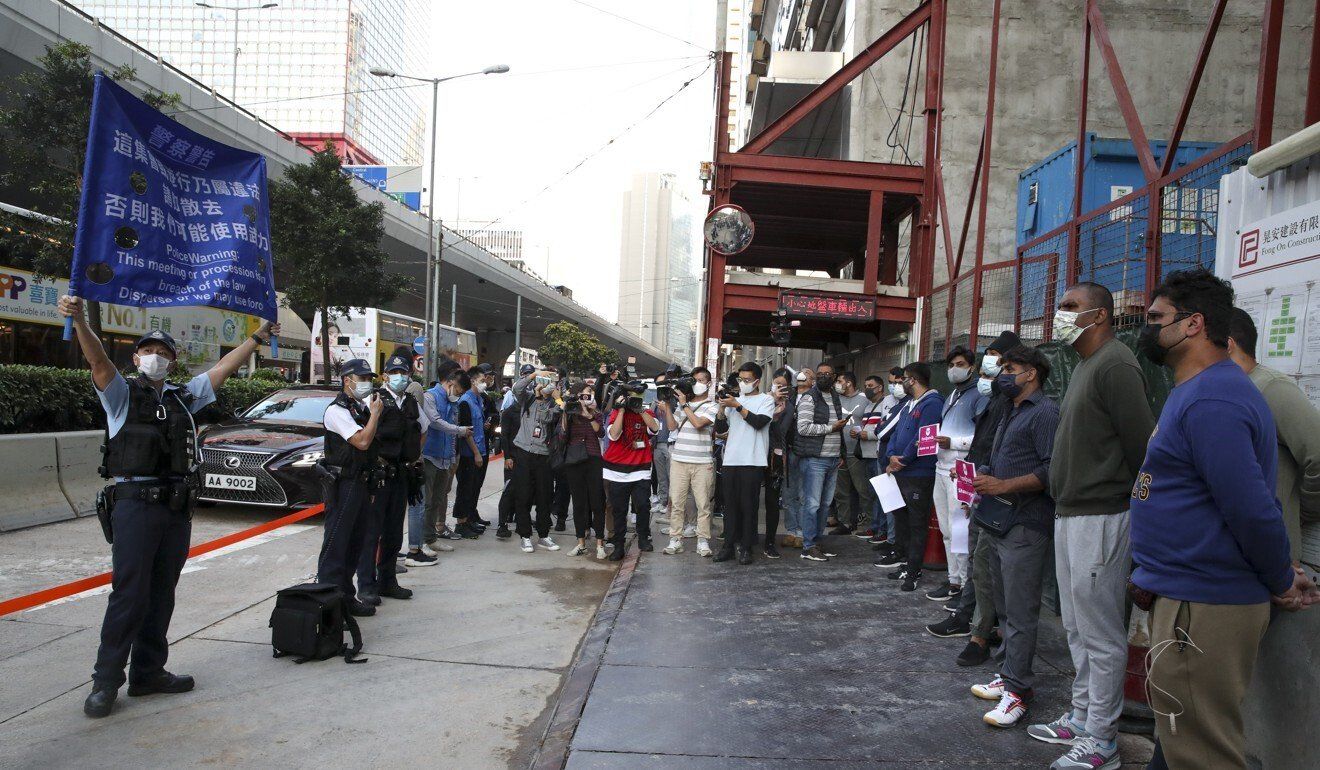 Police officers raise a flag warning about an illegal assembly.

Waqas Fida, a 27-year-old rider who helped organise the strike over the weekend and sat in on the talks, said: "We wanted a promise for the basic [minimum pay] … But they didn't agree."

He said talks with the company would continue but the riders would also assess whether Foodpanda's alternative proposal was acceptable.

Before the meeting started at 5pm, Foodpanda Hong Kong operations director Pedro Dias thanked the couriers in person outside the company's headquarters in Sheung Wan.

Nearly 50 riders had gathered outside the company office, and the atmosphere grew tense when about 15 police officers enforcing coronavirus-related social-distancing measures warned of possible arrests for illegal assembly.

"We are aiming for a fruitful and productive calm discussion [with the fleet]," Dias told the couriers in his first public comments since the strike. "We received around 300 messages [from the fleet] that are important for us to discuss."

The meeting was triggered after hundreds of disgruntled Foodpanda couriers went on strike on Saturday and Sunday over a cut in delivery fees.

The food couriers are all Hongkongers – hailing from ethnic-minority communities from Pakistan, India and Nepal, as well as local Chinese – and are considered freelance workers. They are typically paid per delivery depending on the estimated duration and distance of a trip, rather than by the hour. The more orders they complete, the higher the wages.

But long waiting times at restaurants, being unable to reject orders and changes to pay were among several factors pushing down their fees, sparking the two-day strike.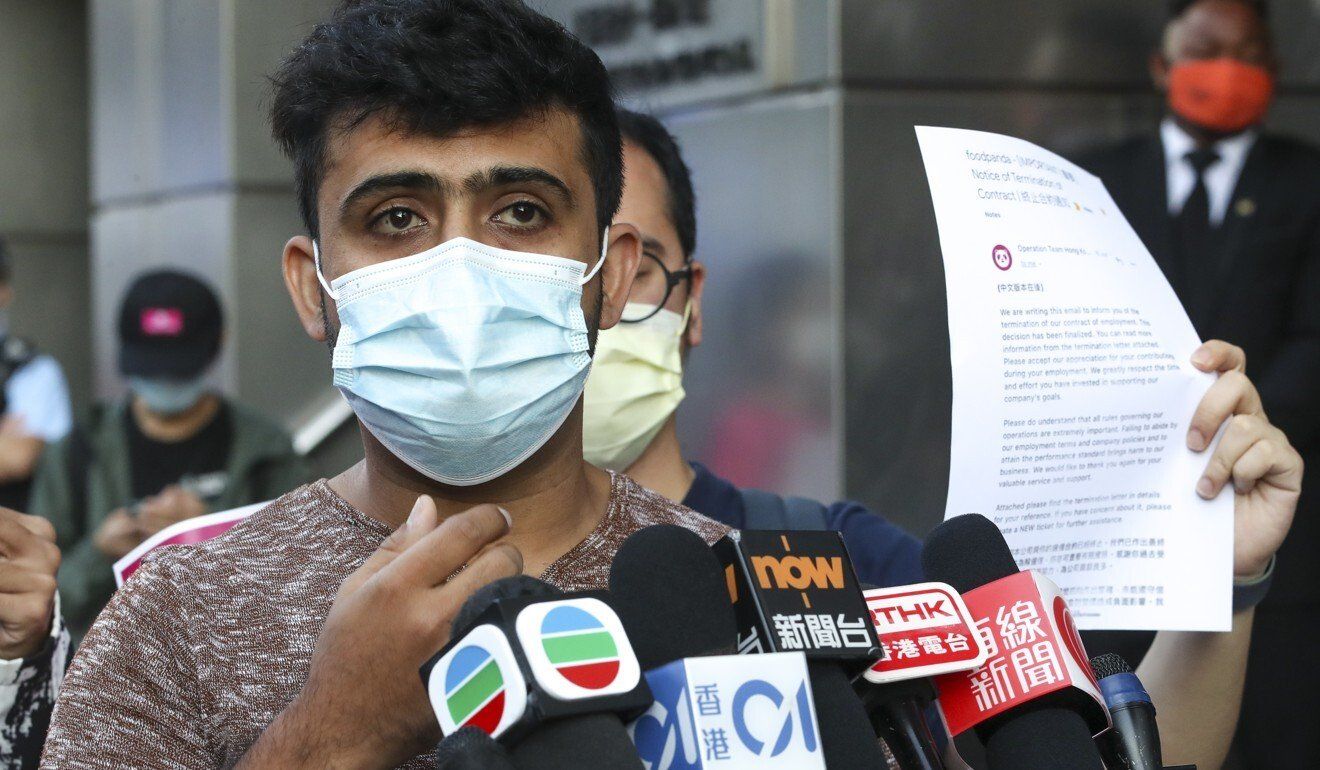 Waqas Fida helped organise the two-day protest.

Motorcycle courier Ali, who has delivered food around Sham Shui Po district for about a year, said he has seen minimum pay per order drop from HK$50 to HK$40.

"Six months into the job, they started reducing the rider fees per order by HK$2 almost every month," Ali said, adding that he used to work in the construction industry. He also took part in the strike.

The 28-year-old said he bought a motorbike for the work to make ends meet for his wife and newborn child.

Ka-wing, a 24-year-old courier who delivers on foot mainly around Kowloon City, said she had seen fees drop from HK$28 to HK$25.

"We're upset because the pay rate goes down without any explanation," she said.

The minimum hourly wage in Hong Kong is HK$37.50.

The coronavirus pandemic has resulted in a surge in the use of food delivery apps, with workers also attracted to companies such as Deliveroo and Uber Eats, hoping for good wages and flexibility on a part-time basis.

Foodpanda and industry rival Deliveroo each have about 10,000 self-employed riders in Hong Kong.

Deliveroo told the Post its riders made an income by completing delivery orders. "The company will monitor closely the demand and supply of the platform and maximise riders' earnings on the road across the time and day," a Deliveroo spokeswoman said.

The Post also contacted Uber Eats for comment.