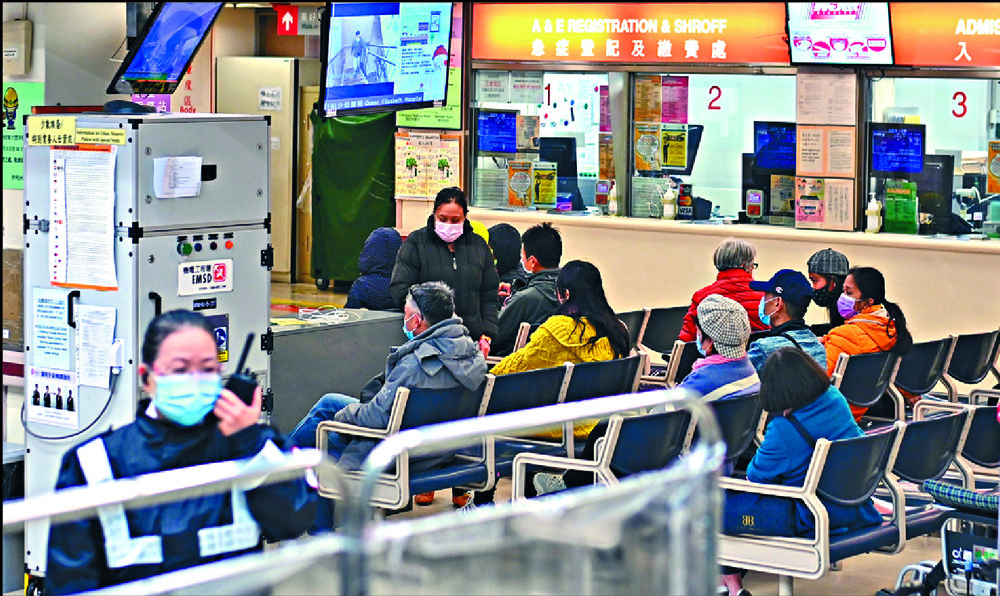 Patients sleep in hospital corridors
Public hospitals were crowded with thousands of patients on Tuesday amid the winter service surge, with 13 hospitals in the city running beyond their capacity and the worst at 116 percent occupancy rate.
As of midnight, the number of people who used Accident and Emergency services surpassed 5,100 people, according to the Hospital Authority.

The city's 17 public hospitals' medical inpatient bed occupancy rate saw an average of over 100 percent, meaning some patients had to stay in temporary beds in hospital corridors.

The occupancy rates reached a whopping 116 percent in Alice Ho Miu Ling Nethersole Hospital, while United Christian Hospital also recorded an occupancy rate of 114 percent. Other public hospitals including Queen Elizabeth Hospital, Tseung Kwan O Hospital and Tin Shui Wai Hospital recorded an occupancy rate between 111 to 113 percent, also pushing hospital capacity towards the brink.

As for pediatric inpatient beds, the highest occupancy rate was recorded at Prince of Wales Hospital at 83 percent, while Alice Ho Miu Ling Nethersole Hospital and Queen Elizabeth Hospital also reached 76 percent and 73 percent respectively.

A total of 5,158 people used Accident and Emergency services in public hospitals across the city on Tuesday. Queen Elizabeth Hospital had the highest amount among 17 public hospitals, with its number of first attendances at A&E reaching 477 while Prince of Wales Hospital recorded 457 first attendances as well.

According to the Hospital Authority's A&E waiting time yesterday, patients needed to wait over five hours at United Christian Hospital, North District Hospital and Tseung Kwan O Hospital.

The waiting time at most of the other public hospitals was more than two hours, except St John Hospital and Tuen Mun Hospital which had a one-hour wait for consultation.

Stepping into the winter surge, the Hospital Authority launched a series of response measures in early December to face the increase in demand for A&E and inpatient services.

Last month, chief manager of the Hospital Authority Michael Wong Lap-gate, said more than HK$700 million was allocated in the middle of this year for early preparation of the winter service surge, and resources were reserved to open temporary beds for public hospitals.

From December 14 to Monday, the daily average number of A&E first attendances in public hospitals remained at the level of more than 4500 attendances, and the inpatient bed occupancy rate stayed between 98 to 103 percent.