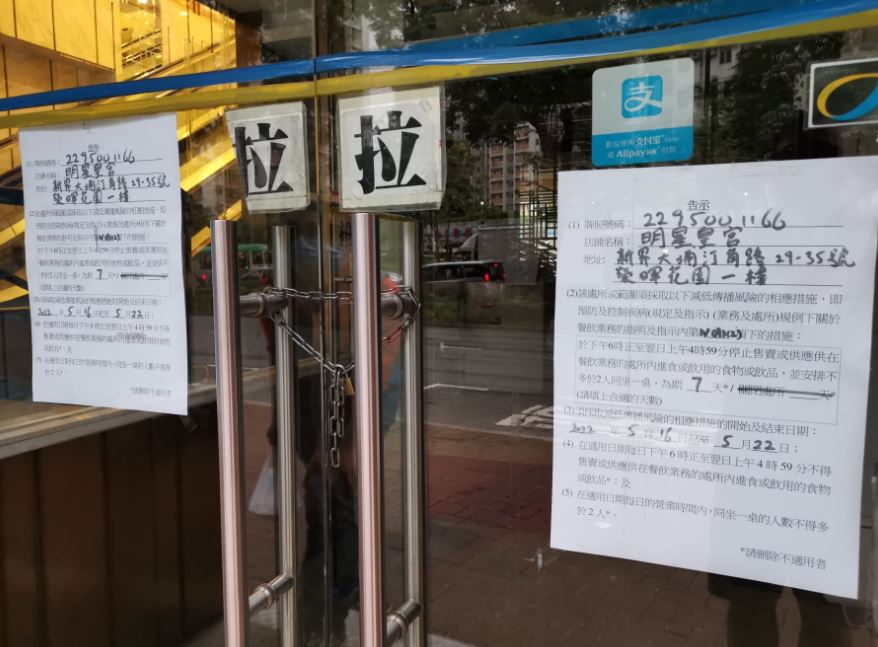 Party's over for 'Big Ear' revelers
Almost 220 guests at a birthday banquet were fined a total of HK$1.09 million for breaching the social gathering ban in Tai Po on Saturday.
Sources said they were attending the 70-year-old birthday celebration for a notorious Sun Yee On triad leader nicknamed "Big Ear." The person in charge of Star Palace restaurant was arrested.

The banquet started at 7.30pm at the Ting Kok Road Chinese restaurant, with more than 200 of his friends and relatives attending, including his brother "Small Ear," his son, and triad members.

More than 100 police officers from North regional police headquarters' anti triad unit, the police tactical unit and the quick reaction force swarmed the place at 8.15pm after receiving a tip-off.

The 60-year-old restaurant employee arrested, Lei, was held for breaching the Prevention and Control of Disease (Requirements and Instructions) (Business and Premises) Regulation (Cap 599F)."

The 219 people at the birthday party - 156 men and 63 women aged between 19 and 75 - were fined HK$5,000 each.

Two wanted men - Wan, 33, and Tsui, 37 - were also arrested.

Under chapter 599F, the maximum number of diners per table for wedding and catering parties is 20 from May 5 to tomorrow.

A catering business officer and manager of listed premises who contravenes the regulation commits a criminal offense and is liable to a fine of up to HK$50,000 and imprisonment for six months, while those gather at such an event are liable for a fixed fine of HK$5,000.

The restaurant was closed yesterday, with its doors clad in iron chains and notices on its glass doors telling customers that business has been suspended until Sunday. Staff were seen packing up and preparing for the suspension, but the person in charge, Lei, did not respond to allegations over the banquet.

Another Sun Yee On leader "Small B" hosted a Mid-Autumn Festival dinner in September at Lok Fu, which ended with 123 attendees being fined some HK$610,000 for breaching the concourse limit when the organized crime and triad bureau descended on the occasion.