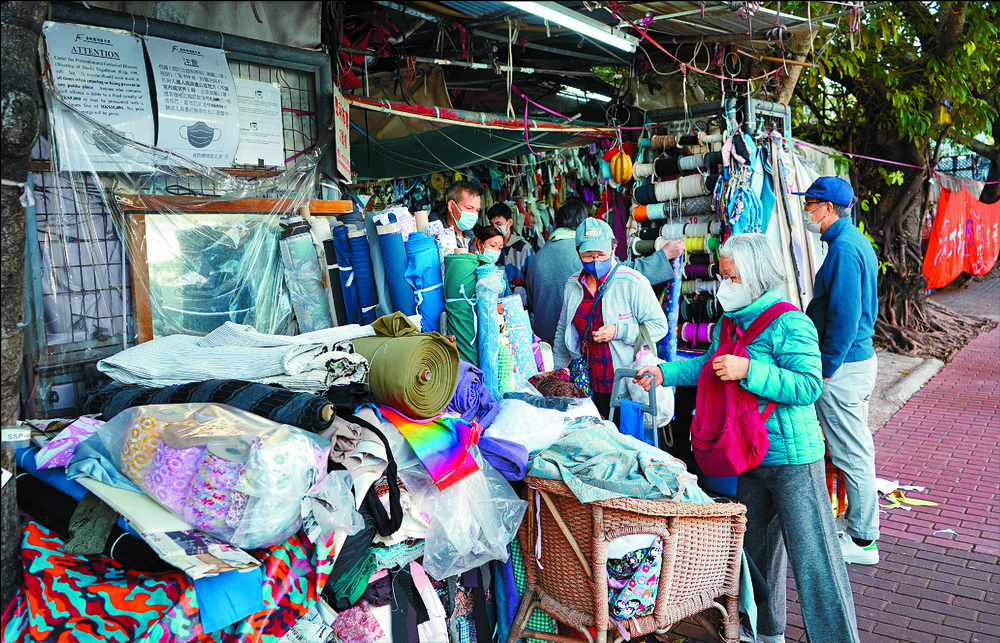 Pang Jai fails to keep its shirt on in closure fury
The famous Pang Jai fabric market in Sham Shui Po was officially closed for good at 7 pm yesterday but not before ugly scenes broke out when stall owners argued with Food and Environmental Hygiene Department officers for forbidding them to enter the market.
Officers locked the market entrance at Yen Chow Street at 7.06 pm, with two stall owners staying until the last minute, witnessing the end of Pang Jai's 45-year history since 1978.

Hours before Yen Chow Street Hawker Bazaar's closure, officers came at 9 am and locked the entrance. Stall owners could only enter the market by registering with their ID cards.

The quarrel started on Monday, when officers posted a notice outside, saying a "temporary closure" of the hawker bazaar to "facilitate stall owners to move out."

Dozens of stall owners criticized the department for breaching a promise, citing a December letter that only reminded them to clear up the market before 5 pm.

Lee, who is in his 80s, chose to give out his fabrics to elderly centers. He said a social worker wanted to get them at his stall, but was banned from entering.

"Not only are they banning us from business, but they are stopping us from clearing our fabrics for free," Lee said.

He hoped the authorities could give stall owners extra time to clear their stock.

Another stall owner So, who had been at Pang Jai for more than 40 years, said he would retire after returning the stall.

"My hair has gone all gray. I am too old to run a new business," So said, condemning authorities for breaching the promise.

Officers left the market in an hour at about 10am. Stall owners soon brought their fabric outside the entrance, hoping to sell as much fabric until the last minute.

Some people grabbed the last chance to visit, including fashion design student Chan, and her foreign friend Zahra.

Zahra felt sad about the closure, saying she found stall owners so nice and helpful even though her Cantonese is bad.

"I know many old stall owners will retire. The unique characteristics of Pang Jai will be gone as most owners are not going [to the new location]," Chan said.

The bazaar, commonly known as Pang Jai, was established in 1978, when Hong Kong had been a production base as well as a global hub for sourcing clothing.

The bazaar moves 400 meters away to the renovated Tung Chau Street Temporary Market from today.

Of the 49 stall owners, 33 chose to return the stalls, while 16 would relocate to the new market, the department said.

Those who chose to return the stalls can get a one-off ex-gratia payment from HK$70,000 to HK$100,000.

The fabric market was to be closed by year-end, but the moving deadline had been extended by a month to yesterday as some stall owners had hoped to move out after the Lunar New Year holiday.

The department will consider providing special arrangements for stall owners having difficulties in moving out.