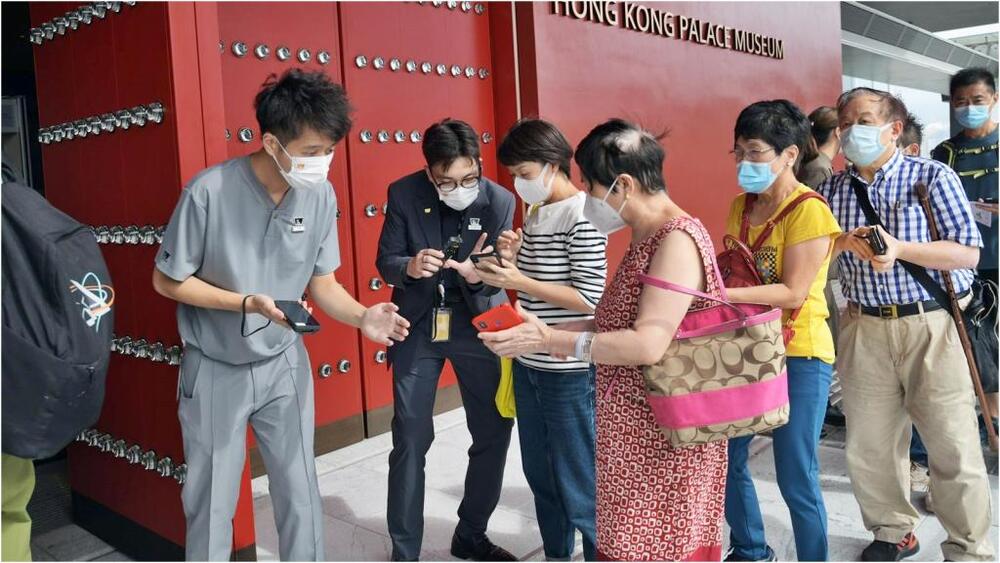 Palace Museum starts welcoming citizens on Sun
Hong Kong Palace Museum (HKPM) opened its door to the public at 9am on Sunday, as it missed the original opening on Saturday due to No.8 Storm Signal.
At 8am before the door opened, some 20 citizens had already arrived to queue up for entry, while the first in line said he arrived at about 6am. Mr. Tsai, who was the first in line, was most interested in the ceramics and paintings exhibits.

The museum board chairman Bernard Charnwut Chan, the Secretary for culture, sports and tourism Kevin Yeung Yun-hung, and museum director Louis Ng Chi-wa welcomed visitors at the entrance.

A citizen holding a HK$120 ticket for full admission said he would go directly to Hall 8, "The Making of Masterpieces: Chinese Painting and Calligraphy from the Palace Museum" to appreciate national Treasure paintings and calligraphy.

The gallery collected 30 thirty early treasures of Chinese painting and calligraphy from the Palace Museum collection, which will be exhibited in three rotations, with 10 pieces on display each time for about one month.

Another who was interested in national cultural relics said he will be the first to buy a year-round pass when it is launched at the Palace Museum.

The first batch of more than 900 treasures lent from the Palace Museum will be displayed. The loans are thoughtfully selected from over 1.86 million works in the Palace Museum's collection. Amongst them, 166 works are grade-one objects which are classified as "national treasures". Most of the objects on loan are exhibited in Hong Kong for the first time.

Yeung said HKPM will be the focus of the exhibition in the West Kowloon Cultural District to display the city using its unique advantages of culture under one country, two systems to tell Chinese stories.

Chan said HKPM sold more than 110,000 tickets in July, accounting for about 85 percent of the total number available for the month. Tickets for August will go up for sale from July 12.

The opening scheduled at 10am on Saturday was postponed until Sunday as typhoon Chaba is still hitting Hong Kong. Therefore, the opening hours today started one hour earlier at 9am and the closing time was extended to 9pm.

Visitors who purchased tickets for yesterday's admission from 10am to 11am could use their original tickets for entry at 9am or the original time slot today, while those with tickets for noon or later could enter at the original time slot or after 4pm.

Unused tickets from yesterday will be valid for 180 days (not applicable to free tickets on Wednesday), and holders may use their original tickets to enter any day during the validity period in the same time slot as the original ticket. No refunds will be given for admission on Wednesdays.