Although planned legislation will not have retroactive effect, district councillors' past conduct will be taken into account when assessing their pledges, official says.
Hong Kong lawmakers and district councillors will be barred from contesting elections for five years if they are disqualified for improper oath-taking or failing to uphold the city's mini-constitution under a proposed new law, the government announced on Tuesday.

Confirming a report by the Post, Secretary for Constitutional and Mainland Affairs Erick Tsang Kwok-wai said even though the planned legislation – approved by the chief executive's de facto cabinet on Tuesday – would not have retroactive effect, district councillors' past conduct would be taken into account when determining whether they passed a new mandatory oath-taking procedure.

Tsang unveiled the draft legislation a day after Xia Baolong, the top Beijing official in charge of Hong Kong affairs, declared the city's administrative and electoral systems needed to undergo a fundamental revision to ensure only "patriots" held key positions in all three branches of government – the executive, legislature and judiciary – as well as statutory bodies.

Since the opposition camp won a landslide victory in 2019 district council polls, pro-establishment legislators have repeatedly accused the municipal-level politicians, who did not need to take an oath of office, of failing to bear allegiance to the city, as they promised when submitting their candidacy.

Opposition lawmakers had also strongly opposed government policies deemed unpopular, which the pro-establishment camp saw as a failure to uphold the Basic Law, the city's mini-constitution, sparking calls for legislative amendments to empower the administration to unseat politicians.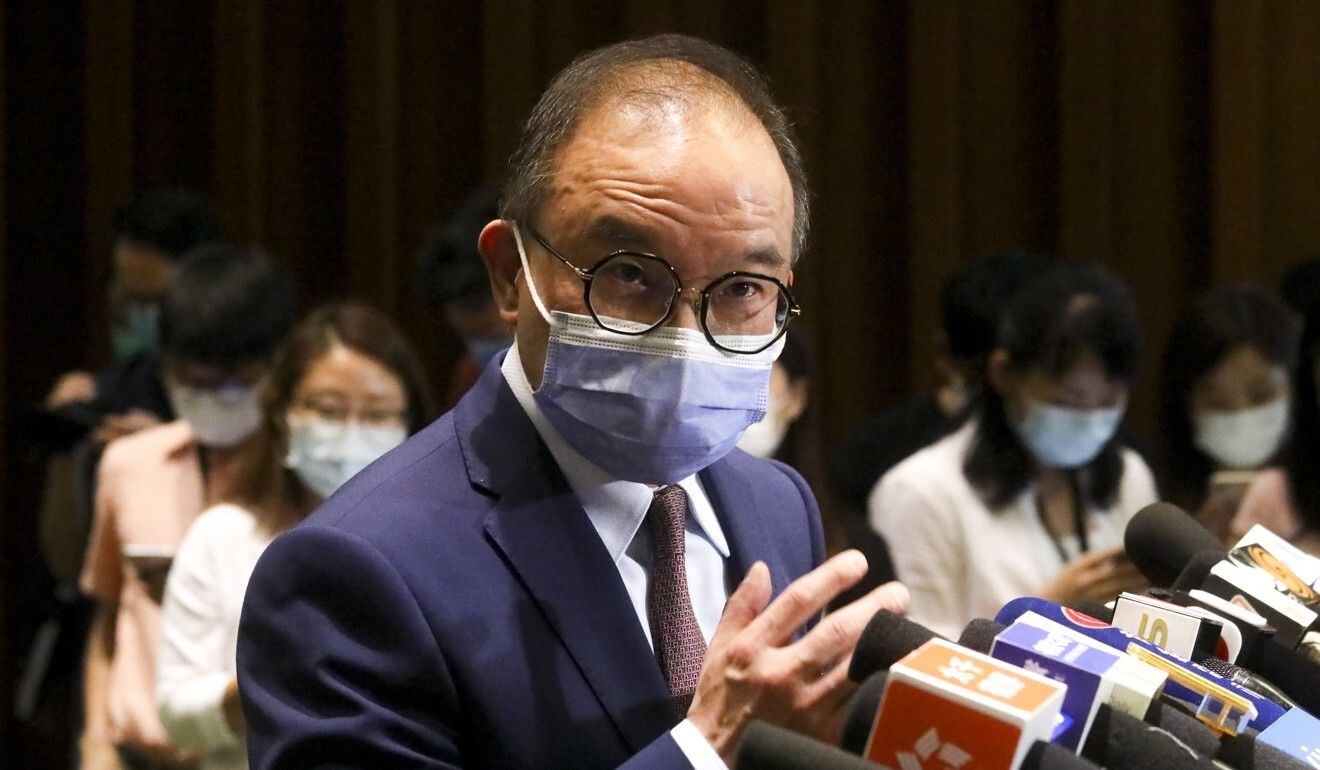 Erick Tsang.

Under the draft legislation, titled the Public Offices (Candidacy and Taking Up Offices) (Miscellaneous Amendments) Bill 2021, the task would be done by the secretary for justice, who would initiate legal procedures for handling cases where an officer was deemed to have violated an oath.

"The councillor's public office would be suspended, until the court made a decision," Tsang said.

"[A public officer] would be banned from running for office again for five years, if he was disqualified for making an invalid oath, going against his oath."

Those disqualified for failing to meet the legal requirement of upholding the Basic Law would face the same length of ban, he added.

Under the new law, positive and negative lists will be drawn up to define what does and does not constitute acts that uphold the Basic Law, and bear allegiance to the city as a special administrative region of China.

In the negative list, a public officer would be considered as not upholding the mini-constitution or bearing allegiance if he or she committed acts or carried out activities that endangered national security, or "commits acts that undermine or have a tendency to undermine the overall interests" of Hong Kong.

Positive acts include upholding the city's constitutional order, as established by the Chinese constitution and Basic Law.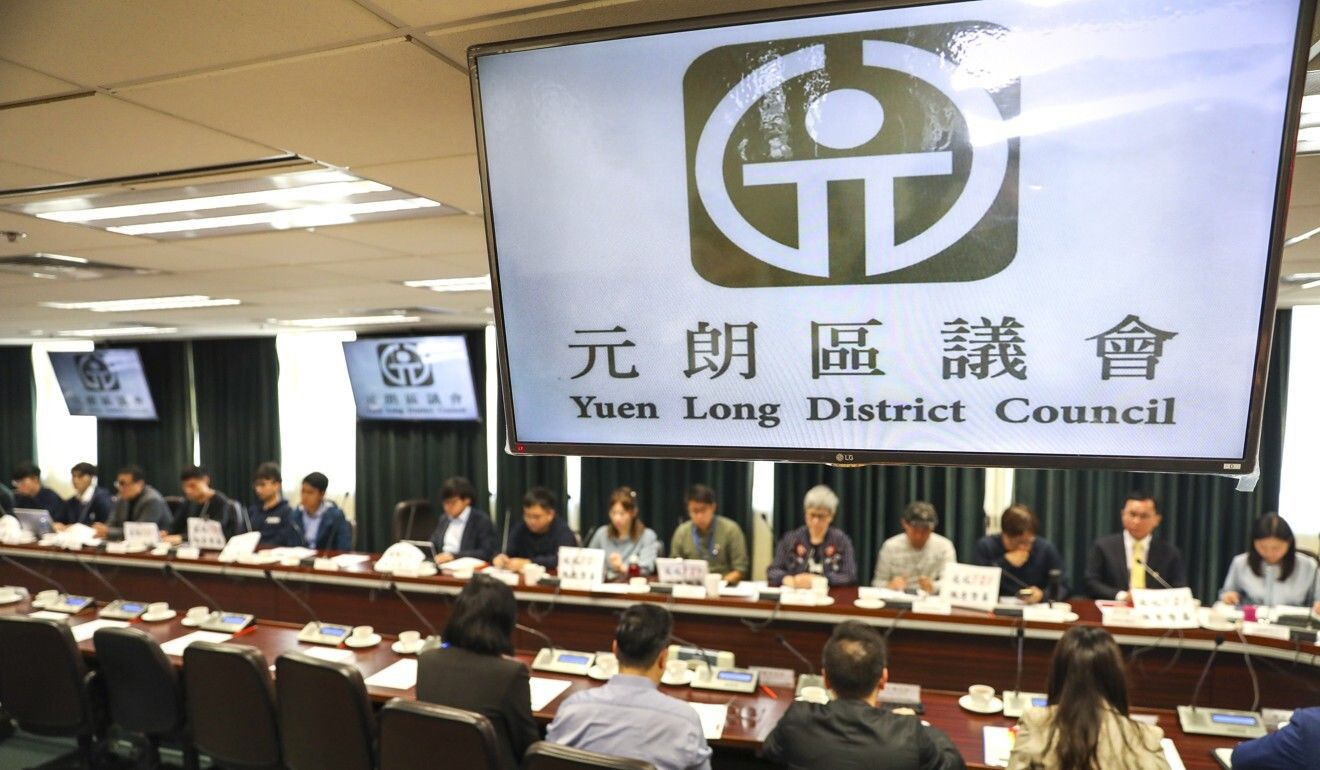 Members of Hong Kong's 18 district councils face new oath-taking requirements.

Opposition activists accused the government of laying down vague criteria for politicians to abide by, saying Tsang's bureau was paving the way for a mass disqualification of councillors, who were mostly members of the bloc.

Prominent activist Lester Shum, one of four district councillors facing disqualification, said the law would shut out any critical voices from the political system.

Eastern district councillor Cheng Tat-hung said the purpose of the amendment was to chase away all pro-democracy members from councils. "The government in effect is changing the whole set of rules of the game," he added.

But pro-establishment politicians and legislators said they would support the bill.

Basic Law Committee member Priscilla Leung Mei-fun, who advises Beijing on matters related to the mini-constitution, said the amendment should have been done after China's top legislative body ruled in 2016 that improper oath-taking could be punished by instant disqualification.

"Having a negative list and a positive list can help give would-be councillors or those interested in taking part in politics a clear picture of what they should do and what they are forbidden to do," she said.

"The requirements listed there are not new things. They have always been there. But some people might not fully understand, or choose not to understand, the constitutional requirements for taking an oath."

At the press conference, Tsang was asked if upholding the constitutional order of the city as established by the Chinese constitution implied politicians had to support the Communist Party, and not criticise it or the Hong Kong government.

"Different political views can be tolerated, but if your goal is to overthrow or subvert the whole government, that's obviously problematic," he said.

"Xia also explained that the socialist system is a fundamental political system in China. You cannot say that you love your country, if you cannot even respect this system led by the Communist Party."

Tsang also said the government was not targeting any political group when drafting the law.

"Were we targeting the pro-democracy camp? I can tell you 100 per cent we are not. We did not target any individual or party, we are just trying to implement various decisions that Beijing laid down since 2016," he said.

The minister was also asked if several opposition figures could keep their seats after the law was passed in the Legislative Council, by June this year at the earliest.

Last year, four district councillors – Shum, Fergus Leung Fong-wai, Tiffany Yuen Ka-wai and Cheng Tat-hung – were among a group of activists banned from running for the Legco elections, which were originally slated for last September but postponed by the city leader for a year because of the pandemic.

Electoral officials had cited the political stance of the four in deciding they could not genuinely uphold the Basic Law.

Lawmaker Cheng Chung-tai was also previously convicted of desecrating the Chinese flag, after he was caught overturning miniature versions placed at pro-Beijing lawmakers' seats in the Legco chamber in 2016.

Tsang said while he could not list all offence scenarios, he believed the five politicians could be disqualified.

"We will not introduce any retrospective effect to this legislative exercise," he said. "But we don't deny … we may have to take into account some past behaviour."

He added: "Theoretically, the four district councillors would lose their qualification … For individual lawmakers, they would have lost their qualification to run in elections from the moment they were decided to have refused to take their oath, or failed to uphold [the Basic Law] and bear allegiance."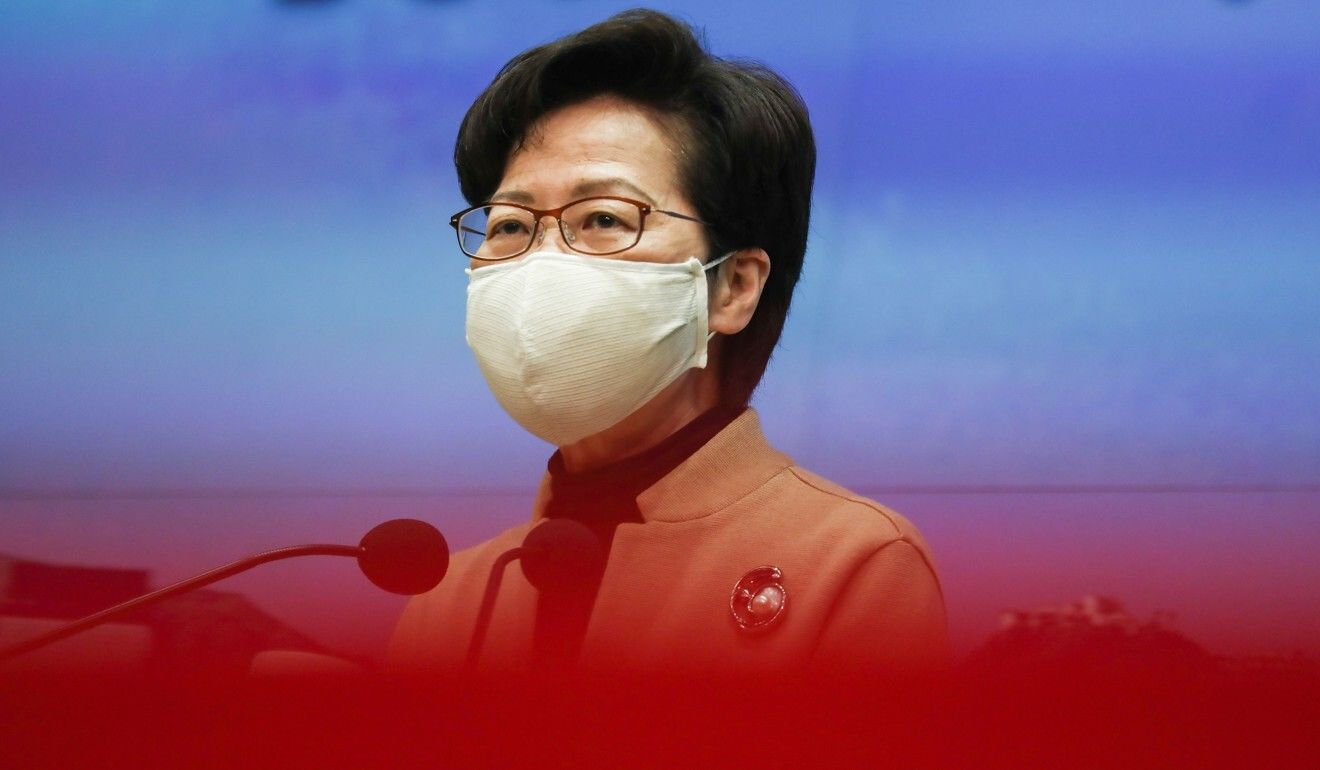 Hong Kong leader Carrie Lam.

He also said that under the new law, Chief Executive Carrie Lam Cheng Yuet-ngor would be empowered to appoint officials to monitor the oath-taking of public officers, including district councillors. The secretary for home affairs and chief secretary could be in charge of overseeing the councillors and lawmakers' oaths in the future, Tsang added.

Politicians who were unseated by the High Court could appeal directly to the Court of Final Appeal to avoid unnecessary inconvenience for those affected, he said.

Tsang said the law could also be further amended in the future to include the 1,200-member Election Committee, which will pick the city's leader in March next year.

He said several laws would also need to be amended to improve existing arrangements, and to establish case-handling mechanisms and legal consequences if a public officer went against his or her oath. Those included the oaths and declarations, Legislative Council, and district council ordinances.

Under Article 104 of the Basic Law, the city's leader, principal officials, Executive Council members, lawmakers and judges must take an oath of office. The proposed legislation would extend oath-taking requirements to district councillors, Tsang added.

Their vow would be similar to the one already performed by legislators, who must pledge to uphold the Basic Law and swear allegiance to Hong Kong, as a special administrative region of the People's Republic of China.