The Nature Conservancy starts gathering data to help oyster farmers figure out host of problems.
Hong Kong oyster farmers are struggling to keep their tradition alive in the face of multiple challenges, including labour shortages resulting from Covid-19 travel restrictions.

Now they are counting on a scientific study of Deep Bay, in Lau Fau Shan, to help turn the tide and ensure they can continue selling their sun-dried "golden oysters" and protect the shellfish habitat as well.

"We have permits to hire fishermen from China to help us, as local labour is too expensive. But the pandemic has affected our permits and our movement across the border," said Chan Shu-fung, 40, a third-generation oyster farmer.

"With fewer workers, the amount of oysters we can shuck also decreases, so it's inevitable our business will be hit," he added.

Chan, president of the Deep Bay Oyster Cultivation Association, said there were deeper problems for the community, right across from Shenzhen. These range from pollution to extreme weather and overcrowding of the oyster-farming area.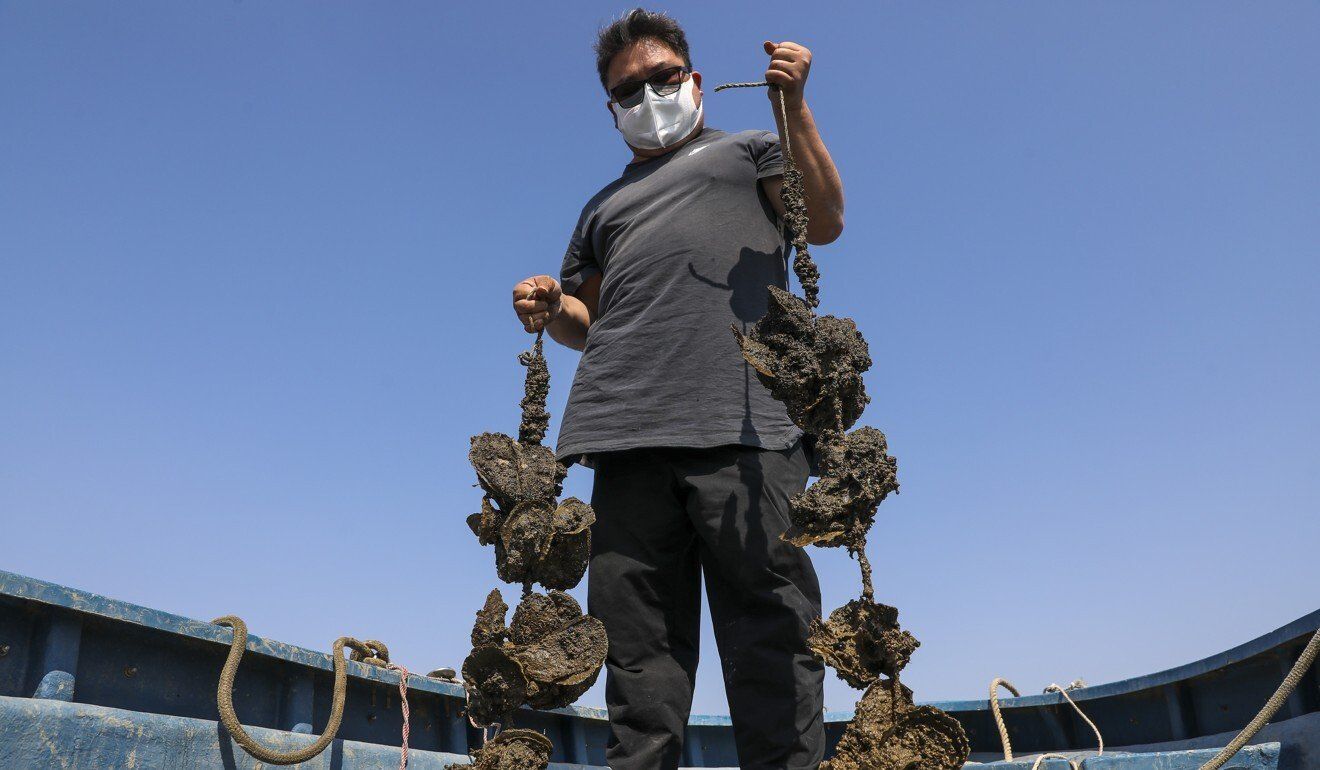 Overcrowding, labour shortages and environmental issues have combined to hammer Hong Kong's oyster farmers.

Lau Fau Shan's dried oysters, once a famed delicacy, were shunned by local consumers after media reports in 2007 of hazardous levels of bacteria and heavy metal in the shellfish there. In 2013, the Shenzhen government even threatened to ban sales of the shellfish as being unfit for consumption.

While Chan sells most of his harvest locally, other farmers send about half of theirs to the mainland. Lau Fau Shan oysters now made up only about 5 per cent of the Hong Kong market, he said.

In recent years, stronger typhoons started wreaking havoc on the farmers' bamboo oyster rafts. "Typhoon Mangkhut and Hato destroyed our rafts; we had no clue where the oysters ended up after that," Chan said, referring to the typhoons in 2018 and 2017 respectively.

Oyster farmer Chan Hok-sum, 40, also lamented that the elements had become increasingly hostile. "It was like we were dumping HK$100 [US$13]into the water, but only getting back HK$20 to HK$30 after the typhoons," he said.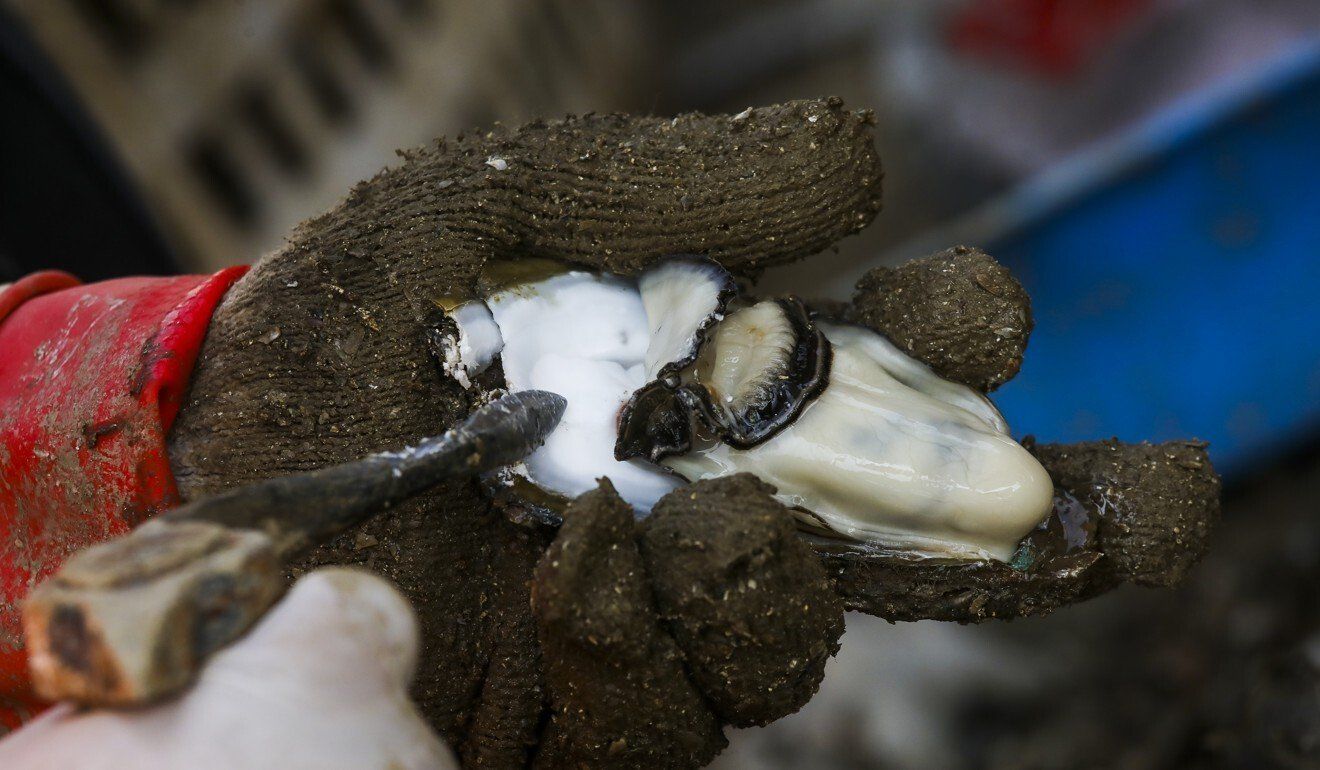 On top of other problems, the oysters themselves have been shrinking in recent years.

The farmers also realised their oysters were becoming smaller over the years.

Chan Shu-fung said it had been at least seven years since the harvests contained full-sized oysters. A fully grown 10cm oyster can weigh up to 114 grams, but for years now, their oysters have not even reached 70 per cent that size.

He blamed overcrowding of the bay where the oyster rafts are set. While there are only about 10 Hong Kong farming families, he said there are more than 10,000 oyster rafts in Deep Bay.

He said most were likely set up by farmers from neighbouring Shenzhen, which banned oyster farming on the Chinese side in the early 2000s.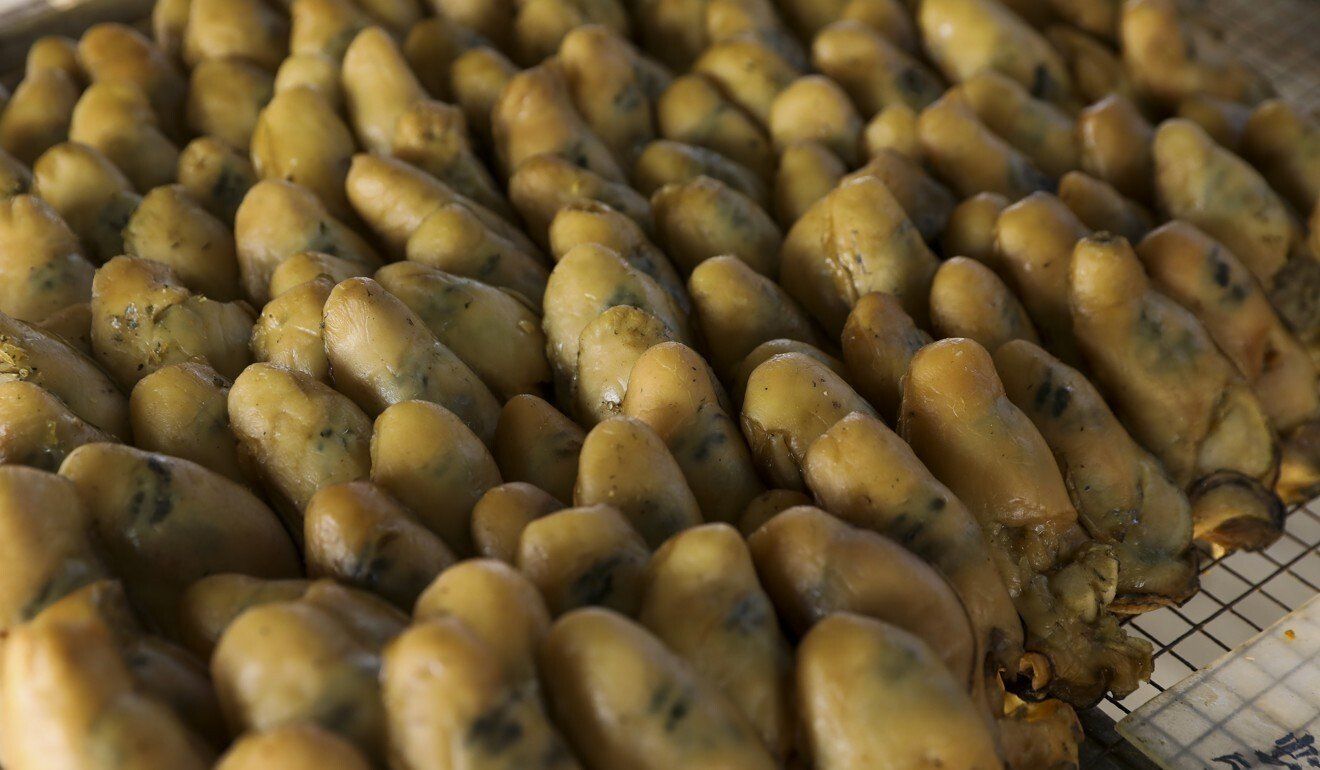 Some blame oyster farmers from across the border for overcrowding Deep Bay.
'Bay nearing overcapacity'

All these hurdles prompted Chan to work with international environmental charity The Nature Conservancy (TNC) to find out how many oysters the bay can support.

TNC runs an oyster reef restoration project nearby with the University of Hong Kong, and hopes to identify a natural way to clean polluted waters and stabilise shorelines to protect them from extreme weather.

Marine Thomas, a TNC conservation project manager, said overcrowding in Deep Bay was likely a reason the oysters had been taking longer to grow. Another potential reason could be the depleting levels of dissolved oxygen in the water.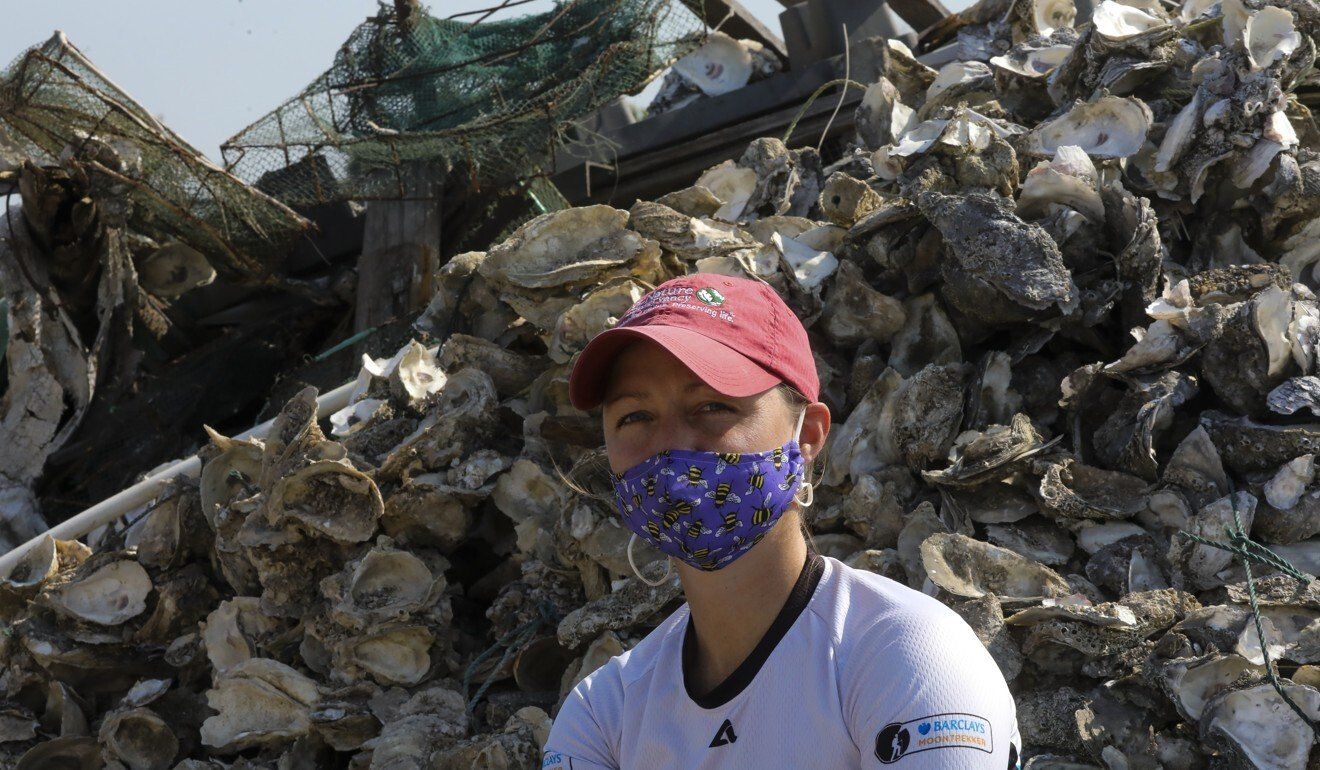 Conservation project manager Marine Thomas, of The Nature Conservancy.

"Any lower and fish would not be able to survive," she said. "This is a problem, because it is bordering overcapacity, and you could hit a tipping point. Not enough oxygen and you have a total system collapse."

With the help of farmers from Chan's association, TNC will collect data, including on food and nutrients in the water, as well as its temperature, salinity and oxygen levels, to figure out the ideal capacity of Deep Bay.

It hopes to help the farmers work more efficiently and grow healthier shellfish, while also identifying sensitive areas of the bay that need protecting.

Thomas said the organisation hoped to get some support from the government in its efforts to tackle the problems in the area.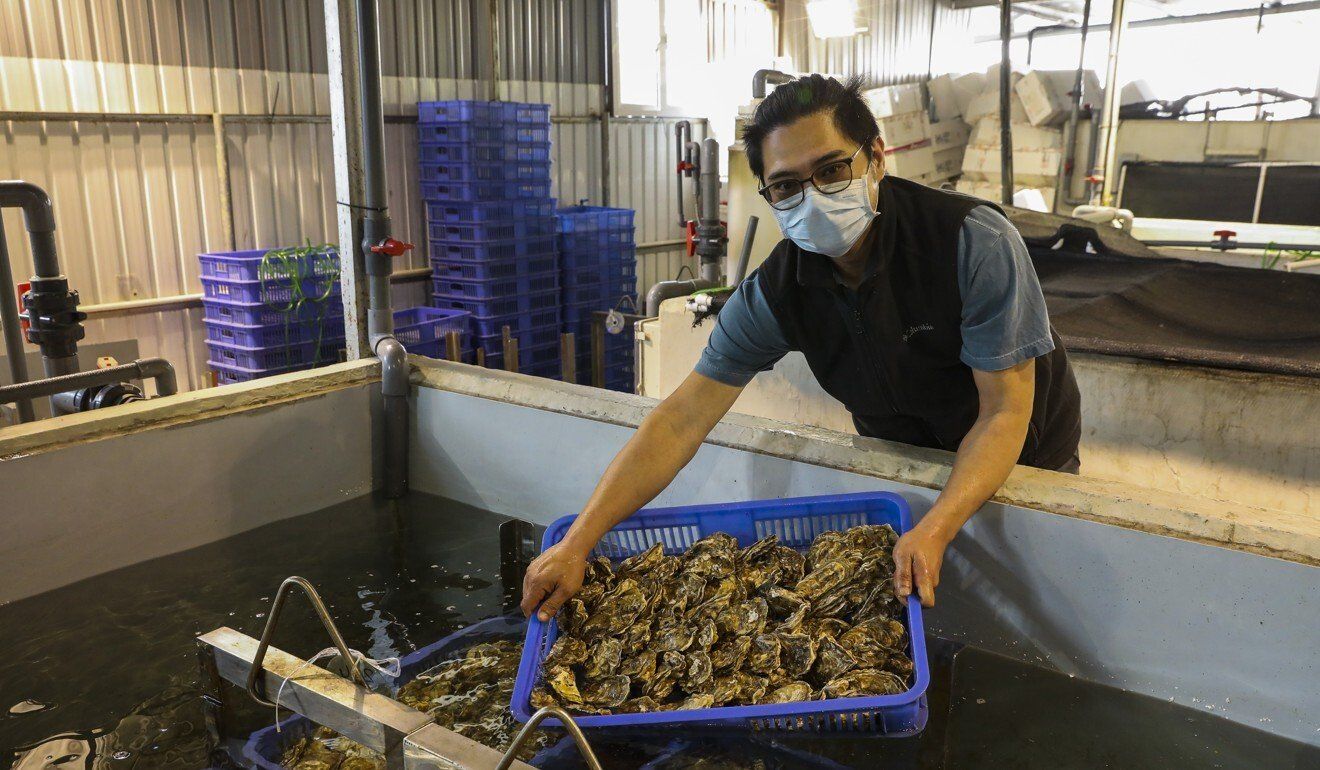 Oyster farmer Chan Shu Fung at a facility where oysters are kept in filtered water for purification before they're eaten.

The Agriculture, Fisheries and Conservation Department said it had been promoting sustainable development of the local oyster farming industry and supported relevant projects, but had no plans to regulate the industry.

In the meantime, Chan Shu-fung has built a facility where oysters sit in filtered water for purification before being eaten, hoping to clear up the murky reputation of Lau Fau Shan oysters.

There is both tradition and a long history to protect. Records of oyster farming in the area date to the Qing dynasty, with the practice spreading towards Hong Kong from Shajing in Shenzhen.

"I don't think I will ask my son to continue the business. But if in my lifetime I can bring some progress to the oyster farming industry, then I will have no regrets," he said.