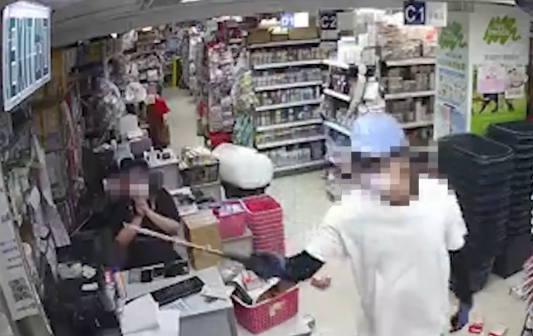 Owner offers up to HK$100,000 bounty to identify men who vandalised store
Two men who vandalised a store selling infant care products in Mong Kok are wanted for causing criminal damage.
Police received a report from a 25-year-old staff member surnamed Hung at 3:46pm on Sunday, saying that two men aged about 30 to 40 came to intimidate staff.

They vandalised the store and destroyed four computer monitors with a combined value of about HK$8,000 using extendable batons and fled.

The female cashier was visibly startled, and the commotion also caught the attention of two customers in the store. A surveillance video of the incident was uploaded on social media Sunday evening by the store owner.

The suspects' actions have been classified as acts of criminal damage. The Mong Kok Criminal Investigation Department will follow up on the case.

The store owner later said on social media that there would be a HK$100,000 reward for whoever is able to offer up those two men responsible for the damage caused.

"As a man, you should help the weak and repay evil for evil," he wrote.

The owner later uploaded more surveillance footage of two policemen investigating the Causeway Bay branch of the same store at 7pm on the same day, suspecting it had also been vandalised.

Netizens suspected that the incident was related to the dismissal of an employee who stole company's goods. The owner said that a store manager of the Causeway Bay branch had been fired for stealing from the company.

The ex-employee wrote on social media that he had dealt with the allegations against himself through legal means, and called on the public to stop spreading false information.