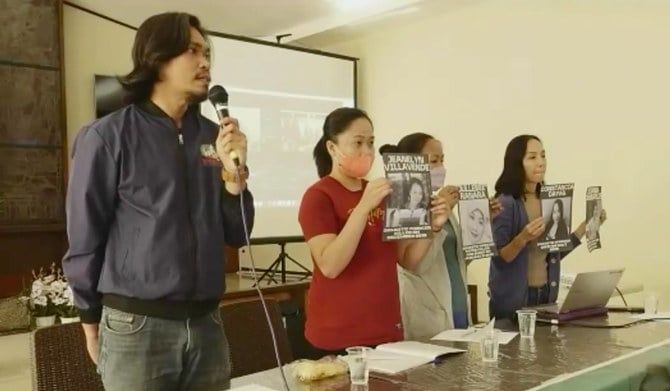 Overseas Filipino workers call on Marcos for protection after abuse cases in Kuwait
Overseas Filipino workers called on the Philippine president on Friday to implement measures that would improve their safety and safeguard their rights and welfare in Kuwait after mounting reports of abuse, including murder.
More than 268,000 Filipinos, mostly women, live and work in Kuwait, where 35-year-old maid Jullebee Ranara was killed and her charred body found abandoned in a desert in late January.

The killing sent shockwaves across the Philippines, sparking calls for a deployment ban until a review of bilateral labor agreements. On Wednesday, the Philippine government halted the deployment of first-time workers to Kuwait, days after suspending the accreditation of new recruitment agencies in the Gulf country.

During Friday's media forum in Manila, Migrante International presented a series of protection demands to the Philippine government and President Ferdinand Marcos Jr., including the provision of immediate legal, medical and financial assistance to all distressed OFWs in shelters in Kuwait and Middle East, and support to their families.

The group is the main organization representing over 2 million overseas Filipino workers, whose remittance inflows account for about 9 percent of the country's gross domestic product.

"The government must publicly release reports on the conditions of distressed OFWs in Kuwait and other Gulf states on the reported cases of rights violations and abuse, report on actions taken by the Philippine government, report on the status of cases and accountability," Joanna Concepcion, Migrante International chairperson, said.

"(It must also) uphold the rights of OFWs pursuant to international labor standards and agreements and implement stronger protection, monitoring and enforcement mechanisms and policies that proactively uphold the rights of OFWs and effectively regulate recruitment and deployment industry."

The media forum featured voices of Filipinos who joined online from Kuwait.

One of them, who identified herself as Ester from Surigao Del Sur province, has been working as a household helper for the past 10 months.

"Within those ten months, I have never had a day off. They also took my passport and civil ID. I only have five hours of rest," she said. "I hope the president will look into the woes of Filipino domestic helpers here in Kuwait."

Another Filipina, Analyn, was only waiting to be able to go home, but her employer had refused to return her to her recruitment agency until she paid back what had already been spent on bringing her to Kuwait.

"We don't have a day off, we are overworked. My employer would even send me to another house to work," she said. "My body is about to give up. I hope someone can help me."

There were more than 24,000 cases of violation and abuse of Filipino workers in Kuwait in 2022 according to Philippine Department of Migrant Workers data — a significant increase from 6,500 such cases in 2016.

In 2018, the Philippines imposed a worker deployment ban to the Gulf country, after the body of Filipina domestic helper Joanna Daniela Demafelis was found in a freezer at an abandoned apartment.

The ban was partially lifted that same year after the two countries signed a protection agreement for workers.

But it was again introduced in January 2020, after the 2019 killings of Filipina maid Constancia Lago Dayag and Jeanelyn Villavende, who was tortured to death by her employer.

The ban was lifted when Kuwaiti authorities charged Villavende's employer with murder and sentenced her to hanging.