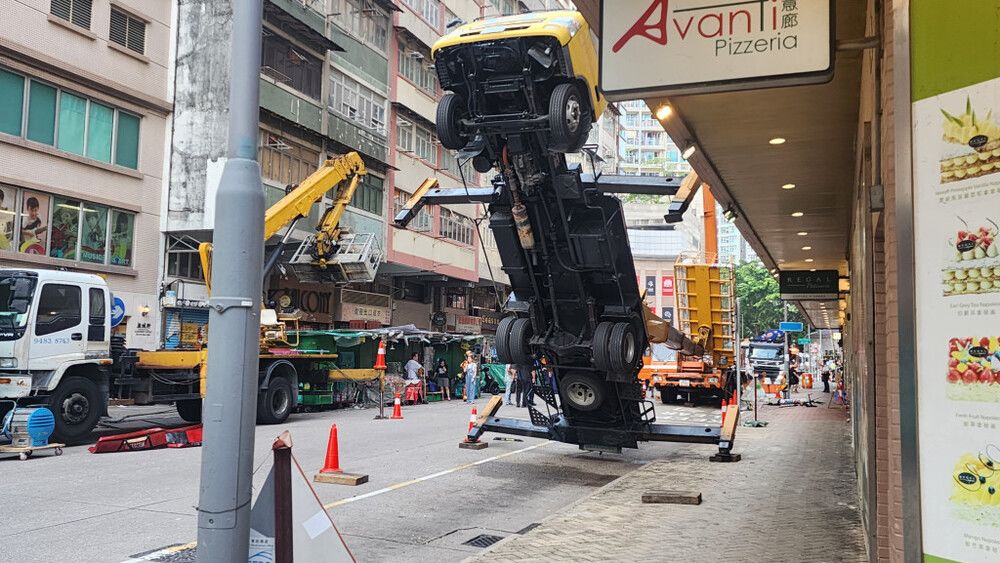 Overloading blamed for film platform collapse
Overloading is suspected for the collapse of an elevation platform on a film set outside a Kowloon City hotel that injured at least eight people.
The accident occurred at around 4.30pm on Saturday outside the Regal Oriental Hotel on Sa Po Road.

It is understood that a crew was shooting a film when the elevation platform on top of a work vehicle collapsed.

Eight people fell from the platform as it tilted backward. All were crew members of the film which is jointly funded by Emperor Motion Pictures and Beijing-based The Seventh Art Pictures.

The film, temporarily named A Man and A Woman, was set to be starred by mainland actors Huang Bo and Ni Ni. The shooting, planned for over a month, kicked off on Friday.

A crew member sustained injuries to his hands and fell unconscious while a lighting technician sustained fractures to the legs.

They were rushed to Queen Elizabeth Hospital and Kwong Wah Hospital.

"After a preliminary investigation, the force suspected the workers accidentally fell from a working platform about 15 meters high," police said.

The case has been classified as industrial accident, with the cause under investigation. Emperor Motion Pictures said in a statement on Saturday that all eight injured were conscious and were undergoing checkups and treatments.

"We will do our best to provide assistance to the injured," the statement read. "We bought insurance for the crew before shooting began."

Online photos show that at least six people were standing on the collapsed elevation platform, with two of them controlling a camera rocker arm installed on the stand.

According to the Labour Department's guideline, workers on an elevated platform must wear a safety belt, but such a strap cannot be seen in the photos.

Structural engineer Ngai Hok-yan said the collapse could have occurred due to excessive weight.

"If [the rocker arm camera] is not fixed on the platform with screws, the only other method is to keep it in place with something heavier so that the arm extending outside the platform will not be flipped," he said.

He added that engineers' assessments are needed before shooting to see whether the work vehicle is capable of holding the added weights of eight people and the equipment.

Film industry workers said it is "standard" practice to have at least eight people on an elevated platform when shooting.

Tenky Tin Kai-man from the Federation of Hong Kong Filmmakers, said two of the injured are his friends - the lighting technician and the rocker arm controller - and they had worked in the industry for over 30 years.

"It's not rare to shoot with a rocker arm camera on an elevated platform We need at least four people to stabilize it," he said. "A lighting technician is also needed to monitor the camera, as well as an electrician and a cameraman. It's standard to have eight people on a platform."