Crowds seen outside Swatch outlets in the city since early hours of Saturday, with some turning a quick profit by reselling the watches at a higher price.
Hundreds of residents braved the rain on Saturday to queue up for hours outside various Swatch stores in Hong Kong hoping to be among the first to get their hands on newly launched Bioceramic MoonSwatch watches, with some looking to resell them at a higher price.

Long queues and large crowds were seen outside three Swatch outlets each in Causeway Bay, Mong Kok and Tsim Sha Tsui since early on Saturday, after the firm announced it would sell the unlimited MoonSwatch collection at HK$2,100 (US$268) each.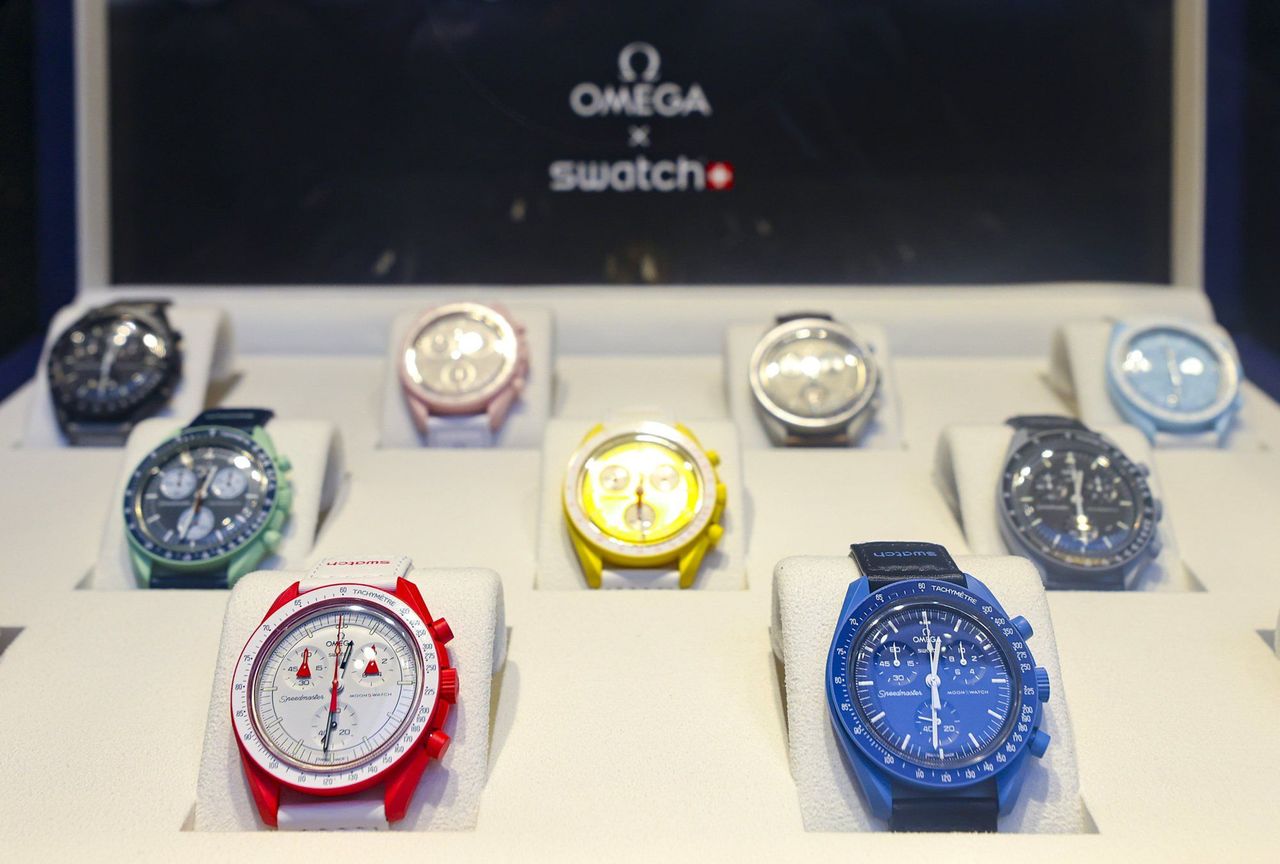 The Bioceramic MoonSwatch collection comes in a variety of colours.

The MoonSwatch is the first collaboration between Swatch and luxury watchmaker Omega. The Omega Speedmaster, also known as the Moonwatch and costing about HK$40,000 to HK$50,000, was the first watch worn on the moon, according to the Swiss watchmaker. Astronauts Neil Armstrong and Buzz Aldrin sported the timepiece during the Apollo 11 mission in 1969, making it a collector's item.

Traders quickly attempted to cash in on the new watches, offering to sell them for between HK$8,800 and HK$20,000 each on e-commerce platform Carousell, with buyers prepared to fork out up to HK$8,888 for one.

Swatch said on its Facebook page the watch was only available at the three outlets from 10.30am to 11am onwards, with about 180 tickets being distributed from 8.30am on a first come, first served basis. Each customer would be allowed to buy only two such watches in different colours at a time. There are 11 models in various colours.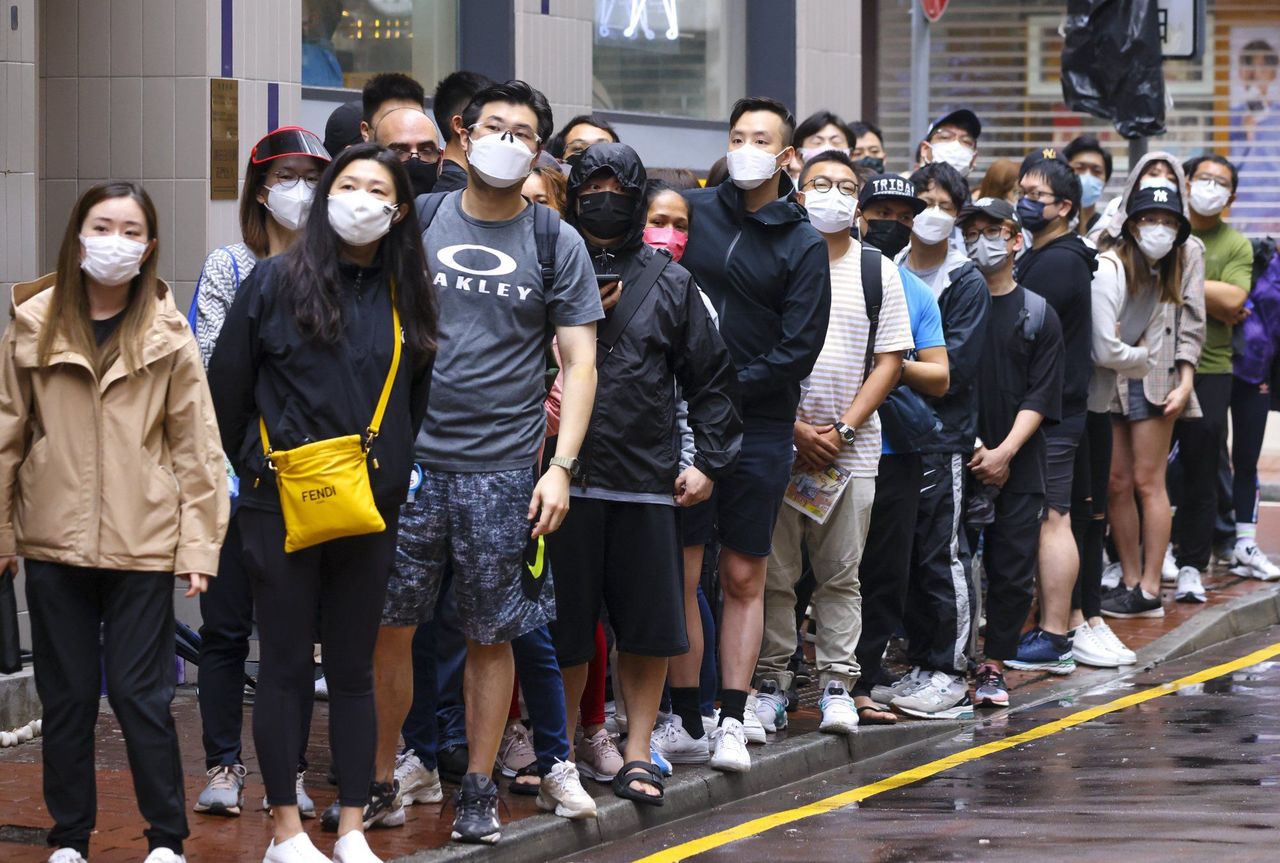 Residents queue up outside a Swatch outlet in Causeway Bay on Saturday.

"The watches are not limited or numbered and will be available in selected Swatch stores, with more opportunities to purchase in the coming weeks … They will be available online at a later stage," it said.

Kwok Ka-wai, 34, a fashion buyer, had been lining up for the watch from 5am on Saturday outside the Causeway Bay store. He noted that at least 500 people were waiting for tickets at 8am. Police officers showed up later, prompting a few to leave.

Kwok eventually sold the watch he bought in the morning to a collector through an online platform at noon for HK$7,800.

Ng, a 30-year-old housewife who gave only her surname, said about 10 people were queuing up at the Causeway Bay outlet before she arrived at 10pm on Friday.

She bought her watch at about 10am and sold it to a foreign customer at HK$6,000 in the afternoon.

"The resale price is much higher than the original price as more people are eager to have the first batch of the watches, just like iPhones," she said.

Rahil Zaveri, owner and director of luxury timepiece dealer WatchDen, missed out on one despite having queued from 9.30am at Ocean Centre in Tsim Sha Tsui.

Zaveri said the timepiece was a "huge bargain" as an entry point for watch enthusiasts, adding that the collaboration had "opened a lot of doors for everyone who might not have been able to commit to the price point of an Omega watch".

"The MoonSwatch has the Omega and Swatch stamps on the dial, along with the different colours. It's a new take on a classic."

Zaveri said he knew of only three dealers who were able to snap up one or two pieces. He noted that the resale asking price was already as high as HK$35,000 on certain platforms.

"But people will be able to easily buy it at the retail price of HK$2,100 in a few weeks or a month," he said, adding that the collection was meant to be sold to the masses.

Shirley Wong, 55, a retired teacher and watch fan, said she rushed from her home in Central to Causeway Bay by taxi when she saw a live-stream of the long queues on social media at 8am.

The Tiffany Blue – her favourite colour in the series – was sold out before she could enter the store at 3.30pm. Still, Wong said she felt "lucky" to be able to get a pink one for herself.

Staff of the Causeway outlet said all 180 tickets were handed out within 10 minutes of the store opening at 10.30am. No tickets will be distributed for Sunday.

About a dozen police officers were dispatched to manage the crowds at each of the three outlets after they received a report at about 7.30am that several men were suspected of jumping the queue outside the Mong Kok store.

A force spokesman said the situation at the Mong Kok store was generally in good order and no one was penalised for breaching social-distancing rules.

The MoonSwatch has been described as a "new take on a classic", with its design incorporating features of the original Speedmaster.

The Swatch group said designers had drawn inspiration from space to create the collection of 11 models named after planetary bodies, from the giant star at the centre of the solar system to the dwarf planet at its periphery.