Australia, Britain top choices for Hongkongers in exile and trying to keep activism alive.
When Teddy* boarded a small speedboat in Hong Kong last year to start his 600km escape to Taiwan, he had no idea that within months, he would be in the United States seeking asylum.

He fled just weeks after Beijing imposed the national security law on Hong Kong last June, banning acts of secession, subversion, terrorism and collusion with foreign forces.

The 25-year-old faced multiple charges in connection with the 2019 anti-government protests, with jail terms of up to eight years.

Surviving the rough boat ride, he landed in Taiwan and applied through lawyers to stay, citing his fear of political persecution in Hong Kong. His plan was to start a new life on the self-ruled island as a civil engineer.

Taiwan authorities provided a flat for him and the others who had fled with him. They lay low, even cutting off contact with their families in Hong Kong.

Then a Taiwanese media outlet broke the news of their dramatic escape, and everything ground to a halt. They were told to leave. Officials would only tell Teddy there were "diplomatic reasons" why he could not remain in Taiwan.

He told the Post: "They just said, 'We have to send you somewhere else. You may indicate your preferred destination'."

With no legal guaranteed process established, Taiwan set up a dedicated office after the 2019 social unrest in Hong Kong to help asylum seekers from the city.

In January this year, Teddy arrived in Washington DC on a humanitarian visa issued by Taiwan and applied for asylum in the US.

While awaiting the results of his application, he joined self-exiled former separatist lawmaker Sixtus Baggio Leung Chung-hang to co-found the Hong Kong Liberation Coalition, an advocacy group providing temporary shelter to others arriving from the city.

Three other frontline protesters from Hong Kong are also there and helping to run the new group while awaiting the outcome of their applications for refugee status. Like Teddy, they preferred to stay anonymous.


470 Hongkongers seeking asylum abroad

Teddy and his companions are among at least hundreds of Hongkongers who fled to avoid prosecution over their roles in the months-long protests of 2019.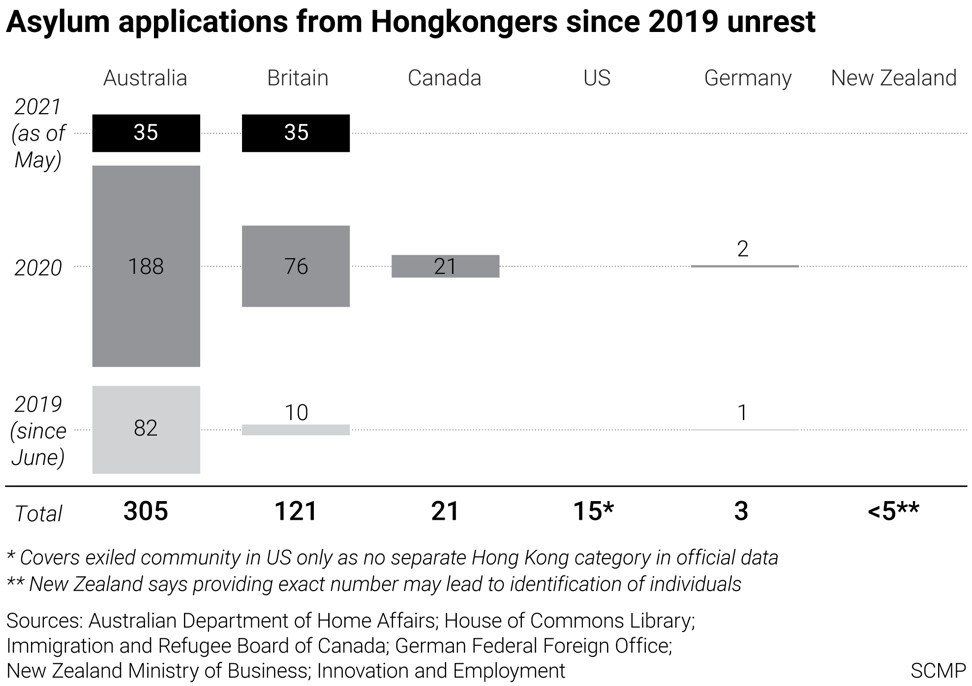 A count by the Post found that about 470 had sought refugee status in Australia, Britain, the US, Canada, Germany and New Zealand over the past two years.

The largest group is in Australia, where 305 have applied for refugee and humanitarian protection between June 2019 and May this year.

Last July, right after the security law took effect, 34 Hong Kong passport holders sought asylum there, the highest number in a single month over that period.

Britain has received 121 applications, with 35 in the first three months of this year. They include five Hongkongers aged under 18.

Canada had 21 applicants for refugee protection as at the end of last year. The US does not keep separate records for Hong Kong asylum seekers, but about 15 are estimated to have gone there since the unrest.

Germany had three applicants, and New Zealand, "fewer than five", according to officials.

Steve Tsang, director of the China Institute at the School of Oriental and African Studies (SOAS) in London, said it was not easy for Hongkongers to obtain asylum overseas, especially when Hong Kong had the rule of law and a higher gross domestic product per capita than many other economies including Britain.

"Those who have successfully claimed asylum will have to demonstrate that they face real risks," he said.

But he added the fact that these countries were willing to process so many applicants reflected a significant change in the perception of the human rights situation in Hong Kong by leading Western democracies.


'Hard to prove claims'

In the year since the national security law was introduced, more than 100 opposition activists have been arrested and at least 20 prominent opposition figures have fled Hong Kong.

For many, arriving safely somewhere else is only the start of a new period of uncertainty and waiting to clear rounds of interviews and bureaucratic checks.

Half a year after arriving in Britain, Sophia*, 19, is still waiting for her second interview in her asylum bid. Applicants are expected to provide evidence supporting their claims, something that has been hard for most.

She said that as a frontline protester in 2019, she did not keep any records of what she did: no photographs, videos or text messages. Even when she was injured at protests – among her many duties was to defuse rounds of tear gas– she avoided public hospitals and sought treatment at underground clinics run by health care workers sympathetic to the protest movement.

She dropped out of her politics course at a Hong Kong university, leaving in haste with several others last year after taking part in a protest when the national security law had already kicked in. That demonstration resulted in several arrests.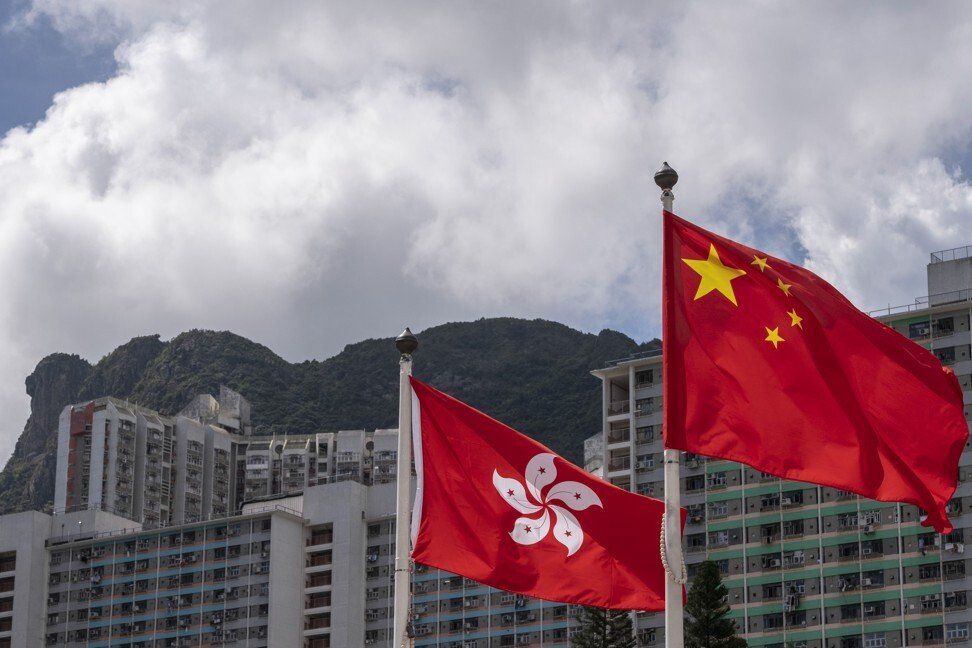 Beijing imposed the national security law on Hong Kong on June 30 last year.

Although she has secured an unconditional offer to attend a British university, the hefty fees for overseas students are daunting, and her family in Hong Kong is unable to help.

She cannot work to support herself either, as asylum seekers in Britain can only apply for permission to work after obtaining an initial decision on their claim, which can take more than a year.

The British government subsidises her accommodation in a budget hotel and provides an allowance. Sophia described it as a "fairly tough" life. She cooks in her room on a tiny induction stove and has no fridge.

But she added: "I know I can't complain as many comrades are facing more hardship than me."


'A challenge to maintain interest in Hong Kong'

Of the 100 Hongkongers who applied for asylum in Britain over the past two years, only three have been successful so far. Seven were turned down and 20 withdrew their applications. The rest are still waiting.

The successful ones include former lawmaker Nathan Law Kwun-chung, 27, who fled Hong Kong last June, just before the security law came into effect.

He had called on foreign governments to impose sanctions on Hong Kong and Chinese officials responsible for the erosion of freedom in the city, and is now wanted by Hong Kong police for inciting secession and collusion with foreign forces.

The British Home Office took only four months to grant Law refugee status, a move that critics said no doubt incensed China.

Law – an outspoken former student leader who was prominent in the 2014 Occupy protests which shut down parts of Hong Kong for 79 days – is now based in London and is one of the figureheads in a community of exiles trying to sustain the city's ailing pro-democracy movement.

Speaking at international meetings, he has warned repeatedly of what he calls China's expansionary ambitions and authoritarianism. He recently taught a political activism course in Chicago.

Although pleased that Britain had hardened its stance towards China, he said: "A major challenge ahead is keeping Hong Kong issues on the global agenda, especially when conflicts in the Middle East and other places occupy global headlines."

Finn Lau, 27, left Hong Kong for London early last year after being arrested and subsequently released for taking part in a protest.

At the height of the social unrest, he organised dozens of protests by Hongkongers overseas using his international network and came up with the slogan laam chau, which is Cantonese for "if we burn, you burn with us".

He was arrested during a Hong Kong protest in January last year, just before the Covid-19 pandemic struck the city, and was released after being detained for 48 hours. Seven months after he went to London, a warrant for his arrest was issued under the national security law.

For Lau, keeping up the fight for Hong Kong involves connecting its growing exiled community with the transnational network of "victims under the authoritarian regimes", which he said included Uygurs and the so-called Milk Tea coalition of pro-democracy activists from Thailand, Taiwan and Myanmar.

He said these other communities of exiles provided useful insights when he spearheaded rallies and exhibitions in 53 cities, across 23 countries, to mark the second anniversary of the June 12, 2019 protest, when Hong Kong police used tear gas against protesters for the first time that year.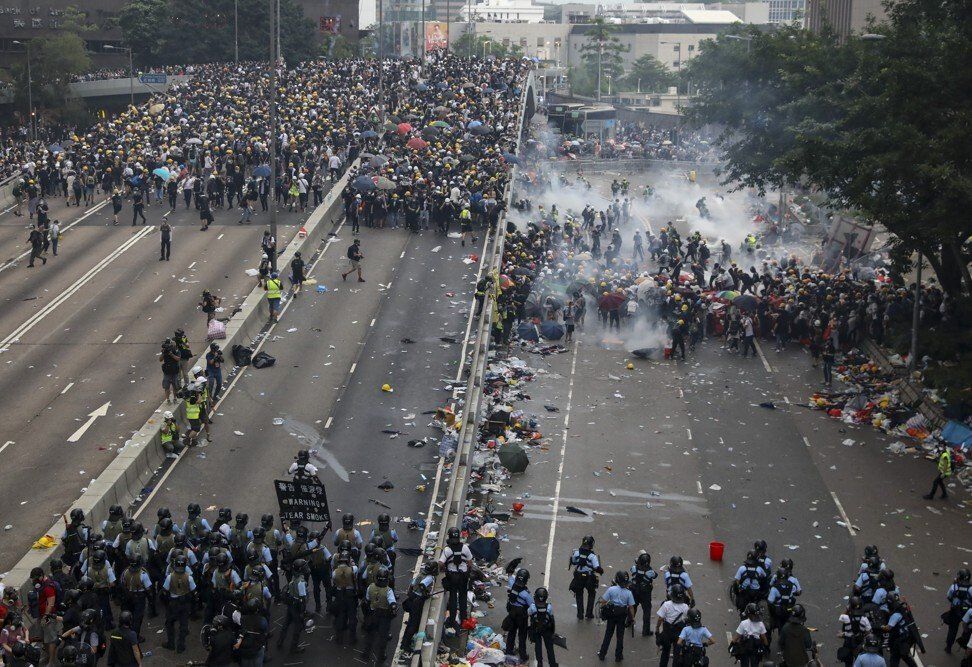 Police and protesters clash on June 12, 2019 in Admiralty.

But Lau said that during appeals to overseas Hong Kong communities to support the events, he observed the chilling effect of the security law even on those far from home.

"Participants were hesitant to show their faces at rallies even though they were not in Hong Kong. Some were worried that the authorities would go after them by any means," Lau said.

Article 38 of the national security law covers offences committed by non-permanent residents of Hong Kong outside the city, although some legal experts have said it will be hard to pursue such cases.


Struggling with 'survivor's guilt'

Professor David Meyer, a scholar of social movements at the University of California, Irvine, said the challenges for Hong Kong's exiled community were enormous, as those away from their hometown could "grow out-of-touch with the real issues on the ground".

But international support mattered, he said, and exiled activists could help ensure the movement's grievances remained globally visible, and that they could also support those at home by sharing ideas for moving the campaign forward.

"Effective expat activists will try to draw attention to their allies in Hong Kong, and to expand whatever political space those still in Hong Kong have to operate," he said. "I don't mean to suggest that anything ahead will be easy."

London-based Finn Lau, who in April quit his full-time job as a surveyor to dedicate himself to advocacy, said what he struggled with most was a strong sense of "survivor's guilt".

"The guilt of feeling lucky to have fled is heavy," Lau said. "The only way to relieve it is to keep the faith and do more when Hongkongers are deprived of their basic rights of assembly under the security law."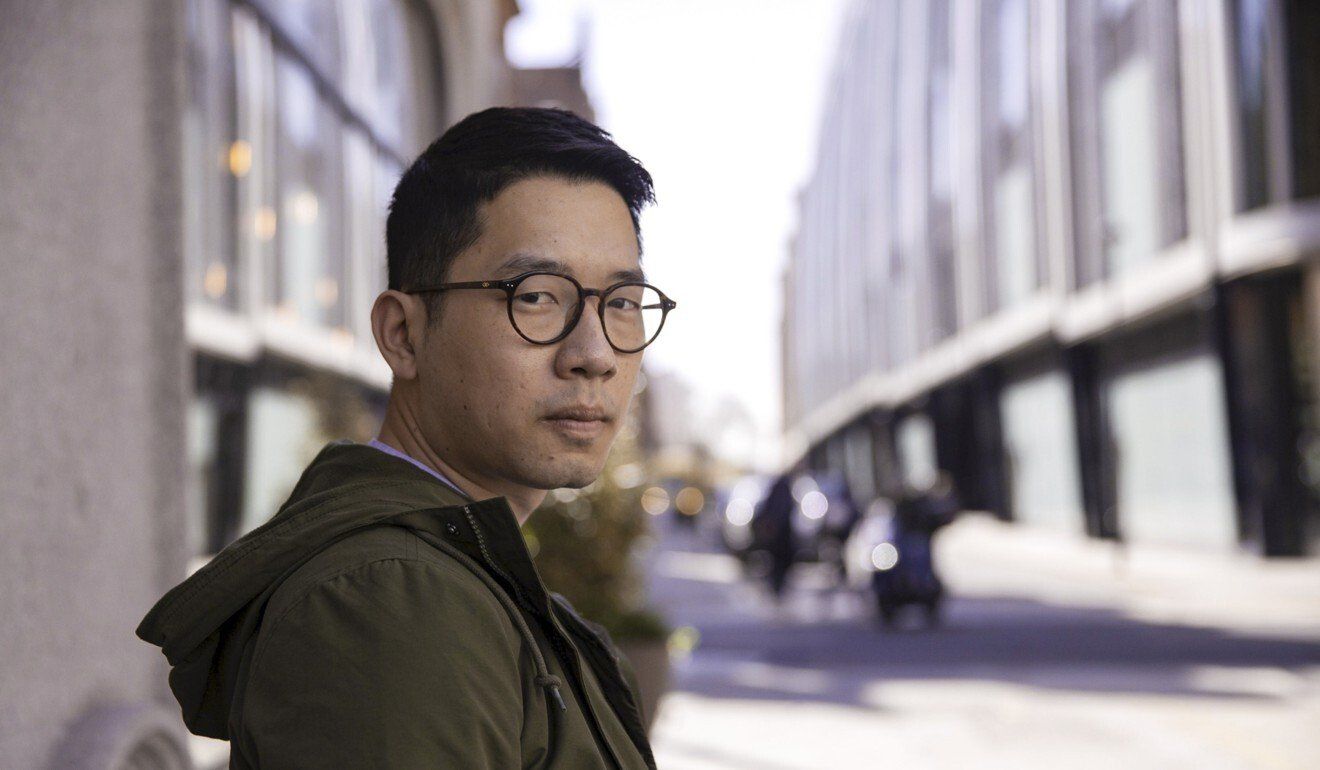 Nathan Law, the former Hong Kong lawmaker now living in Britain.

Nathan Law, who made history in 2016 as the youngest lawmaker elected in Hong Kong when he won a Legislative Council seat aged 23, said he could relate to that sense of guilt.

Safe in London, he has seen dozens of his former colleagues locked up on various charges under the national security law, including conspiracy to commit subversion.

"It is devastating to see my friends in jail. But I have to live with this guilt," said Law, who hopes to publish a book on Hong Kong's resistance later this year. "What we are doing here is meant to pave the way home one day."