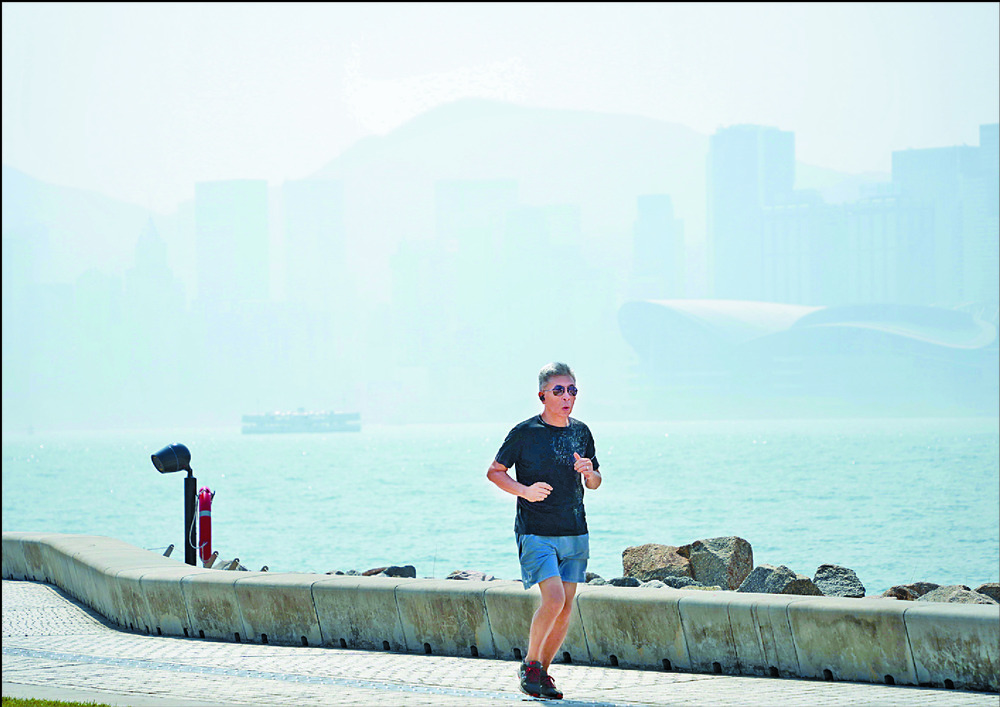 Outdoors alert as pollution hits highest serious level
Air-pollution levels may remain at the highest "serious" level - the highest health risk - until Sunday, as authorities warned the public to reduce venturing outdoors.
The Environmental Protection Department has recorded higher than normal pollution levels since Saturday due to the lack of wind.

The air quality health index at seven monitoring stations - Central/Western, Southern, Eastern, Kwun Tong, Sham Shui Po, Tseung Kwan O and Causeway Bay - hit the "serious" risk category at 5pm yesterday and "very high," the second highest level - at the remaining 11 stations.

Pollution is expected to remain "serious" in the next couple of days.

Temperatures in most areas climbed to 33 degrees Celsius or above yesterday.

Under the influence of a dry continental airstream, it will be fine and very hot today.

Light to moderate northerly winds are not helping the dispersion of pollutants.

The intense sunshine enhances photochemical smog activity leading to rapid formation of ozone and fine particulates in the Pearl River Delta. The high ozone level also promotes the formation of nitrogen dioxide.

As of 5pm, ozone concentrations were 350.4 micrograms in Southern, 319.6 in Eastern and 303.4 in Central and Western.

Under local air quality objectives, the eight-hour average concentration limit of ozone is 160 mg, less stringent than the 100 mg the World Health Organization recommends.

At 5pm, Causeway Bay recorded the highest fine suspended particulates (PM2.5) concentration level of 64.8 mg, followed by Southern at 63 mg and the Eastern at 52 mg.

The PM2.5 concentration levels in other stations ranged from 26.2 to 51.2 mg - exceeding the department's 24-hour average limit at 50 mg and the WHO's standard at less than 15 mg.

Regional pollution levels are expected to remain higher than normal until stronger winds arrive.

"With a health risk category in the 'very high' or 'serious' levels, children, the elderly and persons with existing heart or respiratory illnesses are advised to reduce physical exertion and outdoor activities to a minimum or avoid such activities," the department said.

The weather will remain very hot with weak winds over the coast of Guangdong in the next few days until Sunday.

Fine and dry weather is expected until Saturday, with some haze and temperatures to be between 28 and 35 degrees.