City's largest pro-establishment party pins its hopes on winning big in directly elected seats, but candidates sense lack of interest among voters.
Hong Kong is set to hold its Legislative Council election on December 19, the first citywide poll since Beijing revamped the electoral system to ensure only "patriots" hold political power. In the third of a four-part election series, Tony Cheung looks at the strategies of candidates contesting in the 10 redrawn geographical constituencies.

It was early morning and former district councillor Chan Hok-fung, 45, was manning a booth at Central Pier No 6, greeting commuters arriving from Peng Chau and Lantau islands.

Donning an orange vest with his name printed on it, he handed out pamphlets to ferry passengers, saying over and over again: "Good morning, please support me."

A vice-chairman of the pro-establishment Democratic Alliance for the Betterment and Progress of Hong Kong (DAB), he is contesting the Legislative Council election on December 19.

Chan Hok-fung (right) is running in the revamped Hong Kong Island West geographical constituency.

He is running in the revamped Hong Kong Island West geographical constituency, home to more than 370,000 voters living in the Southern, Central and Western, and Islands districts.

With him at the pier that morning was former DAB chairman Tam Yiu-chung, now a member of China's top legislative body, the National People's Congress Standing Committee.

"Candidate No 2, candidate No 2, Chan Hok-fung, please support him," the 72-year-old called out in his clear, firm voice.

Some passers-by took a pamphlet or stopped for a quick chat, but most just walked by wordlessly.

Chan admitted that running for Legco was harder than fighting for a seat on the Central and Western District Council. From 2008 to 2019, he represented the Kennedy Town and Mount Davis communities at the district body, and only had to win about 2,000 votes to be elected.

Wooing hundreds of thousands of voters put him in an entirely different league.

"I need to step out of my comfort zone," he said. "In the past, my constituency was in the city. Now, Hong Kong Island West is much bigger, and I have to pay attention to the concerns of villagers on rural islands."

Piling on the pressure were his two rivals – veteran lawmaker and former security chief Regina Ip Lau Suk-yee, 71, and Islands district councillor Fong Lung-fei, 49, an opposition-friendly figure.

A directly elected lawmaker since 2008 and a member of the Executive Council, the city leader's de facto cabinet, Ip was seen at The Peak on Friday morning, setting up a booth at the junction between Guildford Road and Barker Road.

She was accompanied by about 10 female supporters, all residents of the luxury residential area, who joined her in waving to passing motorists and bus commuters.

Ip said her re-election bid was more difficult this time because the constituency boundary had changed, and the contest was mainly between two pro-establishment candidates, herself and Chan.

In Beijing's overhaul of Hong Kong's political system earlier this year, Legco has been expanded from 70 to 90 seats, dominated by 40 lawmakers from the Election Committee constituency. There will be only 20 members elected from geographical constituencies and 30 from mainly trade-based functional constituencies.

Previously, there were 35 directly elected lawmakers from five geographical areas. These have been broken into 10 smaller constituencies which will return only two lawmakers each.

The DAB, the city's largest pro-establishment party, is betting big on geographical seats, fielding a candidate for all 10 zones, and only six candidates each for functional and Election Committee seats. The New People's Party and Federation of Trade Unions (FTU) are fielding only three candidates each for geographical seats.

With Hong Kong's main opposition parties shunning the election, the candidates said competition within the pro-establishment camp and the challenge posed by about a dozen centrist hopefuls made the outcome uncertain for the DAB.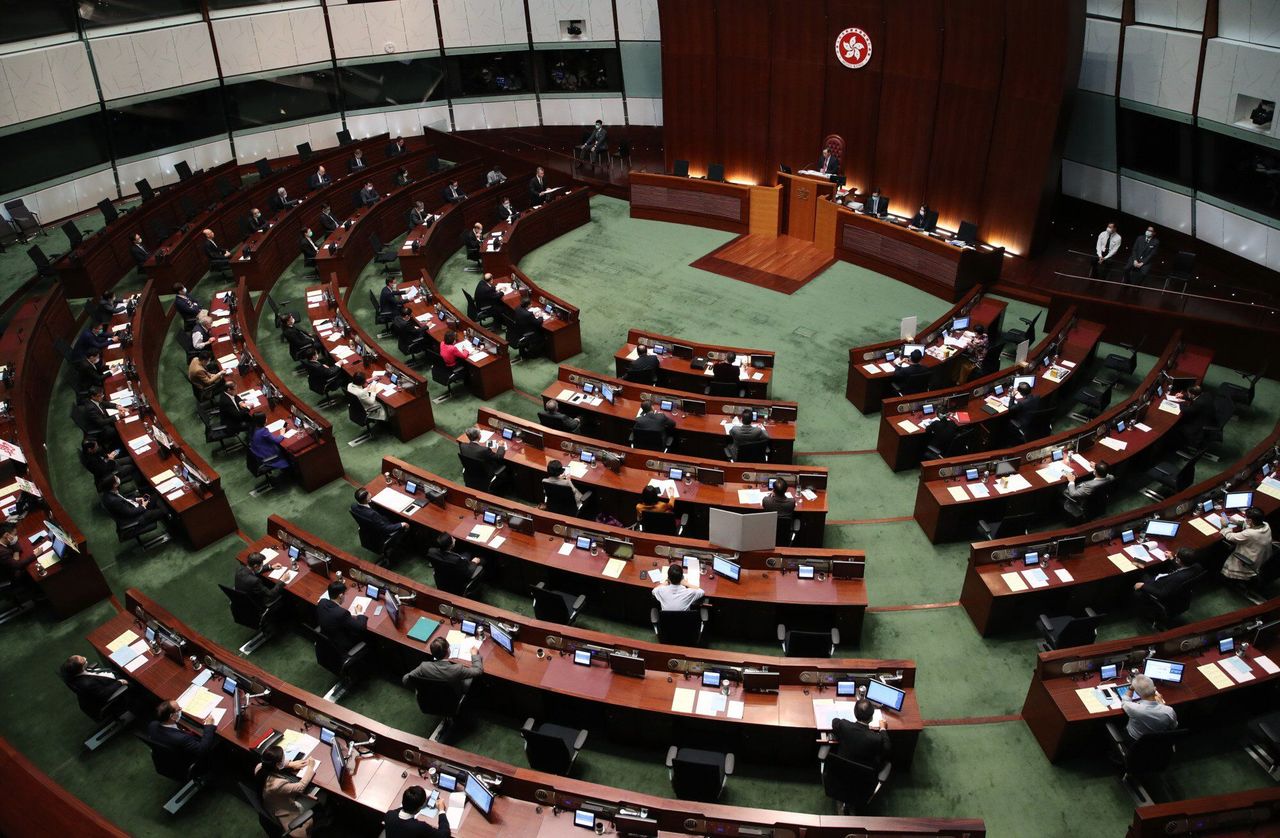 After Beijing's overhaul, the Legislative Council has been expanded from 70 to 90 seats, and there will be only 20 members elected from geographical constituencies.

Insiders said they had to go to extremes, visiting new areas to canvass votes, coming up with detailed manifestos and even cooperating with allied parties to avoid overlapping efforts in organising street booths.

"The electoral overhaul was unfavourable for large political parties because Beijing wanted more elites with track records in the social and economic fronts to become lawmakers, not just those with political expertise," said Lau Siu-kai, from semi-official think tank the Chinese Association of Hong Kong and Macau Studies.

In total, 35 candidates signed up in the 10 constituencies: 23 from the pro-establishment camp and 12 centrist hopefuls. The number of candidates in each geographical group ranged from three to five.

Former opposition lawmaker Frederick Fung reaches out to voters outside Pei Ho Street Market in Sham Shui Po on Thursday.

In Kowloon West, DAB incumbent Vincent Cheng Wing-shun, 43, is up against former opposition lawmaker Frederick Fung Kin-kee, 68, and Scott Leung Man-kwong, 37, from the pro-establishment Kowloon West New Dynamic party.

On Thursday, Fung set up a booth outside the Pei Ho Street Municipal Services Building. Wearing a navy blue jacket and a transparent face mask, Fung braved the chilly wind as he stood on a ladder and made his pitch with a loud hailer.

"The DAB just shares the same voice as Chief Executive Carrie Lam … Vincent Cheng cannot help you to monitor the government. But I can," he said.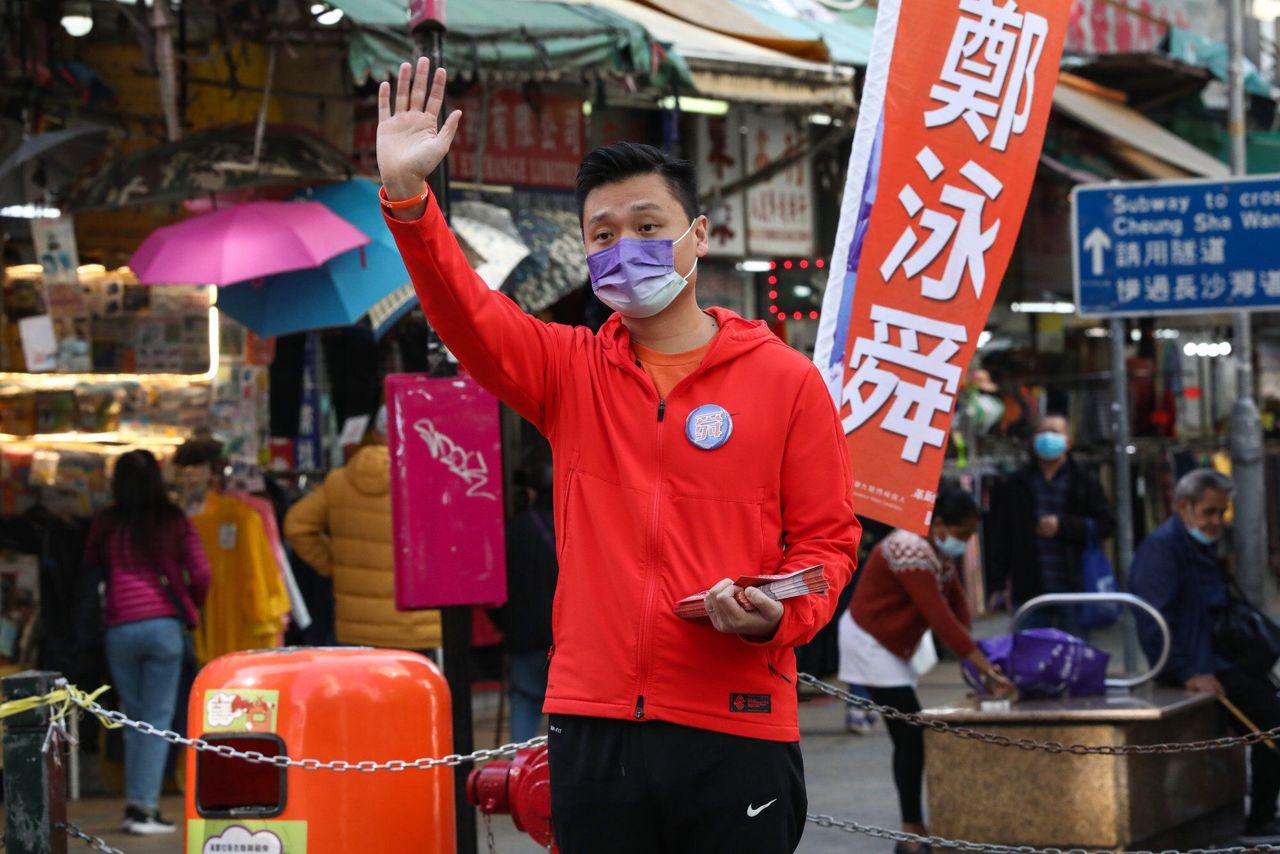 Vincent Cheng campaigns outside Sham Shui Po MTR station on Thursday.

Two streets away, Cheng was at his street booth outside the Sham Shui Po MTR station. He told the Post that contenders like Fung were posing a real threat to the DAB candidates.

"We need to remind voters that many of us from the pro-establishment camp have always been firmly patriotic," he said. "For those who think they should support Fung as he is a moderate person, I'd tell them he supported the unlawful Occupy civil disobedience in 2014."

Cheng said another difficulty this year was that many voters were uninterested in the election and did not want to vote for candidates from the pro-establishment camp.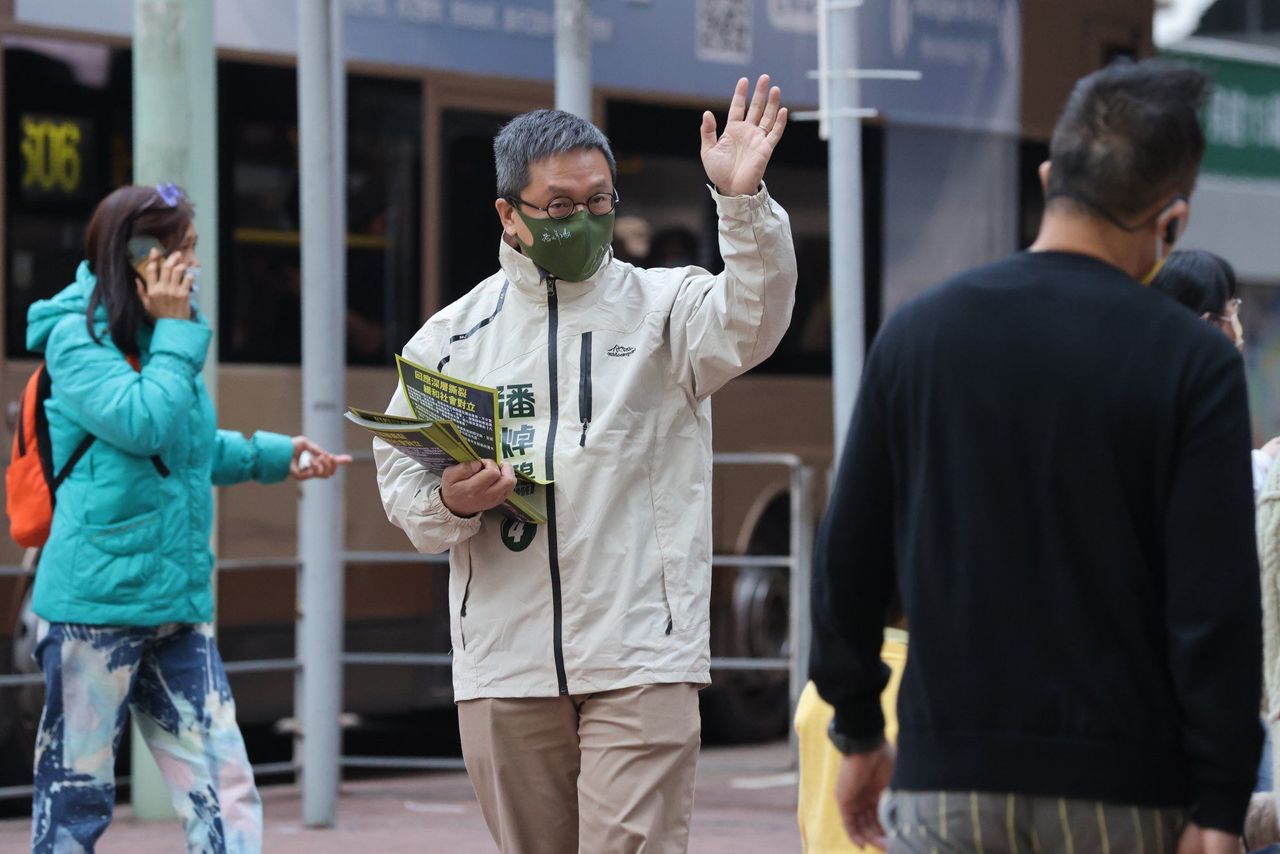 Jason Poon, who is contesting in Hong Kong Island East, distributes leaflets to residents in Tai Koo Shing earlier this month.

"We need to explain to voters that they have an important vote, and they must use it well to tell the world that stability has been restored in Hong Kong," he said.

Cheng acknowledged that as an incumbent, his chances were relatively higher than that of colleagues who were newcomers and engaged in races with four to five candidates.

In Hong Kong Island East, for example, his DAB colleague Edward Leung Hei, 36, faces three opponents: the New People's Party's Marcus Liu Tin-shing, 38; FTU president Stanley Ng Chau-pei, and opposition-leaning figure Jason Poon Chuk-hung, both 51.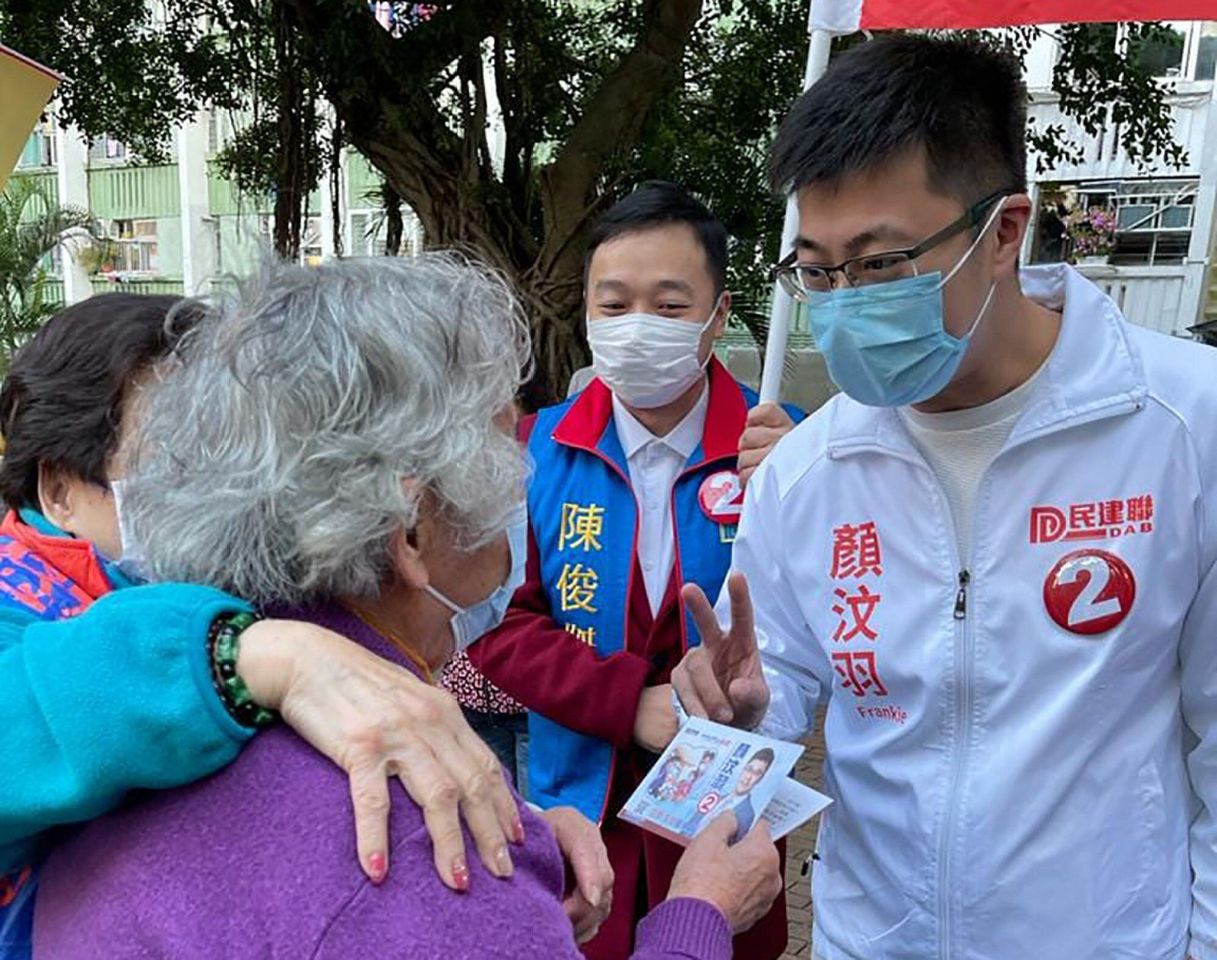 Frankie Ngan (right) is in a five-way contest for Kowloon East.

In Kowloon East, the DAB's Frankie Ngan Man-yu, 35, is in a five-way contest with: the FTU's Bill Tang Ka-piu, 42; Path of Democracy's Chan Chun-hung, 44; and independents Wu Kin-wa, 58; and Li Ka-yan, 32.

Ngan told the Post there was little he could do about competition within the same camp.

"We can only try our best because it's 'one person, one vote'," he said. "I cannot ask our supporters to vote for me and for an ally at the same time."

However, for DAB incumbent Ben Chan Han-pan, 46, running alongside FTU candidate Joephy Chan Wing-yan, 31, in New Territories South West, there was room for collaboration.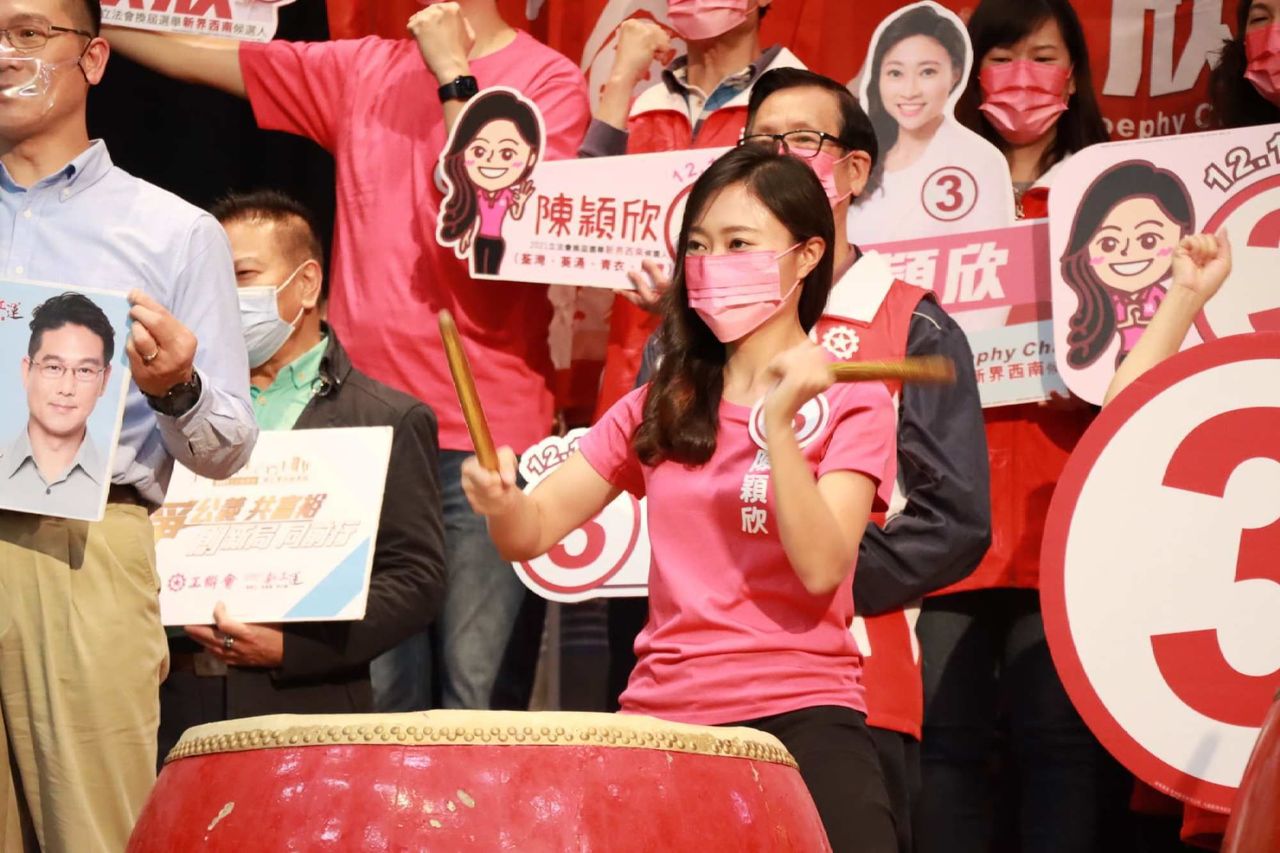 Joephy Chan, of the Federation of Trade Unions, has focused her campaigning efforts in Kwai Tsing.

"We do cooperate and divide our work, hoping that both of us have enough votes to win," he revealed.

Ben Chan, a former Tsuen Wan district councillor, has focused more on canvassing votes in the district, while Joephy Chan spent relatively more effort in Kwai Tsing, which was previously represented by FTU lawmaker and former district councillor Alice Mak Mei-kuen. Mak is seeking re-election in the Election Committee constituency.

Professor Song Sio-chong, of Shenzhen University's Centre for Basic Laws of Hong Kong and Macau, said he believed that collaboration within the pro-establishment camp, and among the centrist groups, could pave the way for the rise of a two-camp legislature in future.

"Even if the DAB wins only six or seven geographical seats, it will be all right for Beijing. The central government wants the strongest candidates to win and work with each other as a strong camp, while centrist winners can form a camp of their own," he said.

But analyst Lau disagreed. He said that rather than expecting bipartisanship, Beijing was mainly concerned with whether the new lawmakers would be "capable patriots".

"Beijing is not concerned with how many from the DAB win," he said.

"The DAB and FTU lawmakers were previously well-known for fighting against the opposition camp in the chamber. Now they must prove that they can contribute to the new legislature in professional ways."