An overwhelming 85 per cent of parents are worried about the possible side effects of the shots, a survey by Education University of Hong Kong academics has found.
Only one parent in 10 is willing to let their young children receive a Covid-19 vaccine in Hong Kong while an overwhelming 85 per cent are worried about the possible side effects of the shots, a survey has found.

Given the low level of desire among parents to inoculate children aged five to 12, the Education University of Hong Kong academics who conducted the poll on Tuesday called on the government to strengthen the dissemination of information about the efficacy and safety of vaccines for children. It should also conduct in-depth consultations among parents.

EdU's department of early childhood education interviewed 11,141 parents of kindergarten and primary school students aged five or above late last month.

The survey findings showed only 9.7 per cent of parents would agree to arrange for their children to receive shots without any policy restrictions. Some 85 per cent were opposed to taking their children to receive the shots.

Even if vaccination status was a consideration for class resumption, 79 per cent of parents were still opposed to their children receiving shots, with only 13.5 per cent saying they would bring them to get jabbed.

Authorities have allowed children between the ages of five and 11 to receive the Sinovac vaccine since January 21 and the BioNTech version will be available from February 16. Children receiving the BioNTech vaccine will get a third of an adult dose.

By Monday, more than 17,200 children of this age group, or 4.2 per cent, had received a first dose of a vaccine.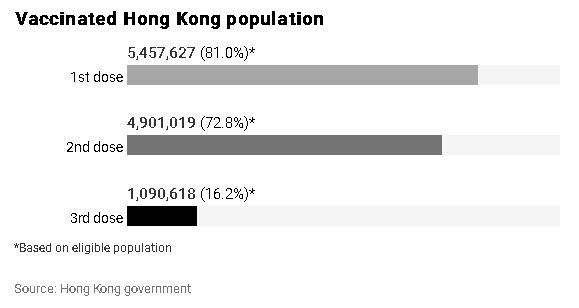 Almost 85 per cent of the parents polled expressed concerns about the possible side effects on their children if they were inoculated with only 14 per cent confident that the vaccines were safe for them.

Almost half of the parents interviewed did not trust that the vaccine could reduce the severity of illness if their children came down with Covid-19, against 35 per cent who did.

Some 34 per cent of the parents said they regularly and proactively sought information related to children's vaccination. One-third had received information about the effectiveness of vaccines in children while 51 per cent said they did not receive any.

Associate department head Eva Lau Yi-hung, who was in charge of the survey, said parents currently expressed a relatively lower level of desire to let their children get jabbed.

"And they were generally concerned about the safety of their children if given the Covid-19 vaccine," she said.

Assistant professor Jianbin Li said the survey results showed parents needed to obtain more information about Covid-19 vaccines for children.

"The relevant authorities should strengthen the provision of information to parents about the efficacy and safety of children's vaccination against Covid-19 for parents' consideration," he said.

Derwin Chan King-chung, also an associate head of the department, urged the government and schools to conduct in-depth consultations among parents to allocate and utilise public health resources more effectively.