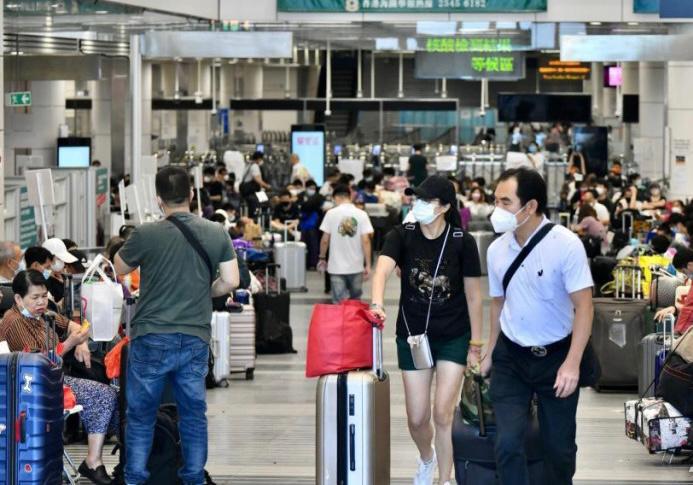 Online system for nucleic acid testing at Shenzhen Bay Port to open Thurs
An online booking system for nucleic acid testing at Shenzhen Bay Port will begin on Thursday at midnight.
Starting from July 15, departing passengers passing through Shenzhen Bay Port will be required to hold an appointment before they can undergo such testing.

To facilitate passengers to plan their trips, the government will launch an online booking system for the nucleic acid testing service at Shenzhen Bay Port starting at midnight on Thursday.

Passengers who wish to travel to the mainland via Shenzhen Bay Port on or after July 15 can book their nucleic acid testing online after obtaining a quarantine room.

When making an appointment on the website, they must enter their name, identity document number, and the appointment number of quarantine rooms in Shenzhen.

Sessions will be available for booking 7 days in advance through the appointment system.

On the day of traveling across the border, passengers should arrive at the port according to the scheduled appointment and present the SMS or website screenshot confirming the appointment before undergoing the nucleic acid test.

Those who fail to present the appointment or do not arrive at the control point at the scheduled time will not be allowed to continue their journey if they cannot get tested.

Presently, the customs service hours at Shenzhen Bay Port are from 9am to 8pm. To further facilitate passengers, the free special nucleic acid testing service will start half an hour earlier from July 15, i.e., passengers can be tested between 7.30am and 6.30pm.

A government spokesperson reminded visitors that the test results cannot replace any proof of negative results of self-financed nucleic acid tests as required by the relevant mainland or Macau authorities.

They should pay attention to the latest requirements of the mainland and Macau authorities and prepare accordingly to ensure compliance with the relevant requirements.