Health officials are investigating an untraceable Covid-19 case involving a 58-year-old woman who visited the Hong Kong Brands and Products Expo on Monday.
Hong Kong health officials are warning of exponential growth in Covid-19 cases and invisible transmission chains spreading in the community, as an Omicron cluster expanded to several circles including a dance group, politicians, churchgoing domestic helpers and patrons in two restaurants in less than two weeks.

They are also investigating an untraceable Covid-19 case involving a woman who visited the popular Hong Kong Brands and Products Expo in Victoria Park on Monday.

More than 350 people, including 170 partygoers, 60 people at an alumni gathering, 30 from a kindergarten and 93 domestic helpers, will need to be isolated as a result of the growing cluster. About a quarter of the 4,600 rooms in quarantine facilities have been filled.

A Department of Health spokesman said close contacts would be given verbal reminders that they should stay at home before being sent to quarantine, unless they had to buy necessities.

But respiratory medicine expert Dr Leung Chi-chiu said the arrangement would heighten the risk of a community outbreak.

"It may be safer for family members of close contacts to help them, but the best solution is for the government to assist them and provide necessities at quarantine facilities," he said.

On Friday night, authorities locked down Mayland Court in Causeway Bay for compulsory testing after sewage samples in the residential building tested positive.

A government spokesman said: "It is suspected that there are asymptomatic patients in the building. After a risk assessment, we think it is necessary [to test everyone] to break the transmission chain in the district."

Three other buildings – in Happy Valley, Ho Man Tin and Wan Chai – where residents had tested preliminary-positive were also locked down for screening overnight.

Health authorities are racing to contain two Omicron clusters, one originating from a dance group and another at the Moon Palace restaurant in Kowloon Tong's Festival Walk shopping centre.

The dance cluster, which has now grown to 14 confirmed cases and six preliminary-positive ones, originated with a 28-year-old Cathay Pacific flight attendant – who returned to the city from Los Angeles on December 27 carrying the highly transmissible Omicron variant – and her socially active mother.

Centre for Health Protection (CHP) controller Dr Edwin Tsui Lok-kin noted there were at least three transmission chains with second- or third-generation spread, adding that one Omicron patient could pass the virus to six to eight people.

"With fourth-generation transmission, there will be exponential growth in cases," he said, referring to the flight attendant's mother, who authorities suspect spread the disease to a friend and her husband, as well as the husband's colleague.

"We also cannot rule out that there are invisible transmission chains in the community."

Tsui urged the public to avoid crowded places and non-essential gatherings, not to meet members of other families and to wear masks as much as possible.

Authorities on Friday confirmed 33 new infections, including 26 imported cases. About 30 preliminary-positive ones were also reported.

The city's overall case tally now stands at 12,865, with 213 related deaths. There have been 223 confirmed Omicron cases, most of them imported.

The flight attendant's unvaccinated mother contracted the virus and is believed to have spread it to at least four groups, namely, members of her dance crowd, several others who ate with her at Six Garden Restaurant in Tin Hau, a birthday party attended by 170 people including some top government officials and a church where many domestic helpers worship.

The mother had breakfast at Six Garden with two friends on New Year's Eve. The daughter of one of the women went to the birthday party three days later, triggering the political storm.

All those present at the birthday party will be ordered into quarantine after a second infection, a preliminary case said to be a programme host at RTHK, was reported on Friday. She had shared a meal with three colleagues in recent days, the public broadcaster said.

RTHK told staff to leave its Broadcasting House building in Kowloon Tong by 6.45pm on Friday so it could begin disinfection.

A second domestic helper who attended services at a Fortress Hill church on Saturday and Sunday was confirmed as infected. Health officials said they believed she was infected by another helper whose employer was visited by the flight attendant's mother at their home. Two other helpers who were at the church tested preliminary-positive.

The flight attendant's mother also infected a man who dined at East Ocean Lafayette restaurant in Causeway Bay on the morning of December 30. Health authorities said they were sitting close by and smoke tests showed air flowed from the direction of the woman's table to the man's.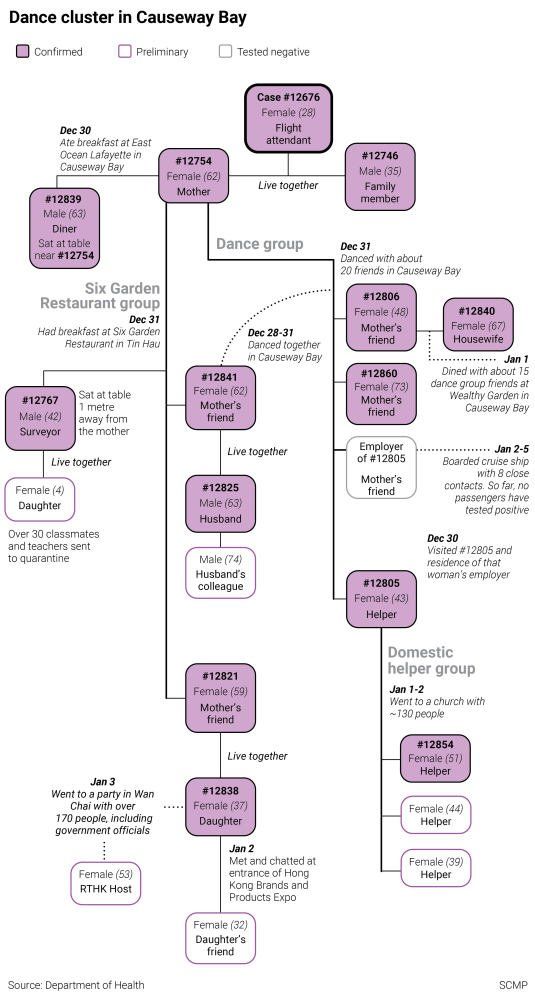 The CHP said about 130 people had dined at the restaurant during the same period and urged them to contact authorities as soon as possible.

Tsui said he was concerned about a wider outbreak at the restaurant similar to the one at Moon Palace.

Meanwhile, two schools, Pui Kiu Middle School in North Point and Shun Tak Fraternal Association Tuen Mun Leung Lee Sau Yu Kindergarten, have also suspended classes after parents linked to the dance cluster were confirmed as infected.

A four-year-old kindergarten pupil, whose father dined at Six Garden, tested preliminary-positive on Friday. Some 30 students and teachers in the same class have been identified as close contacts and will be quarantined.

The Hong Kong Federation of Education Workers, the city's biggest teachers' group, called on authorities to suspend face-to-face classes in kindergartens.

The city's first Omicron cluster – linked to Moon Palace – has expanded to nine confirmed infections. The cluster was sparked by a Cathay Pacific crew member who ate lunch with his father in violation of company rules regarding self-isolation.

The latest patient in the cluster is a woman who lives in Ma On Shan. She had not visited Moon Palace but was classified as a close contact of an infected construction worker, who had eaten in the restaurant and went to her home to do scaffolding work.

In view of the growing cluster, the city's Medical Association suggested the government consider ordering compulsory testing of all domestic helpers to cut down possible transmission chains.