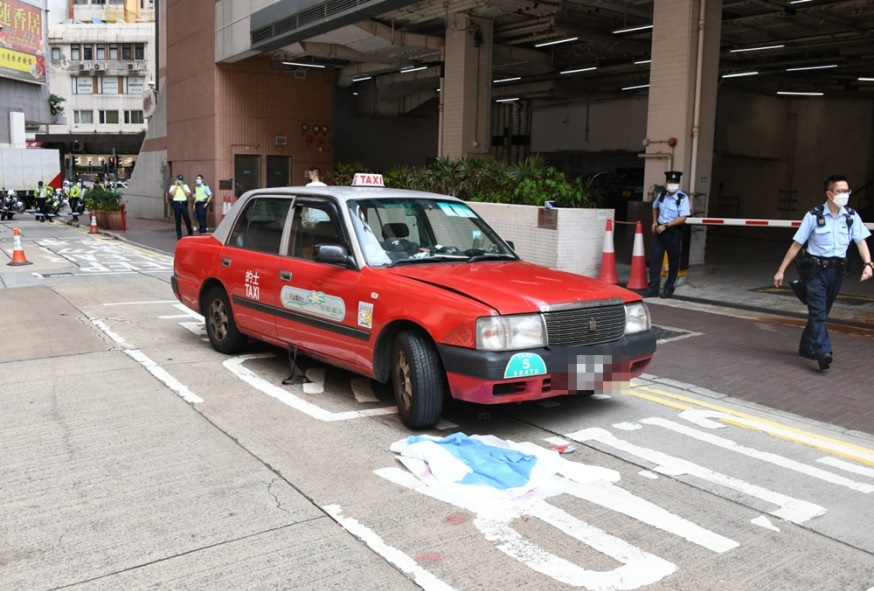 Old woman dies after hit and dragged by taxi for 20 meters
A 66-year-old woman died after she was hit by a taxi and was dragged for some 20 more meters in Sheung Wan this morning. The taxi driver aged 70 has been arrested for dangerous driving causing death.
The incident took place at 9.20am on Queen Street in Sheung Wan. The elder was hit by a taxi, which kept moving and dragged her for around 23 meters. Pedestrians witnessing the incident yelled at the taxi driver calling him to stop the vehicle immediately.

A mask with blood stain, a sliper and pieces of the license plate were found at the scene after the incident.

Medics arrived after receiving the reports and rushed the elder, in unconscious state, to Ruttonjee Hospital. Yet she sustained serious injuries in her upper body and was certified dead at 10.06am.

Police arrived at the scene as well to investigate the incident. The taxi driver was later arrested for dangerous driving causing death. He is now being detained for further enquiries.

Investigation by the Special Investigation Team of Traffic, Hong Kong Island is underway.

Anyone who witnessed the accident or has any information to offer is urged to contact the investigating officers on 3660 6838 or 3660 6800.