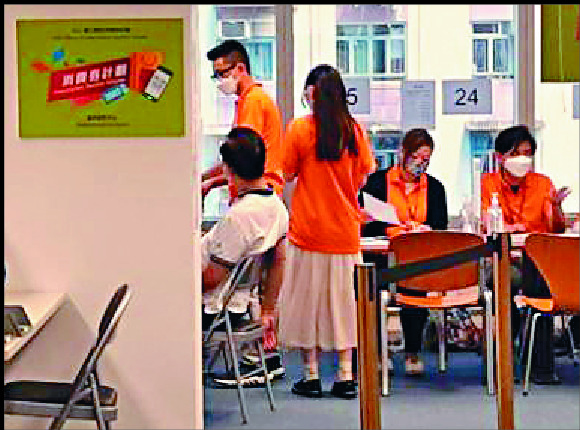 Octopus switch on cards at voucher help hubs
People dissatisfied with the distribution of consumption voucher on Octopus cards are switching to another electronic payment platform, citing the hassles of getting the last HK$1,000 credit in the first batch released in April.
That came as people could start to register another payment platform yesterday to get the second batch of HK$5,000 vouchers to be disbursed in August.

At a temporary service center for the voucher scheme in Mong Kong, a few people indicated they would like to change to a new platform, including a man, Ng, who said he did not want to use his Octopus card as he had yet to get the last HK$1,000 voucher in the first batch.

Ng found the guidelines issued by Octopus Cards to be not clear enough and he couldn't get through on its customer service hotline.

"I thought Octopus would be more convenient, but it's not," he said.

Another Octopus card user, Lee, said he would switch to AlipayHK, as he found the three-batch distribution for the cards to be troublesome.

Lee was planning to buy a new mobile phone, but the HK$3,000 cap on Octopus cards made that problematic as phones generally cost more than that.

He was, however, worried about the diffculties in switching so he came to the Mong Kok center for assistance.

A woman came to the center to apply for the second batch, as she missed the first round when she wasn't in Hong Kong. She chose Octopus for its ease of use as compared to the other platforms.

A man came to inquire about the eligibility of his son, who is in the mainland, for the new round of vouchers.

"He is over 18 years old and a permanent resident. The staff told me he can apply online," he said.

A non-permanent resident was happy to get her hands on the vouchers this time. She said she was looking to invest the whole HK$5,000 on her children, and that included tutor fees, and turned to the center for help as she was afraid of making mistakes in the application process.

Eight such centers will be open from 9am to 6pm Mondays to Saturdays from June 23 to July 23 and close on public holidays. People are urged to call 185000 for appointments to avoid long waits.

People who want to switch platforms need to bring identity and Octopus cards, or a cell phone with downloaded apps of the platforms they want. Or they can apply online.

BoC Pay is offering HK$100 to those who collect vouchers via its platform and up to HK$15,000 merchant offers for spending at 70,000 local online and physical merchant outlets such as McDonald's, Maxim's, Arome Bakery, Starbucks, Eslite Bookstore and Watsons at up to 40 percent off.