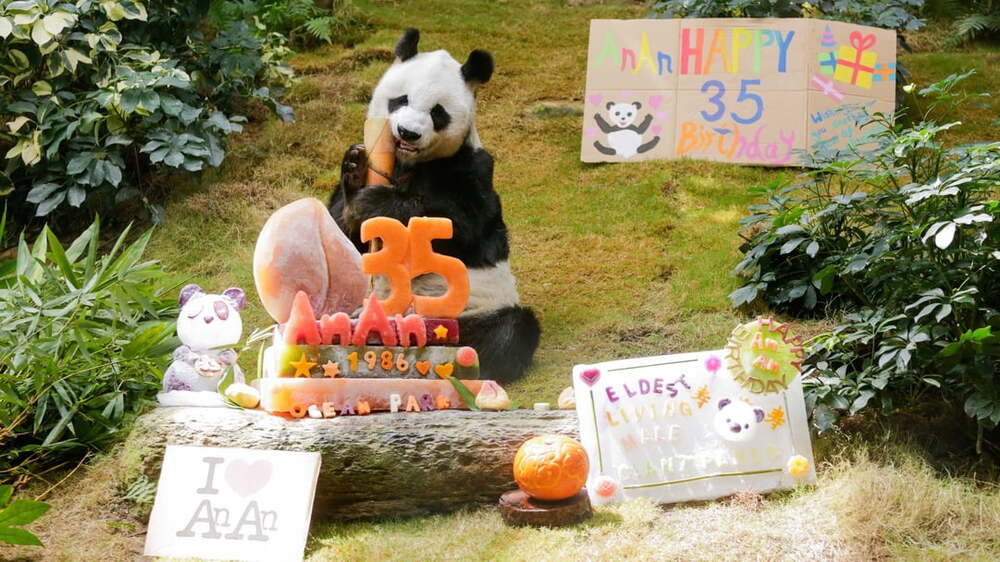 Ocean Park celebrates 35th birthday for giant panda An An
Last week Ocean Park hosted birthday celebrations for three giant pandas Ying Ying, Le Le and An An, who reaches 35-year-old this month, standing as the world's longest-living male giant panda under human care in history.
Residing at the Hong Kong Jockey Club Sichuan Treasures, An An, rescued from the wild, is the first generation of giant panda in the Park.

Giant pandas in the wild typically live about 20 years on average, and lifespans of those under human care can reach 30 years. The 35-year-old An An can be counted as an elderly as its age is equivalent to about 105 in human age.

He is now standing as the world's longest-living male giant panda under human care in history.

To mark this moment, the animal team of the Park joined hands with Häagen-Dazs to tailor-make a vividly-colored icy cake as a birthday blessing to An An. The Park also invited the younger giant panda duo Le Le and Ying Ying, who will turn 16-year-old on August 8 and 16, to join the celebration.

The specially-designed cakes were made with the trio's favorite food, including bamboo, sweet potato, carrot, pear and Fuji apple, topped with their names and ages.

On another note, the Park added that the younger pair succeeded in their natural mating attempts earlier this year, and Ying Ying has been showing typical pregnancy symptoms since late July.

These symptoms include a decreased appetite and a prolonged resting time. Yet, these factors could also be indicators of pseudo-pregnancy, according to the Park.

The animal carers will continue to closely monitor Ying Ying's hormonal levels and behavioral changes, and will update the public on the latest developments as information becomes available.

In the meantime, to allow the husbandry team to take better care of them, Giant Panda Adventure is closed temporarily until further notice.