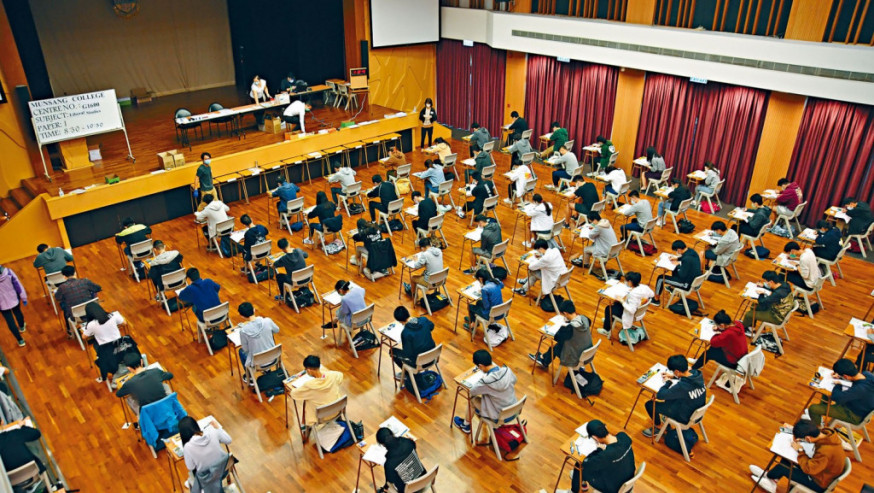 Number of DSE candidates rises by 1.5pc y/y, first since 2014
The number of candidates to sit this year's Diploma of Secondary Education (DSE) exams saw its first rise in nine years, standing at 50,823 and marking a 1.5 percent year-on-year increase.
About 50,600 candidates entered the exams of category A subjects, including core subjects like Chinese and English languages, and electives such as History and Chemistry, according to statistics released by the Hong Kong Examinations and Assessment Authority Tuesday.

Nearly 70 percent of candidates entered the exams of four core subjects and two electives, and 21 percent entered the exams of four core subjects and three electives.

Only 145 ambitious candidates with hopes to become the top scorer would take on the exams of four electives apart from the four core subjects.

Both Chinese History and History saw their numbers below the 6,000 mark, standing at 5,938 and 4,646, respectively.

The elective subject which saw the most candidates was Biology at 13,253, followed by Economics at 12,341 and Chemistry at 12,264. On the contrary, Integrated Science saw the fewest candidate at 55, followed by Music at 175 and Technology and Living at 230.

A total of 4,360 candidates entered exams for category B subjects, which increased by more than 20 percent, and Western Cuisine saw the most candidates at 548.

The number of candidates to sit the exams of other category C language subjects climbed by around 10 percent as well, and the Japanese Language had the most candidate at 479.