City to stop giving visitors free jabs from next week to make sure it has enough doses for residents as demand for vaccines increases.
Non-Hong Kong residents will not be eligible for free Covid-19 jabs from next week, the government has announced, as the private sector rolled out self-funded vaccination programmes for visitors from across the border with mainland China.

Currently, visitors are eligible to receive the first-generation vaccines as a first or second dose for free, if they can complete the full course within their stay. This includes holders of two-way exit permits from the mainland, asylum seekers and other visitors.
They can also take booster jabs for free if they fulfil either one of the conditions – having received a prior jab in Hong Kong or being permitted to stay in the city for over 30 days.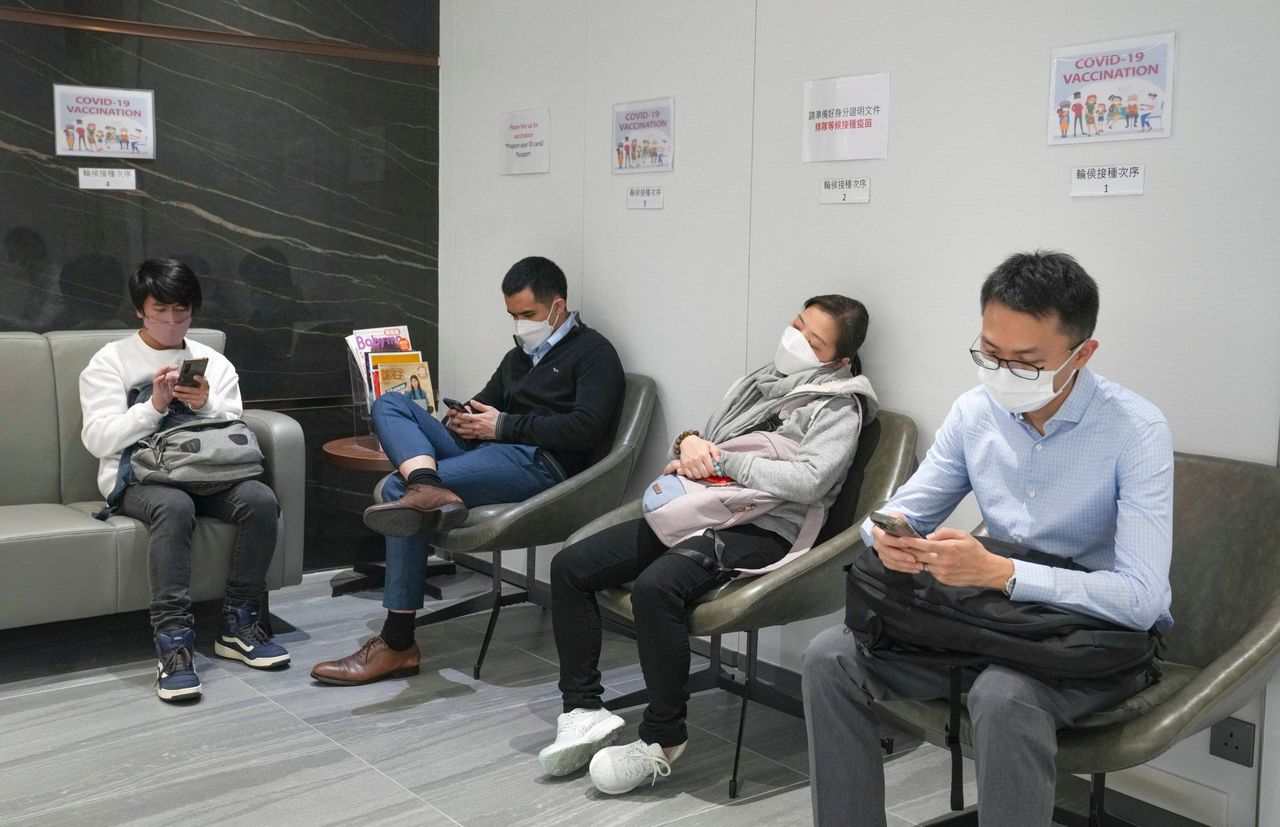 People wait to receive a Covid-19 vaccination at a private clinic in Tsim Sha Tsui.
But the eligibility rules would be tightened on Monday, the government announced on Thursday. Non-Hong Kong residents will have to fulfil both conditions to get a free jab.
"It has all along been the … government's policy objective to ensure a sufficient supply of
vaccines
for Hong Kong residents under the government vaccination programme," a spokesman said. "Non-Hong Kong residents may receive
Covid
-19
vaccines
offered by local private doctors, clinics and hospitals at their own cost."
To receive a free jab, they must be permitted to stay in Hong Kong for more than 30 days, from the day of receiving the dose and have received a prior jab in Hong Kong under the government vaccination programme, or have made an appointment before January 16.
They will only be inoculated when the relevant records have been verified.
The government said the move aimed to ensure Hong Kong residents were given priority in the allocation of
Covid
-19 jabs and healthcare resources were used prudently, in light of the recent increase in the demand for vaccination.
Hong Kong saw a spike in demand for
vaccines
since late-December when local authorities announced the easing of border restrictions with the mainland, which experienced a massive outbreak after it ended its zero-
Covid
policy. Most local residents are booking
BioNTech
's bivalent booster jabs.
The city's daily vaccination figure surpassed 20,000 on December 28, reaching a three-month high, but has since dropped and lingered around the 15,000 mark for the past few days.
Following the resumption of quarantine-free travel with the mainland last Sunday, more than a dozen private healthcare service providers in Hong Kong are now offering self-paid bivalent vaccination services, charging HK$1,500 to HK$2,800 (US$192 to US$358) for a single dose.
Virtus Medical, a private healthcare group in Hong Kong, welcomed its first batch of mainland customers to its clinic in Tsim Sha Tsui on Thursday, charging HK$1,880 for each shot.

The group said it had received more than 300 inquiries and 50 bookings for its self-funded bivalent vaccination programme, including some inquiries from mainland tour groups.

"We expect a slow increase in demand in the coming weeks as many mainlanders have got infected in the recent outbreaks, which make them ineligible for the booster jabs," said Dr Samuel Kwok Po-yin, chief medical executive of the company. "We expect the number of bookings to peak in March or April."

Because of the strict storage conditions, the company was making small purchases from Fosun Pharma, the Chinese distributor of the German-made vaccine, as well as gathering individual customers in groups of six, the size of each pack of vaccines, to avoid wastage, he said.

Julian Zheng, 27, a mainland white-collar worker went to a private clinic, Advance Health Limited, in Tsim Sha Tsui to receive BioNTech's bivalent vaccine as the fourth dose.

The business traveller who arrived in the city on Wednesday from Shenzhen, learned about the service via an insurance agent on Red, a Chinese social media platform.

"A staff member from the company helped me book the service and also led me to the vaccination centre," Zheng said.

"I heard that the original price was more than HK$2,000 but with the discount, it only cost me HK$1,700. The agent didn't charge me any service fees."