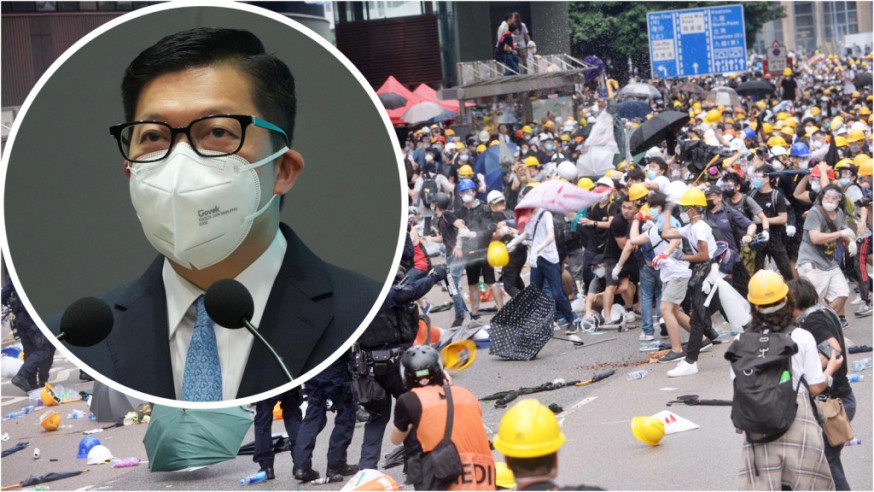 No more extradition bill as Chris Tang blasts Taiwan for failure to punish murder suspect
The new term of government will not table the extradition bill again, Secretary for Security Chris Tang Ping-keung said, and slammed Taiwan for sacrificing justice over political reasons on the transfer of murder suspect Chan Tong-kai.
Speaking on a TV interview Saturday, Tang said the SAR has no responsibility in making sure Chan will head to Taiwan.

"The issue is pretty simple as Chan is willing to fly to Taiwan and turn himself in. The problem is Taiwan refuses to let Chan do so because of political reasons," Tang said.

"I think it is a grave moral mistake. If he [Chan] is willing to turn himself in, why won't you let him do so?" Tang also challenged.

"The answer is political reasons. Sacrificing justice over political reasons is extremely immoral, and I don't think there is any room for us to compromise."

Tang also said the new term of government won't table the extradition bill again as there are more important works to be handled.

The security chief referred to the latest sentencing of five speech therapists over a series of children books on sheep and noted that although it seems peace has been restored to the society, foreign forces are still trying to infiltrate citizens' culture and minds via their agents in Hong Kong, and to incite hatred and mistrust towards the SAR and China.

Tang also said the law clearly states that criticizing the government is not a crime. However, spreading rumors and political propaganda, creating mistrust or hatred towards authorities may endanger national security and shake up social order. These behaviors will never be tolerated, he added.

Many are only accusing the law is not being clear because they want to incite people to be against the government without bearing any legal consequences, Tang pointed out.

Regarding the recent human trafficking scams that target job hunters, Tang said the Security Bureau has received help calls from 46 victims.

Thirty-three have been confirmed safe and 25 have returned to the city. Yet, 13 still saw their freedom restricted and Tang said the bureau will try whatever they can to rescue them.