Little did the Hong Kong government realise that the most effective vaccine incentive for the elderly isn't cash prizes, but something they value much more – dim sum.
Who would have thought that all it would take was a basket of dim sum – which costs around HK$20-$40 (US$2.50-US$5) – to convince Hong Kong's elderly population to finally get their Covid-19 vaccines?

For about a year, nothing could persuade Hong Kong's 70-and-aboves to get vaccinated, not even the threat of contracting the virus itself.

Even the business sector stepped in to help by offering a flurry of cash incentives by way of vaccination lotteries. Prizes included shopping vouchers valid at various retailers and supermarkets, cash handouts and luxury cars. The most extravagant prize to date was a Kwun Tong apartment valued at HK$10.8 million (US$1.4 million).

Still our obstinate elderly refused to budge. They might have weighed the low odds of winning these prizes against the high chances of the (potentially) serious side-effects of the jab because of their weakened immune systems or pre-existing health conditions.

So for the past year or so, those aged 70 and above continued to resist – until recently. All it took was a simple government vaccine ultimatum – no jab, no yum cha – to get Hong Kong's elderly flocking to vaccination centres.

From February 24, only people with at least one Covid-19 jab will be allowed to enter a wide range of public venues such as restaurants, schools, libraries, gyms and cinemas. Later in the year, patrons will have to be double-jabbed to enter these public premises.

Little did the government expect that the most effective vaccine incentive is not to offer prizes of monetary value, but to take away something they prize above all else: food.

For those of you who may not be familiar with the great value placed on food and its accompanying rituals, yum cha is a popular local custom in which people feast on various plates of dim sum, sip their favourite tea and chat with friends and relatives over food and drink.

The ongoing resistance of the elderly to the vaccine was perfectly reasonable. After all, why should they risk the potential side-effects of a jab if the chances of winning big in a vaccine lottery were next to impossible?


However, this time around, with the vaccine mandates being enforced across Hong Kong, the chances of losing their freedom to eating dim sum are real. So they finally held up their hands and surrendered.

Think about it; if you offered someone the choice of a lottery ticket to win a HK$20 million jackpot or HK$2,000, I bet 99.9 per cent of people would take the latter. It's no different to risk-averse thinking – a bird in the hand is worth two in the bush.

The city is seriously lagging in bringing up vaccination rates among the elderly. At present, Hong Kong has one of the lowest elderly vaccination rates in the developed world; numerous other cities and countries have achieved rates of between 80 and 90 per cent.

In Hong Kong for those aged 70–79, the jab rate is slightly over 32 per cent and for those aged 80 and above it's only 17 per cent.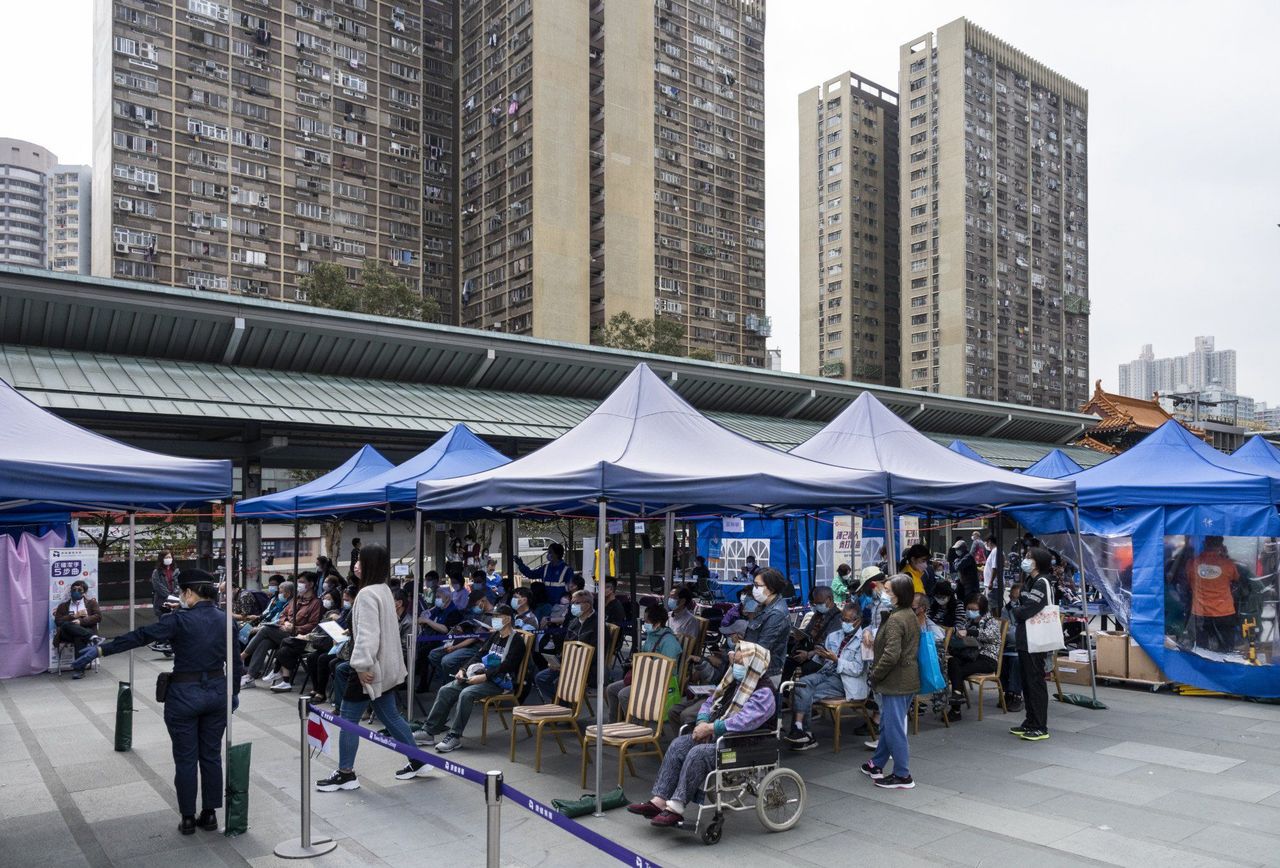 The danger of missing out on dim sum because of new Covid-19 restrictions has encouraged more of Hong Kong's elderly to get vaccinated.

But for the first time since the roll-out of Covid-19 vaccines about a year ago, we are seeing vaccination centres teeming with grey-haired old people.

Some are so eager that they have been assembling outside vaccination centres early in the morning to secure a same-day appointment. That's a huge turnaround in attitude from a demographic that has been largely resistant to the Covid-19 vaccines.

From this latest vaccine saga, there are certainly a few lessons to learn. One that sorely stands out is that our government is far too disconnected from society; it desperately needs to work harder to understand the needs of the people it governs.

It's natural for people to dream of owning an expensive apartment, enjoying a comped shopping spree in a swanky mall, or driving the latest Tesla model. But old people are more practical. They know that if they can't afford these things now, they will never get them. They care about stability, routine and comfort over material possessions.

Having yum cha and partaking in it with old friends and family is far more important in their lives than the promise – or rather, possibility – of winning something they know is unattainable.

As an inducement, a free multimillion-dollar flat had no effect in mobilising old people to get jabbed. But on the other hand, the ultimatum of taking away a much cherished yum cha routine to which they are accustomed is of far greater concern.

There is a saying, "Nothing is certain but death and taxes". But in Hong Kong, we have one more: dim sum. These Cantonese hors d'oeuvres are a certainty of life in Hong Kong and locals will fight you tooth and nail if you ever try to take that away from them.