Low vaccination rate among teens means schools can't meet 70 per cent requirement to resume full-day sessions on September 1.
Hong Kong schools are unlikely to be holding full-day sessions when the new term begins on September 1, as almost none have reached the required 70 per cent threshold of vaccinated students and teachers.

Some secondary schools said while most of their teachers and staff had been vaccinated against Covid-19, many students had not, with some still resisting the jabs because of concerns over side effects.

An Education Bureau spokeswoman told the Post on Friday that not a single school had yet applied to resume classes after reaching the vaccination target.

At Scientia Secondary School in Ho Man Tin, principal Wong Ching-yung said that, as of last week, almost all of his 85 teaching staff had received two jabs, compared to just 60 per cent of Form Four to Form Six students and about 50 per cent of those in Form One to Form Three.

"The 70 per cent threshold requires people to be fully vaccinated for 14 days before we can apply for full-day resumption, but we have not yet met that," Wong said. "From my understanding, many schools are also unable to meet that criterion so far."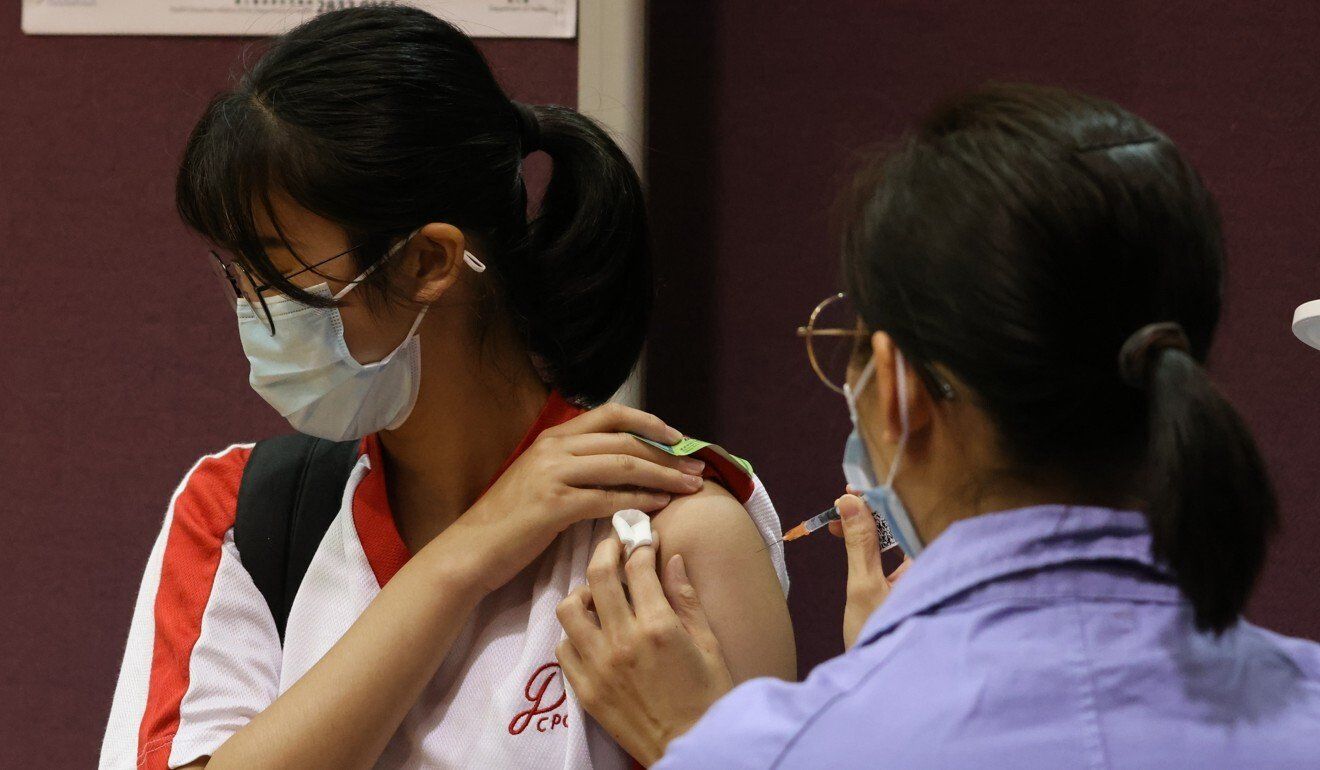 Many students who have yet to be vaccinated have cited concerns over possible side effects, according to school administrators who spoke to the Post.

Lau Chun-hung, chairman of the Hong Kong Subsidised Secondary Schools Council, said he expected that most secondary schools would be unable to hold full-day lessons come September 1, as some were still compiling student vaccination records.

Some secondary schools said they hoped to apply to resume full-day classes in mid-September if enough pupils and staff had been vaccinated by then.

Education minister Kevin Yeung Yun-hung said earlier this month that schools could resume full-day classes as early as September 1 if at least 70 per cent of pupils and teachers had received both vaccine doses, a threshold suggested by government health advisers.

But that requirement rules out full-day sessions for primary schools and kindergartens, as the city only allows children aged 12 and older to be vaccinated.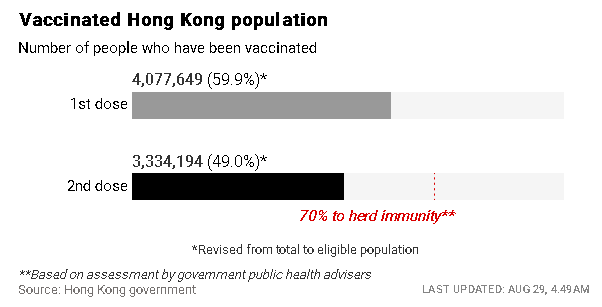 Earlier this year, the bureau allowed international schools to apply for permission to resume full-time lessons on campus without having to meet vaccination requirements.

It explained that the facilities at those schools, including their canteens, were more suited for social distancing. Those already operating full-day sessions include the English Schools Foundation's primary and secondary schools.

Since the city's vaccination drive began in late February, about 4.07 million people, or 60 per cent of the 6.7 million eligible residents have received at least one jab.

But persuading the city's youth to get vaccinated has proven more difficult than expected.

According to government data, those aged 12 to 19 have among the lowest vaccination rates, with just 56 per cent of the 448,800 in that age group having received at least one dose as of Friday.

Results of a poll of almost 1,100 teenagers released by the Hong Kong Federation of Youth Groups this week showed that 26 per cent of pupils said they were unwilling to get jabbed, while about 29 per cent said they remained undecided. Most expressed concerns about possible side effects.

Scientia Secondary's principal Wong hoped more of his Form Six students would get their jabs so the school could at least apply to start full-day classes for that grade, as they would be sitting the university entrance Diploma of Secondary Education exams next year.

To encourage them, the school is giving out masks and a HK$50 book voucher to every vaccinated student.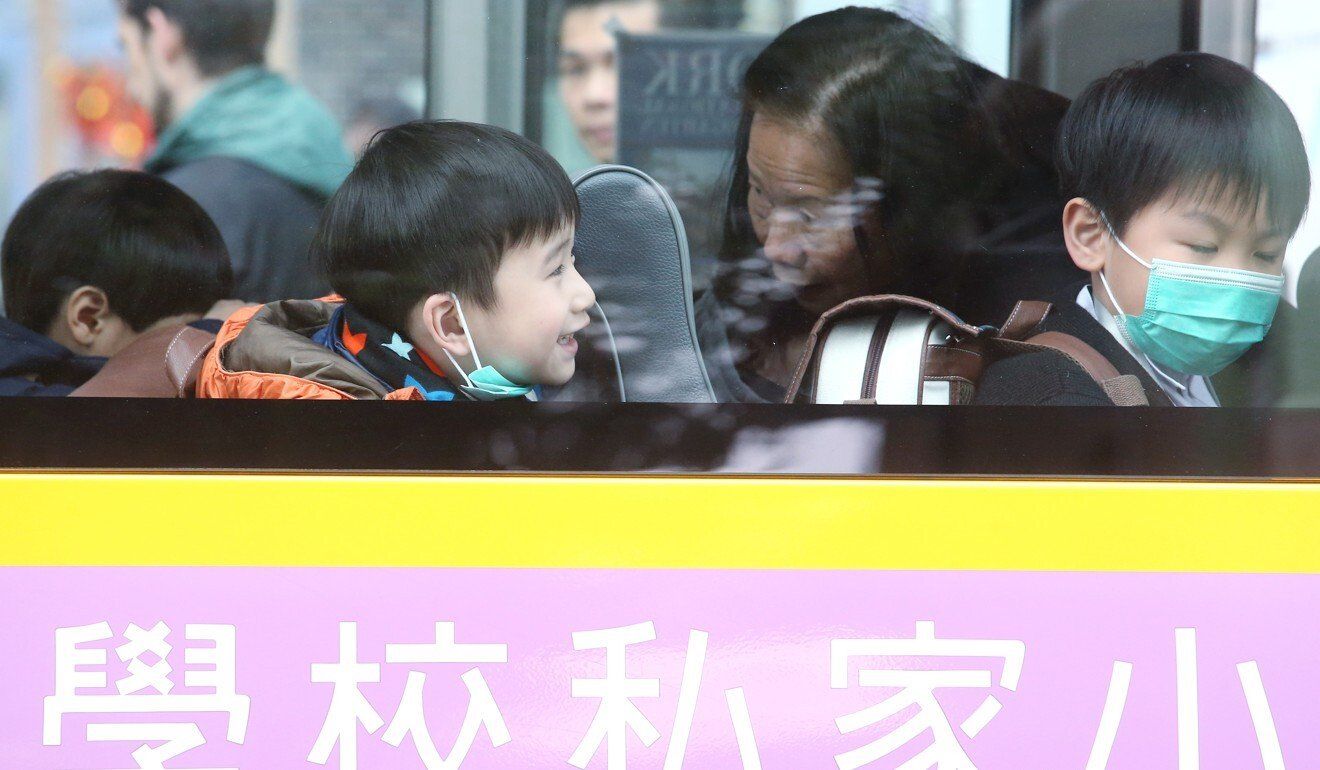 A number of bus company nannies – tasked with overseeing children's behaviour on the trip to school – have resigned over vaccination requirements.

At Pui Kiu College in Tai Wai, deputy principal Wong Wai-shing said over 80 per cent of the more than 200 staff members had been fully vaccinated, but resuming full-day classes remained impossible, because students had not yet hit the 70 per cent mark.

He said the school would monitor its students' inoculation rate, as it hoped to resume full-day sessions as soon as possible.

Another group concerned by the education authorities' 70 per cent threshold has been school bus operators, whose drivers and nannies – carers who help supervise students' behaviour – come into contact with schoolchildren.

Under current rules, they must receive at least one vaccine dose by September 1 or submit to compulsory testing every 14 days and pay for it themselves.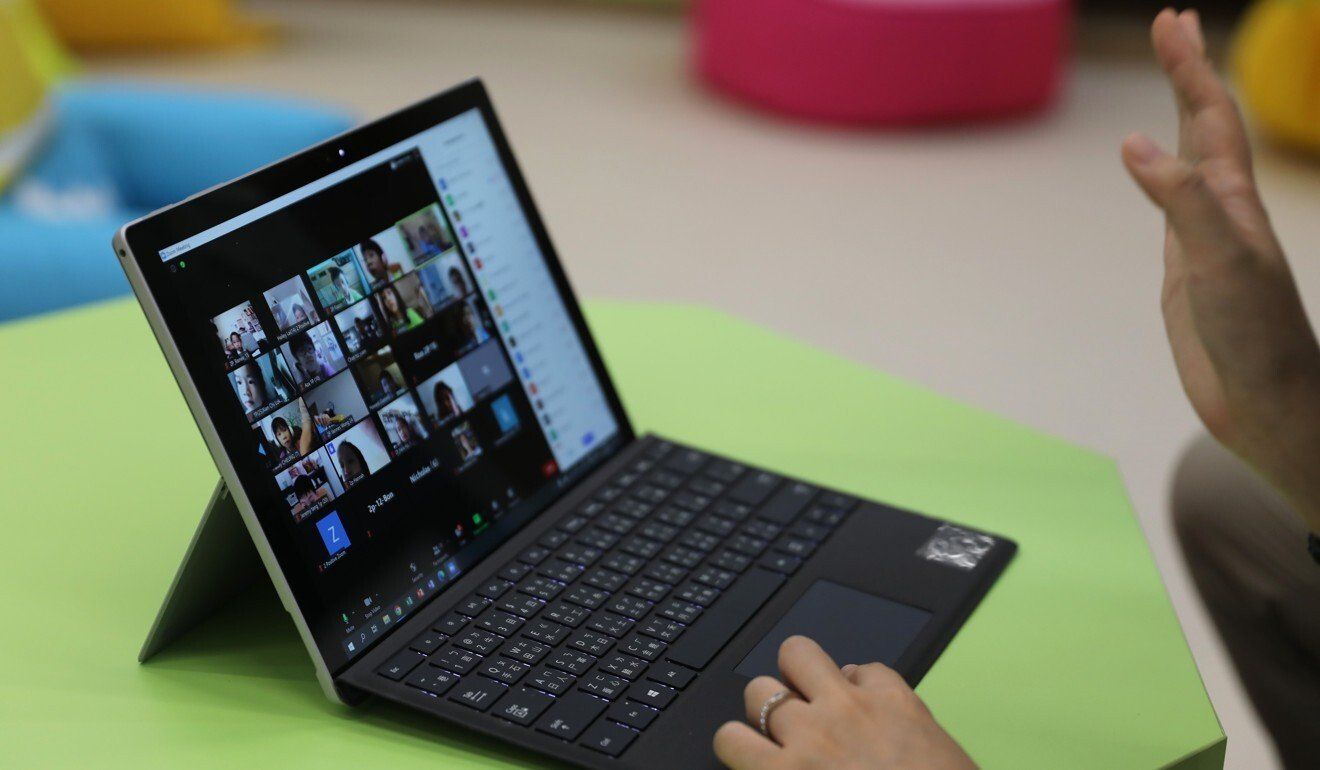 Many Hong Kong students have been dependent on online learning since the coronavirus pandemic began.

However, many drivers and nannies have chosen to resign rather than get vaccinated due to concerns over side effects, something that could affect operations if full-day classes resumed, according to Tang Chi-keung, vice-chairman of the Public Omnibus Operators Association.

His own fleet has seen more than 10 of its 50 nannies resign.

Tang urged the government to allow more flexibility for employees unable to get their jabs because of health reasons, and to subsidise the testing costs.

Meanwhile, most Hong Kong universities will return to full face-to-face lessons from September, following months of a mix of in-person and online classes.

At least four publicly funded institutions – the University of Hong Kong, Chinese University, Education University and Lingnan University – require those who live in dormitories to be vaccinated or face regular, mandatory testing for Covid-19.

Others are taking a harder line, with the University of Science and Technology, Polytechnic University and Baptist University all requiring students and staff to be fully vaccinated before they can step foot on campus.