As residents revel in final day of public holiday, rough sleepers struggle to find good night's sleep at shelters across city
Lai Jeh, a rough sleeper in her 70s, was carrying two heavy sacks on her shoulder as she left a temporary cold weather shelter in Yau Ma Tei on Wednesday afternoon. She was in no mood to celebrate Lunar New Year and had to urgently find a place to keep warm in the chilly weather.

"I stayed there last night, but I don't know if it will be open tonight," she said.

Lai Jeh, who preferred to be identified by her nickname, spent the nights during the Lunar New Year holiday at a mini storage unit in Tai Po, which she had rented cheaply for her belongings. But with the cold weather warning issued on Tuesday, she had found it unbearable to stay there.

Hongkongers will be bundling up as temperatures dip to lows of 9 degrees Celsius (48 degrees Fahrenheit) on Friday and Saturday and 11C (52F) on Sunday. Highs will reach just 17C (63F) on Friday and 15C (59F) on Saturday and Sunday.
Hong Kong's most vulnerable braced themselves for the cold weather, seeking protection at temporary shelters without any Lunar New Year celebrations.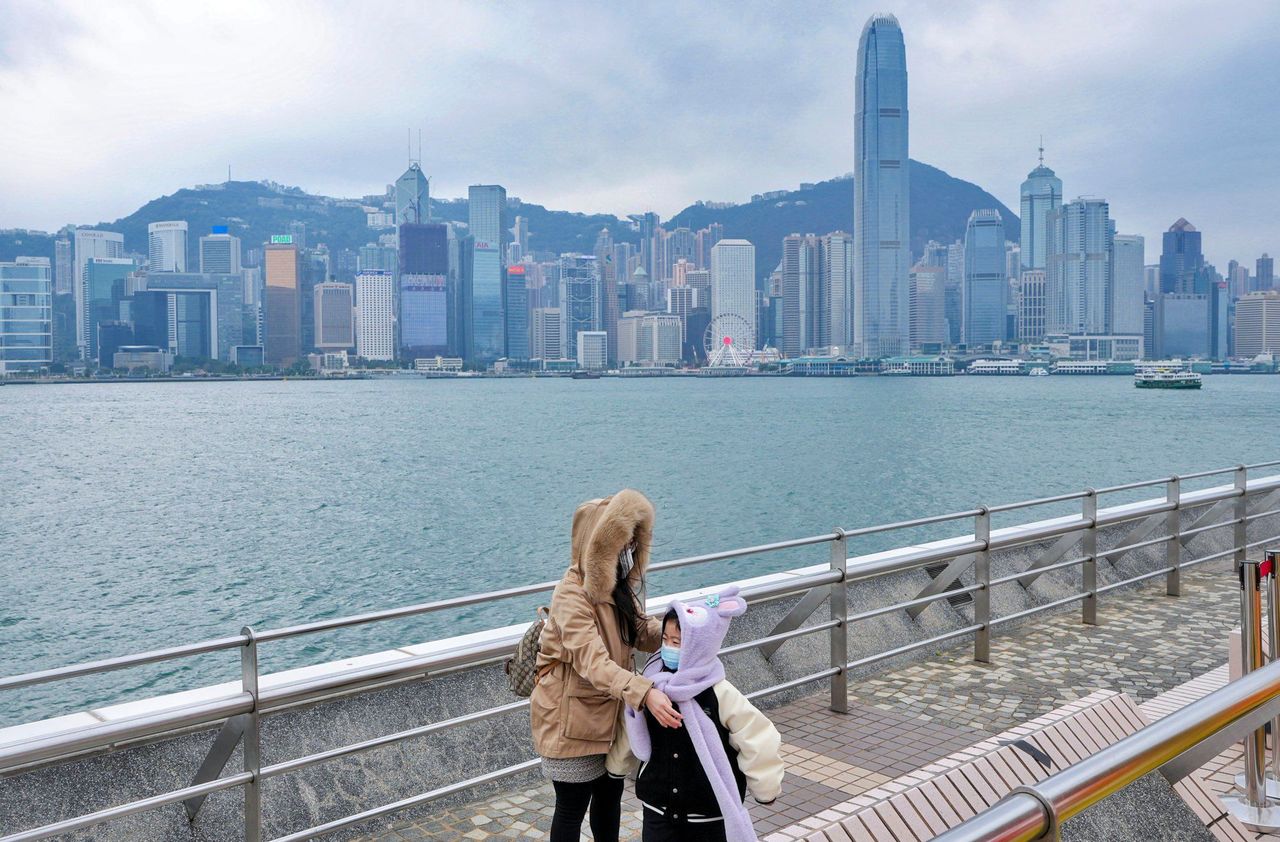 A cold weather warning was issued on Tuesday as temperatures dropped across the city.
Since the weather warning was issued on Tuesday, the Home Affairs Department has opened 18 temporary cold shelters at community centres across the city. Those in need can seek refuge at these facilities until the warning has been lifted.
There were 1,564 registered rough sleepers last year, which was more than double the 595 people a decade ago.
Homeless residents who spent Tuesday night at the shelters said they were offered quilts and two hot meals, but there were no signs of festive cheer at the facilities.
Lai Jeh said staff at the Henry G Leong Yau Ma Tei Community Centre had woken her up at 7.10am.
"I had cramps from the cold last night and couldn't get up. I needed to sit down as I couldn't reach down to wear my shoes. I got told off by a staff member who chastised me for chatting – I was only asking the old lady next to me if I could borrow a chair," she said.
"The quilts were heavy but not warm," she said, adding she had woken up three times during the night due to the chilly weather and a leg cramp.
Other rough sleepers, however, said they were satisfied with the provisions at the shelter and that they would return on Wednesday night.
A homeless man who gave his surname as Leung said he did not celebrate Lunar New Year, but dashed to the shelter in Yau Ma Tei at 4.30pm on Tuesday after he discovered that the cold weather warning had been issued.
"The environment is good here. There's food, biscuits, cup noodles and hot water," Leung said. "There were heaters that could be turned on by request."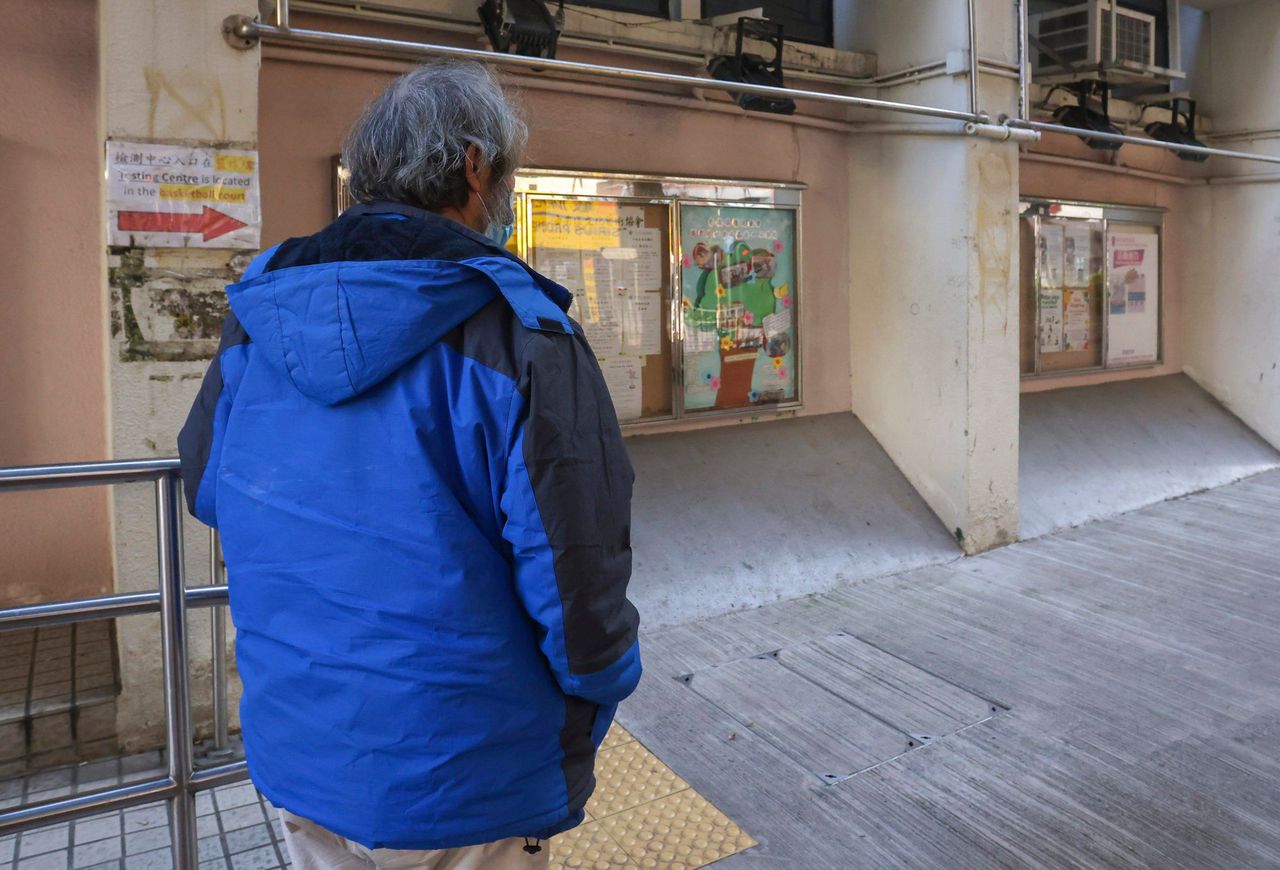 Leung outside the Henry G. Leong Community Centre in Yau Ma Tei.

But Leung had to leave the shelter for an hour in the afternoon, as it was closed from 4pm to 5pm. He had to wait in the lobby of the community centre before his destination was confirmed for the night.

Law Chi-wo, a 51-year-old rough sleeper who also took refuge at the Yau Ma Tei shelter on Tuesday, had mixed cuts with rice for dinner and lunch.

"That tasted good, the quilts were warm too. But I couldn't sleep very well at night. It was too noisy," Law said.

A homeless man who gave his name as Giovanni said he saw an improvement in the quality of provisions at the temporary shelter in Wan Chai Activities Centre.

"It used to be very dirty, but there are mattresses and quilts now. It's a lot better now, [my] basic human rights are fulfilled," the 42-year-old said.

For the city's homeless, festive holidays can catch the homeless off guard.

"For the homeless, holidays result in some areas in tourist-heavy districts to be unavailable until after 11pm," said Ng Wai-tung, a community organiser at the Society for Community Organisation.

"Holidays and weekends aren't something they pay attention to, as they don't plan ahead and some might not have watches or phones to tell the time."

Ng added that the lack of security provisions, such as lockers, also dissuaded rough sleepers, who were worried about their belongings being stolen.

"The reason why temporary shelters are unattractive to the homeless is because they do not open until 4.30pm on the day [the cold weather warning goes up], and there is no guarantee if the shelter will be open the day after," Ng said, adding that occupants would have to leave the venue by 8am if the cold weather signal was dropped in the morning.

"Festivities aren't good news for the homeless."