Catering industry leader expresses hope business can return to pre-pandemic levels or even surpass it 'as time goes by'. Pharmacy business group head says he expects business uptick of 20 per cent from first stage of border reopening, despite no mainland shoppers in sight.
Hong Kong's catering and retail sectors did not experience any immediate boost in business as the city fully reopened its borders with mainland China on Monday, industry leaders and operators said, while expressing hope of an improvement in coming months.

Simon Wong Ka-wo, president of the Hong Kong Federation of Restaurants and Related Trades, said the short-term prospects for the city's dining scene were uncertain, but he remained optimistic.

"I'm confident that business can be back to pre-pandemic levels, or even better, as time goes, especially during the National Day holiday in October," said Wong, who also chairs restaurant chain LP Group.

Retail hotspots popular with mainland tourists before the pandemic remained sparse on Monday, with Post reporters observing no queues outside luxury stores along Tsim Sha Tsui's Canton Road in the afternoon.

Pang Kin-ng, a 19-year-old university student from Guangdong province's Dongguan, and his girlfriend were among the few cross-border shoppers out on the streets. He said he had already spent up to HK$6,000 (US$764) on clothes and accessories but was unsure how much more he would buy while in Hong Kong.

Hong Kong General Chamber of Pharmacy vice-chairman Cheung Tak-wing said there was no noticeable increase in mainland shoppers, but he expected business would increase by about 20 per cent compared with the first phase of the border reopening on January 8.

"Most of them have replenished stock before some control points reopened on January 8, but sales were not as ideal as expected, so most of the pharmacies are observing the situation before stocking up again as they still have inventories," he said.

Among the few mainland shoppers stocking up on daily necessities and medicine was Ang Shun-ting, 42, a businessman from Anhui province. He said he used to visit Hong Kong four times a year and had travelled by high-speed rail for a four-day trip to buy goods and do some sightseeing.

In Sheung Shui, a popular shopping destination for day trippers from across the border before the pandemic, the full border reopening did not spark an immediate boost in business.

Tony Lee, the manager of a cosmetics shop, said he had seen little improvement in sales since the city began reopening checkpoints in early January.

"Reopening the border won't bring back the tourists all at once as others had hoped," he said.

However, Lee said one of his competitors had managed to stay afloat by allowing customers to place orders through Chinese messaging app WeChat.

Daify Yeung, the owner of Hon Mei Cosmetic, said his shop in Sheung Shui had not had any customers from the mainland on Monday.

"I think by March and April we will see a 20 per cent recovery [of pre-pandemic levels]," he said, but added physical stores were unlikely to return to their business heydays of before 2020.

Some members of the city's catering sector said they had experienced little to no increase in the number of diners from across the border.

At Tsim Sha Tsui's Waso Cafe, which is popular among mainland visitors, an employee surnamed Lin said she had not seen a big increase in cross-border customers so far.
"But with more tourists in the future, we think we should have more mainland customers," she said.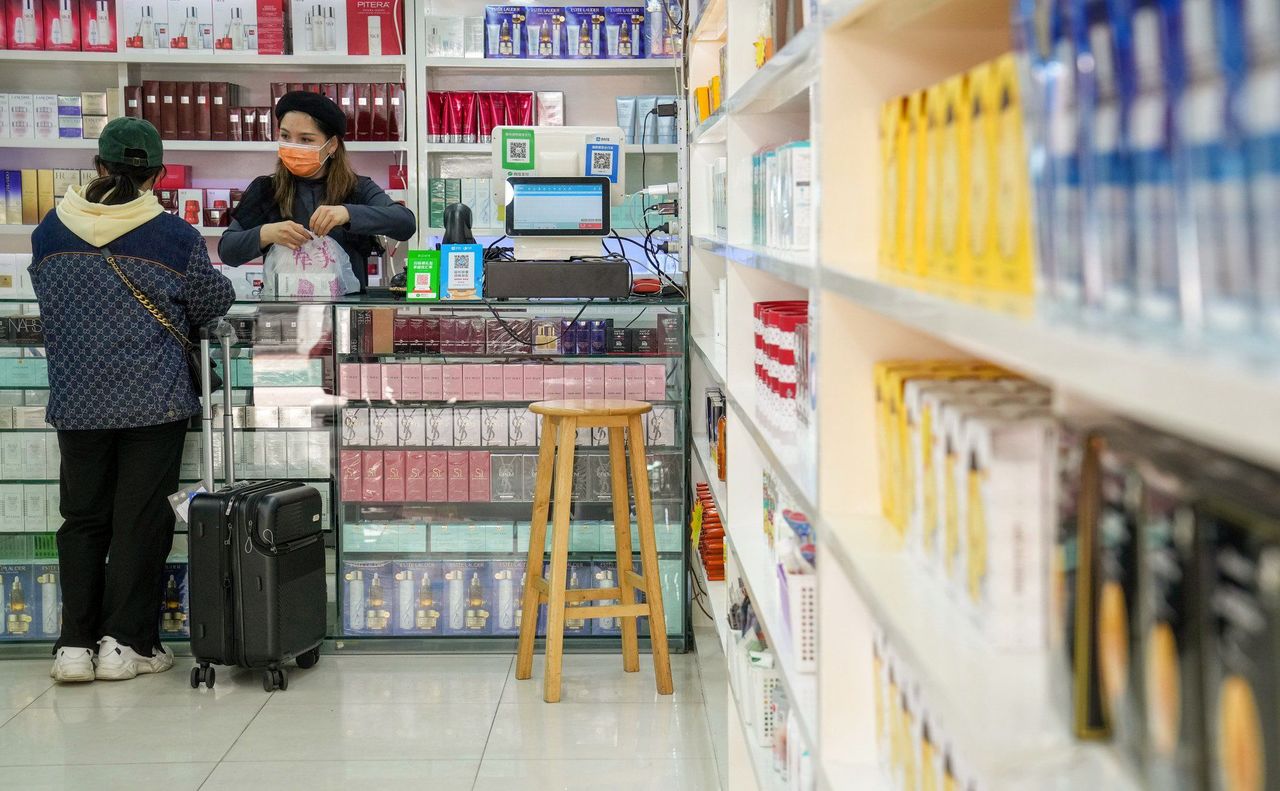 A shopper at a pharmacy in Sheung Shui.
Meanwhile, Rainbow Ma Sau-ying, general manager at Pak Loh Chiu Chow Restaurant, which has branches in both Mong Kong and Causeway Bay, said business had increased by around 20 per cent since early last month.
"Local customers are still the majority and there are some mainland travellers too. We hope our business will further surge when more tourists visit Hong Kong," Ma said.
Monday's full reopening also prompted some local tour groups to travel north via the Lo Wu checkpoint, the busiest crossing in pre-pandemic times.
Ng Fung-ying, chairwoman of a Cantonese opera fan group, said she had organised a three-day tour for 20 people to watch a performance in Dongguan.
"We can't wait for the trip. We haven't watched a show for more than three years," she said. "We will also travel around and enjoy a stay at a luxury hotel during the trip."
The number of travellers using Lo Wu began to rise steadily during the afternoon, with some of those arriving in Shenzhen telling the Post they were greeted by illegal taxi drivers looking for business.
The Luohu Commercial City mall, a pre-
Covid
retail hotspot for Hongkongers in Shenzhen, was also lit up. More than half of the stores were open there, despite the small number of customers.
Tailor shop owner Zhang Fei, 34, said he had kept business going throughout the pandemic by using social media to promote his wares to a pool of local customers.
"I am quite hopeful that as the border reopens, more people will visit the mall and see us," he said. "But it will take some time to return to pre-
Covid
levels."