Chief Secretary Lee, 64, laying groundwork for possible candidacy in May 8 election, sources say, with one pointing to his security background as key qualification.
No 2 government official John Lee Ka-chiu was tipped by sources as a strong contender for Hong Kong's leadership race, potentially ruling out incumbent Carrie Lam Cheng Yuet-ngor for a second term, as the two-week nomination period for next month's chief executive election began on Sunday with still no candidate coming forward officially.

Multiple pro-establishment sources told the Post that Lee, 64, who led the Security Bureau for five years from 2017 before being promoted to chief secretary, was likely to sign up for the May 8 election, and "important announcements" would be made on Monday or Tuesday.

"Lee has been forming his team [to run for office]," one source said, while another suggested that Lee was well-equipped to take up the top job with his security background, given the city's focus on protecting national security after the anti-government protests of 2019.

Other sources said former leader Leung Chun-ying would be appointed as chief convenor of the 1,463-strong Election Committee, which decides the city's next leader.

"This is an appropriate role Beijing is expected to give Leung to play in this race," one insider said of the former chief executive. That would put an end to months of speculation that Leung might take a shot at the top job again.

The convenor's post is a powerful new position created as part of Beijing's overhaul of Hong Kong's political system, with only a "state-level leader", such as Leung, being qualified to take it up.

Another source suggested that Leung, a vice-chairman of China's top political advisory body, was "the only choice". While the city's first chief executive, Tung Chee-hwa, is also a state leader, his health would not allow him to take up the convenor's job.

Incumbent Lam remained tight-lipped about her own plans on Sunday, insisting it was "not an appropriate time" to reveal her personal intentions yet.

The Post learned that she hosted an emergency meeting with principal officials in the afternoon, with one participant saying it was "mainly about interdepartmental coordination of epidemic work". It was not clear if she touched on the leadership election.

At her regular pandemic press conference, Lam defended her administration's decision under epidemic-control legislation that empowered Lee to exempt chief executive hopefuls from social-distancing rules so that they could seek votes from the Election Committee.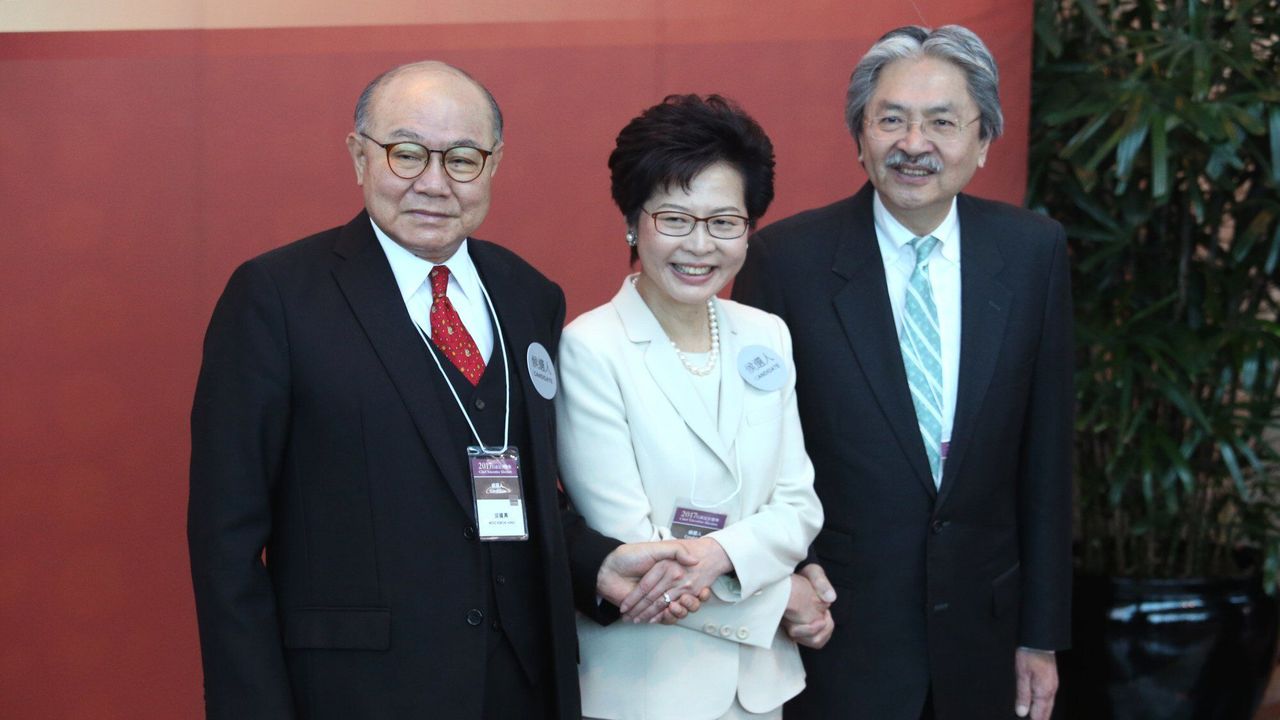 (From left) Woo Kwok-hing, Carrie Lam and John Tsang contested the chief executive election in 2017. Lam won with 777 votes.

Authorities announced on Saturday that those seeking nominations from the committee would be exempted from social-distancing rules under which gatherings of more than two households in private premises are not allowed. Those who secure enough nominations will now be allowed to hold election gatherings with the public.

In granting the exemption, the government cited the "exceptionality" of the coming election, which was originally scheduled for March 27 but postponed because of pandemic concerns, and will be the first leadership poll after the overhaul of the electoral system.

When questioned about the exemption for candidates while the rest of the city had to comply with strict rules to contain Covid-19 amid the Omicron-fuelled outbreak, Lam said it would ensure a fair, open and smooth election, considering the high threshold for nominations.

Under Beijing's electoral overhaul to ensure only those deemed "patriots" would be allowed to run Hong Kong, each candidate needs 188 nominations, with at least 15 from each of the committee's five sectors.

"Candidates will have to approach and explain to the Election Committee members about their manifestos and make connections, and so on … You can imagine if a prospective candidate has to reach maybe five, six or seven members coming from different families. It would not be possible for [him or her] to do the sort of appeals, participation and gatherings," Lam said.

"From my previous experience, the two candidates and I faced the general public although [the election] only involved 1,200 people who were eligible to vote. Allowing campaigning activities to proceed was a balance between protecting public health and recognising the importance of the election."

Veteran China watcher Johnny Lau Yui-siu said that if Lee stepped forward, it would reflect Beijing's grave concern that Hong Kong would continue to be used as a pawn by Western powers locked in a geopolitical struggle with Beijing.

"After the West finishes confronting Russia over its invasion of Ukraine, its next target could be Beijing, and Hong Kong has a track record as a base for anti-China elements," Lau said.

"If Beijing opts for a candidate experienced in handling security issues to lead Hong Kong's work in enhancing national security, Lee is the best choice without doubt."

Lau Siu-kai, vice-president of the Beijing-based semi-official think tank, the Chinese Association of Hong Kong and Macau Studies, would not comment on who might be the central government's preferred choice, but he said he expected a "one-person race" this time to avoid infighting within the pro-establishment camp.