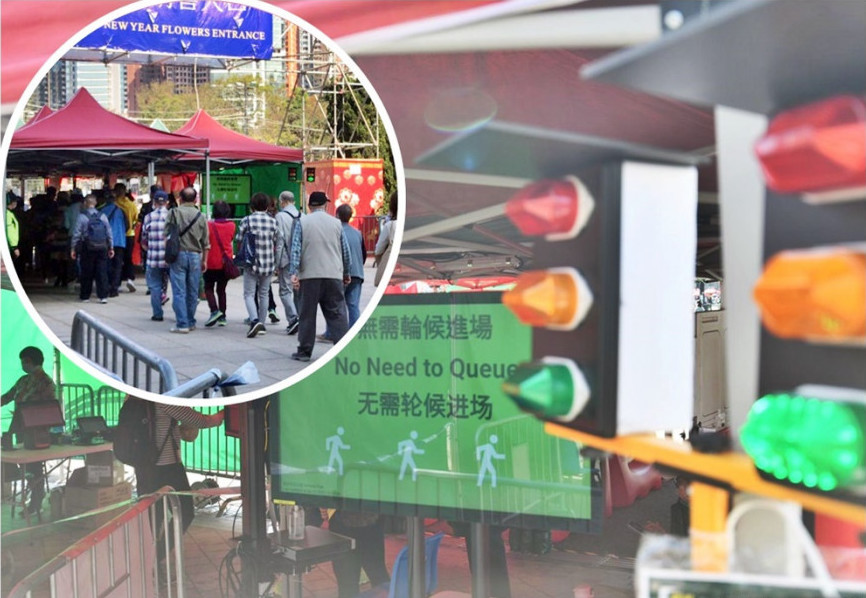 New "traffic light system" at Lunar New Year fairs
Virus control measures have been brought in on the first day of the annual Lunar New Year fairs, with temperature sensors and crowd control indicators similar in appearance to traffic lights set up at the entrances of the 15 fair venues in the city.
Members of the public are required to reserve an entrance ticket or make an online booking before entering the venues when the fairs are crowded, RTHK reports.

Crowd control indicators were seen at the entrance of the Lunar New Year Fair in Victoria Park, one of the largest venues every year. The indicator shows three levels in terms of the park's visitors capacity - with red lights indicating that the venue is overcrowded, and people are required to reserve tickets on site or make a reservation online in order to get in.

People can walk straight in when the green light is on, but they have to get a ticket and queue up when the yellow light is showing. All tickets are valid on the day they were issued.

Most of the visitors welcomed the new measures.

A visitor, surnamed Poon, said it took her far less time this year to get into the market when compared to previous years.

"There are not many people here, which makes it more comfortable to walk around the market this year," she said.

"There are wider spaces between the stalls, allowing for better air flow, which reduces the risk of infection." she added.

But some stall owners at the same venue were not satisfied with the new arrangements.

One flower stall owner, who gave her surname as So, said she's not happy with the way things are set up.

"The authority has arranged stalls on either side of the park while the centre of the venue has been left empty. People will gather on either side which does not help with dispersing the crowd" said the owner.

Authorities said earlier one hour every afternoon and one hour every evening would be set aside for cleaning.

The government announced in mid-January that the fairs would be allowed to open, making a U-turn in just a little over a week.